It's been said that a picture is worth a thousand words.
Whether it's a picture of a rookie making his first touchdown or an emotion-filled shot of a Jaguars fan at TIAA Bank Field, photographs tell stories.
Each week during the regular season, we will show you team photographer Rick Wilson's favorite photo from game day. Below you'll find the winning shot from Week 6 vs. Detroit at the Bank.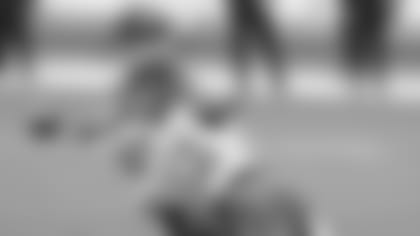 Camera: Nikon D4Lens: Nikkor 400mm f2.8Exposure: 1/3200 sec at f/4.0, ISO 500
Why this photo?
With 2:42 to play in the first, QB Gardner Minshew II dropped back to pass but was quickly overwhelmed by the Detroit Lions pass rush. Minshew escaped from two Lions' rushers and started to scramble. Detroit LB Jamie Collins was able to lunge and grab Minshew from behind.
A split-second before being taking to the ground, from his toes and falling, Minshew was able to flip the football underhanded to nearby RB Chris Thompson who ultimately assisted in turning the busted play into a two-yard gain.