](http://www.jaguars.com/media-gallery/photo-gallery/Denard-Robinson/06b27218-2d64-46d5-aee1-fa8ceb715185)



JACKSONVILLE – It's not enough to just be in the NFL. Not to Denard Robinson.
He wants to be good in the NFL, too – and in fact, the second-year veteran and former University of Michigan quarterback wants to be more than that.
"I want to be one of the greatest," he said.
Those words don't come from cockiness, and Robinson said recently he knows he wasn't close to great as a rookie with the Jaguars last season. But Robinson said that's his mindset as he enters his first full NFL offseason.
"I want to make a big jump from last year to this year," Robinson said. "I want to make a big improvement. This is going to be big for me this offseason, just being able to grow and continue to get better at my craft."
Jaguars Head Coach Gus Bradley said at the recent NFL Owners Meetings he likes not only Robinson's physical approach entering this offseason – he returned to Jacksonville recently weighing 212 pounds, up from 197 last season – but his mental approach as well.
"He sees it (this offseason) as a tremendous opportunity," Bradley said. "He understands, 'I am a running back and I have to get myself ready to go.' He has a different mindset than when he came in after the draft (last offseason)."
For Robinson, growth may come from simplifying. That's his hope, anyway.
Robinson, after being selected by the Jaguars in the fifth round of the 2014 NFL Draft, spent last season in transition. After playing quarterback at Michigan, he trained as a wide receiver while preparing for the NFL Draft, and after being drafted by the Jaguars, he trained for much more.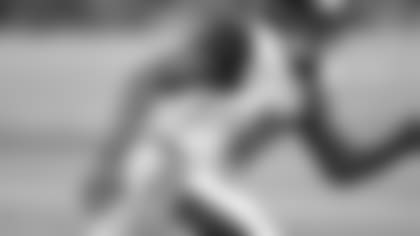 ](http://www.jaguars.com/media-gallery/photo-gallery/Denard-Robinson/06b27218-2d64-46d5-aee1-fa8ceb715185)
He spent last season working not only at wide receiver, but running back, Wildcat quarterback, kick returner and punt returner. The plan was for Robinson to be a weapon in various parts of the offense, but he struggled at times, rushing for 66 yards on 20 carries and having issues with ball security.
"It's a process," Robinson said. "Last year, I was training to be a receiver heading into the (NFL Scouting) combine. I had a receiver coach. I was learning how to do that, do different things and work on my routes. That was my focus. Now, I'm trying to work on running-back things. I want to work on my craft in that area and still make sure I can do some things at the receiver spot, too – if they ask me, if they call upon me."
For Robinson, that work covers a lot of areas. There's the on-field, which will begin in full force when the Jaguars' offseason workout program begins April 21, and there's the weight gain, which he says is so he "can take on some linebackers and hit them in the face."
"I'm not a quarterback anymore," he said with a smile. "I'm a running back. I've got to hit you right in the mouth."
Robinson said he's training to ensure he maintains his speed, doing beach work to retain explosiveness. He also said after three fumbles as a rookie, including a lost fumble after his longest run of the season against Buffalo, he's not letting the ball-security issue go unaddressed this offseason, either. He spent much of his time away from Jacksonville the last three months with a football in his hand. Literally.
"My brother's like, 'What are you doing?'" he said. "And I'm telling him, 'All the time, all the time – I need a football in my hands.' I was always walking around with a football in my hands."
And while the football remained in Deerfield Beach, Fla., with his family – "My brother took it because they needed an NFL football," he said -- the issue remains at the forefront.
"This is my first time having ball-security issues," he said. "So, now, it's just focusing on it."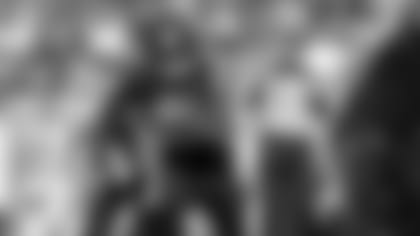 ](http://www.jaguars.com/media-gallery/photo-gallery/Denard-Robinson/06b27218-2d64-46d5-aee1-fa8ceb715185)
The ability to focus on a weakness and strive to improve is something Bradley said he values in a player. When Robinson approached Bradley late last season asking where he needed to improve, Bradley said it stuck out as a key to the running back's chances of developing into a consistent player.
"One thing about coach is he's going to tell you the truth and be honest," Robinson said. "Sometimes, people can't focus on their weaknesses. Someone else's outlook on you is better than your outlook; they know what you need to work on. Sometimes, it's hard to be honest with yourself and I needed to be honest with myself. I needed coach to be honest with me and tell me what I needed to work on."
As much as anything, what Robinson said he'll work on this offseason is just generally getting more comfortable in the backfield, and learning how to be professional. That's a huge part of the transition in Year 1 to Year 2 for many young NFL players, and Robinson said it will be key for him, too.
He said he's appreciated Bradley's support this offseason, and that of Jaguars General Manager David Caldwell, too. Each has said he believes Robinson will have a key role in the offense this season, and can be a key contributor.
"You've got the GM behind you and the head coach—you love that," Robinson said. "Now, you've got to be what they want you to be and try to be more."
As for Robinson, when asked if he was glad his rookie year was at last behind him, he smiled.
"Oh yeah," he said. "It's good not to be a rookie. You know what to expect now. You know the coaching staff. You're used to being in the league. You know what you have to do to be a pro. You understand how much it means to you and what you want to do and what kind of steps you want to take.
"I'm a humble guy, but this year I want to be one of the guys they're talking about. This offseason I want to start building that and start working like that. That's what I want to do this season, start showing people I can be one of the top guys in the NFL."