JACKSONVILLE – Wide receiver mattered for the Jaguars this week. A lot.
"That was an area we wanted to address," Head Coach Doug Pederson said Wednesday afternoon as he and General Manager Trent Baalke discussed the Jaguars' 2022 free-agent class.
Pederson, hired as the Jaguars' head coach in February, said wide receiver was the top of the team's priorities as the 2022 League Year approached. That played out this week, with the Jaguars agreeing to terms to sign two wide receivers as unrestricted free agents: Christian Kirk, formerly of the Arizona Cardinals; and Zay Jones, formerly of the Las Vegas Raiders.
The Jaguars also agreed to terms with former New York Giants tight end Evan Engram, and Baalke told reporters Wednesday the team focused on adding productive pass-catchers around second-year quarterback Trevor Lawrence.
"That was absolutely part of the plan," Baalke said.
Kirk has 236 career receptions for 2,902 yards and 17 touchdowns in four seasons. Jones has 171 career receptions for 1,884 yards and 11 touchdowns in five seasons. Engram has 262 career receptions for 2,828 yards and 16 touchdowns in five seasons.
"There's just more weapons," Baalke said. "You can never have enough weapons. It's just going to help the team. It's obviously going to help Trevor, which ultimately helps the team."
Kirk, one of the highest-profiled of the seven acquisitions, is a versatile receiver who Pederson said can play outside or in the slot. Pederson said that versatility should fit well in his West-Coast-based offensive scheme, which values receivers who can play multiple roles and positions.
"These guys move around a lot," Pederson said. "We use them based on game plan, where they can be most advantageous against an opponent. He's going to line up in the slot. He's going to lineup outside. He may line up next to a tackle.
"These are ways we're going to use all of our receivers; not just Christian. He does bring a skill set that's very impressive. He's still young and we're looking forward to that."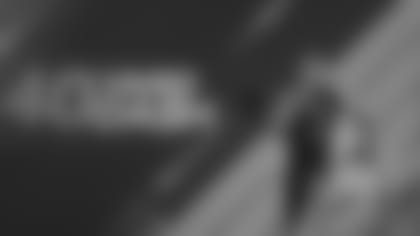 Pederson discussed Jones in the same vein, calling the fifth-year veteran "explosive."
"You watch him on film … the way he comes off the football, the explosiveness, the aggressiveness he plays with, the ability to stretch the field, he's a big target, he's lanky," Pederson said. "You see his ability to make plays down the field, contested catches.
"When you put the tape on and start watching him, he starts popping off the film."
Pederson on a Jaguars receivers group that includes Kirk, Zay Jones, Marvin Jones Jr., Jamal Agnew and Laviska Shenault Jr.: "You've got a room now where anybody can get the hot hand on any given week. It all goes back to game planning a little bit, how we want to use these guys. There's only one football. I wish I had five footballs, so they could all catch passes at once. You can't. As the season progresses, somebody will probably emerge and: 'There's your one, there's your guy.' But it's really hard to put a number on it when anybody can make those plays any given week."
Baalke on releasing former Jaguars linebacker Myles Jack Tuesday: "We had a great talk. We met twice [Tuesday]. He understood where we were at. Myles has done an awful lot for this organization and an awful lot for this community. He deserves an opportunity. He's going to go out there and test the [free-agent] market. We just felt this was the right time to do it. These aren't easy decisions. A lot goes into these decisions. I will say this: 'We had a great talk, several conversations, and we're in a good place there.'" Jack reportedly will sign with the Pittsburgh Steelers.
Baalke on Wednesday also discussed not re-signing wide receiver DJ Chark Jr. A second-round selection in the 2018 NFL Draft who played in the Pro Bowl following the 2019 season, Chark became an unrestricted free agent Wednesday and reportedly agreed to terms to sign with the Detroit Lions. "It's a two-way street," Baalke said. "You can want someone and they can maybe not want you, or you can't come together on what that looks like. In DJ's case, it was just a situation where we couldn't come together. He's going to go to Detroit and hopefully have a lot of success. And we've moved on as well."