JACKSONVILLE – He's ready for the next level – as ready as possible anyway.
When discussing Chad Muma, University of Wyoming defensive coordinator Jay Sawvell praises him in multiple areas. Among the key areas? Consistency.
That's where Sawvell said the rookie linebacker may impress the quickest.
"Chad's the same player every day," Sawvell said.
Sawvell, who coached Muma at Wyoming the past two seasons, spoke with jaguars.com recently about Muma – who the Jaguars selected in Round 3 of the recent 2022 NFL Draft, No. 70 overall. They targeted him for his combination of football intelligence, production and ability to play multiple roles in a defensive coordinator Mike Caldwell's versatile defense.
Sawvell said the Jaguars are getting just such a player, and one who knows how to prepare at a professional level.
"Jacksonville's getting a pro," Sawvell said. "He hasn't lived the NFL life experience yet, but as far as a grown man who's going to handle his business and prepare to play the right way, to practice the right way and be low-maintenance off the field … that's who he is."
Muma (6-feet-3, 239 pounds), who played four seasons at Wyoming with 267 total career tackles – 147 solos – was a third-team Associated Press All-America selection this past season.
"He's a great football player and even better person," Sawvell said. "I don't know that there is a box you don't check on Chad Muma that isn't going to be at a high level. He's a good athlete. He has good size. He has good speed. He has a tremendous mind."
Muma registered 19 tackles for loss in his career, including eight each of the past two seasons. He also had three interceptions this past season, two of which he returned for touchdowns. He was a finalist for the Butkus Award as a senior and a first-team All-Mountain West selection in 2020 and 2021.
He started 21 of 44 career games at Wyoming, and Sawvell said it's the combination of athleticism and intelligence – football intelligence, specifically – that defines Muma.
"He's a high academic guy; he's off the charts." Sawvell said of Muma, who graduated this month with a mechanical engineering degree. "Sometimes, guys like that are almost too analytical. Chad's not that way. Chad's mind works at uber-fast speed on the football field. He's a really intelligent guy in the engineering world and a really intelligent guy in football. It clicks quickly.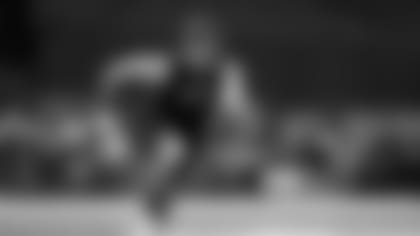 "When you take that combination of size and speed that also can read, diagnose and get to plays as fast as he can, then that's what makes him a special player."
Sawvell added, "He sees his pictures really fast. His processor for reading keys to where he needs to get to goes really, really fast. A lot of his plays he made last year were just running in space and tackling people. They weren't plays in the box. He just has a quick processor in the field that allows him to get from Point A to Point B really quickly. And he's good tackler."
Sawvell said that ability also was about being prepared, and said Muma was absolutely always prepared – and not just on game days.
"The Chad Muma you saw on Saturday was the same one who practiced Tuesday, Wednesday and Thursday and in fall camp and spring practice," Sawvell said. "He was a remarkably consistent person day in and day out, which obviously led to a remarkably consistent string of performances game in and game out."
Sawvell, entering his third season at Wyoming, said it was evident following the 2020 season that Muma not only was a collegiate star but one with an NFL future. He said he told fellow Wyoming coaches at the time to assume that Muma would not return in 2022 although he had a year of eligibility remaining – and he said no doubt Muma is prepared to play professionally.
"A lot of things we do in our defense are pretty pro style," Sawvell said. "This won't be a case of him coming there and him being a fish out of water or things of that nature. Obviously, there will be things that are different and things are advanced in the NFL, but he will have had exposure to a lot of stuff. He'll handle the installs and pickup of information really well.
"NFL teams are always looking at risk factors. Chad is an extremely low-risk player. He handles his business and is a really good player. He'll contribute in any way they ask him to and he's a team player and an unselfish guy."