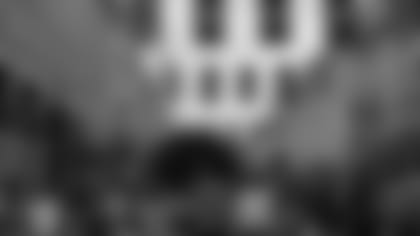 Jacksonville Jaguars welcomed thousands of NFL fans in their second 'home' last week (Saturday 27 September) as the NFL took over central London for the NFL on Regent Street.
More than 600,000 fans turned the upmarket area of Regent Street into the biggest-ever block party in the UK, and the Jags UK team were at the heart of the action.
Hundreds of fans took part in the Jags' own Wide Receiver catching game – an inflatable experience zone that gives participants an insight into the speed and agility required by NFL players. Thousands more fans wore the Jaguars colours with pride, receiving limited edition teal wristbands to show their support for the team in the run-up to the game against Dallas Cowboys at Wembley on 9 November.
There were photo opportunities throughout the day as people posed underneath the giant Jaguars archway and there were plenty of smiles – and growls - on young faces as the Jags offered free face painting for children. Kids also got carried away by a huge balloon promotion in a partnership with the legendary toy store, Hamley's.
Some fans were even luckier, with a host of top prizes offered to those who had signed-up for their NFL UK Fan Pass. A number of happy Jags fans walked away with Jaguars replica helmets as their prizes, whilst one winner will be taking away the ultimate prize of a VIP trip for them and their friends to the Jaguars v Cowboys game.
And it wasn't just fans showing their support for the Jaguars – members of the Wembley Stallions American Football team volunteered on the day to help engage fans with the Jags activity, share their experiences of playing the game, and give their backing to 'London's team'.