JACKSONVILLE – Julius Thomas had nearly 50 children locked in to his every word, quiet and focused on the presentation.
He held the book high for all to see the illustrations – using his surgically repaired right hand, without a brace – and flipped pages with his left as he read.
"Then I walked out the front door, but my friends were going to the park to play ball," Thomas read from one of the final pages of the children's book "I Was So Mad" by Mercer Mayer.
Hoping he can also soon "play ball" after a preseason right hand fracture, Thomas entertained children from the United Way of Northeast Florida's "Achievers for Life" program at a special event on the Florida Blue Health and Wellness campus on Jacksonville's Southside Tuesday morning.
"I left the brace in the car; I should probably have it on," Thomas told Jaguars.com between readings.
Thomas has been practicing limited the last three weeks, but hopes to increase his practice availability in the near future to leading into his Jaguars debut – at some point.    
"I don't know one way or another this week, but I can say it (right hand) is improving for sure."
Julius Thomas was a jewel of the free agency class of 2015 and was poised to be a major part of the Jaguars offense early in the season prior to the injury on the first offensive possession of the first preseason game in August.  
As for the event, reading is a hobby of Thomas' and the basis of his foundation, "Reading Equates to Success." According to Thomas' website, the non-profit organization is dedicated to helping the youth understand the value and enjoyment in reading.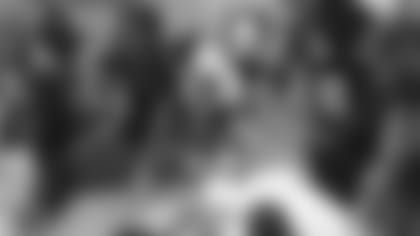 "It's right up my alley – reading is one of my favorite pastimes," Thomas said. "I think you want to instill the reading proficiency at a young age. You look at some of the scholastic standards, and you start to see how important reading is for the development and for kids as they move through education as well as through life."
Thomas and running back Denard Robinson, who continues to rehab from a knee sprain, helped the children through activities, with Thomas assisting Florida Blue volunteers reading books to children one-on-one and later as a group to the children, and Robinson assisting with coloring stations and bookmark design.
As for the selections he presented to the children, one in particular brought back memories from Thomas' youth.
"I read a lot of Mercer Mayer books myself when I was younger," Thomas said between readings. "I actually saw them reading this and I said, 'Wow, I've read some stories by Mercer Mayer before too,' so it's good to see some of my own beginnings.
"I really enjoy reading to kids, and being around kids. They have such great energy and are such positive people."
Other Jaguars in the community Tuesday included:
Safety Johnathan Cyprien, who accompanied students on a 15-minute walk to Chimney Lakes Elementary School, in partnership with Alert Today Alive Tomorrow. The event promoted "International Walk to School Day."
Punter Bryan Anger, who was the new celebrity chairman for the annual Meals on Wheels golf tournament at Hidden Hills Country Club. A number of Jaguars teammates played in the tournament, helping to raise awareness for elderly in need of food, while raising funds for the program.
Wide receiver Allen Robinson, who worked as an Uber driver in downtown Jacksonville, picking up and dropping off Jaguars fans free of charge. Robinson wanted to meet Jaguars fans in a fun and unconventional way.