He must make kicks – and do so consistently. So, when the Jaguars' new kicker at the end of a wild week was asked Thursday about his strengths, that was his focus.
"I'd say making field goals is a big strength of mine," Patterson said Thursday following the Jaguars' final practice of this week's post-preseason bye week. "I try to hit the ball really straight. Pure ball flight – that's my biggest goal. I usually have straight kickoffs. I'm very consistent at that. I try to be."
Patterson, a second-year veteran who played collegiately at Memphis, joined the Jaguars Thursday after being claimed off waivers Wednesday. He became the Jaguars' sixth kicker since 2022 Training Camp began.
Head Coach Doug Pederson said Patterson's accuracy played into the decision, as well as conversations with Patterson's previous coaches.
"We're still trying to find the right guy for that spot," Pederson said. "Patterson was one of the guys that even back to the spring we had liked and considered, and followed his career. When he became available, we wanted to take advantage of the opportunity.
"We're always going to be looking for the best guy, to create some competition. It's a good opportunity for him."
Patterson, who originally signed with the Minnesota Vikings shortly after the 2021 NFL Draft, spent time on the New England Patriots' practice squad in 2021 after being waived by the Vikings. He played with the Detroit Lions in the last seven games last season, converting 13 of 14 field goals.
He competed with Austin Seibert for the Lions' kicking position in '22 training camp and preseason before being waived Tuesday.
"I was really focused on Detroit," he said. "I was focused on doing well, in the moment, each kick, each day. In the end, that's what it is: If you do your job, eventually somewhere something will happen."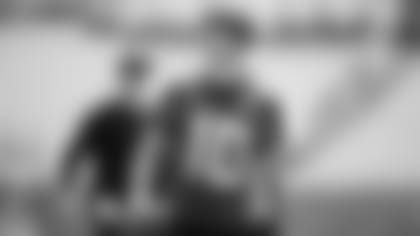 He learned he had been claimed while at his Detroit apartment with his wife, Claire.
"I packed up pretty quick, got on a flight that day and got down here," he said. "Luckily, we did the month-to-month [lease]. My wife will move everything out [Friday]."
He laughed when asked about leaving his wife to pack and move.
"I had to," he said. "She said she'll forgive me. I'll buy her dinner."
Patterson became the Jaguars' 13th kicker since 2020, a list that includes Josh Lambo (2020-2021), Steven Hauschka (2020), Aldrick Rosas (2020), Jonathan Brown (2020), Brandon Wright (2020), Chase McLaughlin (2020), Matthew Wright (2021), Andrew Mavis (2022), Ryan Santoso (2022), Elliott Fry (2022), Jake Verity (2022) and James McCourt (2022).
"That's a lot of guys," he said. "Hopefully, I can bring some stability to the position. That's my goal. I'm all for Jacksonville and ready to go. To be honest, I'm just really excited to be here. I really want to do well here for this team."