JACKSONVILLE – The play was cool and memorable. Really cool and memorable.
So, while returner/receiver Jamal Agnew is focused on the future – including the Jaguars' very big game Sunday – he admits to having enjoyed his immediate past.
How many NFL players, after all, score 109-yard touchdowns? The answer: three, with Agnew doing it two weeks ago against the Arizona Cardinals. And yes, he said, he has listened to the now-famous call of that play by FOX NFL broadcaster Gus Johnson more than once.
A few more times than once, actually.
"I've probably watched it over 100 times, just for Gus Johnson's reaction," Agnew said with a laugh during week's O-Zone Podcast with senior writer John Oehser.
Agnew, who signed with the Jaguars as an unrestricted free agent this past offseason, discussed more than the 109-yard play on the podcast – also discussing transitioning from cornerback to receiver over the past three seasons and about perhaps playing a role at receiver moving forward for the Jaguars.
His shoes from the aforementioned 109-yard return, which came on a missed field goal in 31-19 loss to Arizona at TIAA Bank Field in Week 3. The play tied the NFL record for longest play – and the shoes went to Canton, Ohio, where they will be displayed in the Pro Football Hall of Fame.
"It was an honor," he said as the Jaguars (0-4) prepared to play the Tennessee Titans (2-2) in an AFC South game at TIAA Bank Field Sunday at 1 p.m. "I never would have anticipated that. Obviously, that's what everybody wants.
"You play in the NFL, you want to go to the Hall of Fame one day – and you want to break records. For that to happen … it's honestly still surreal to me."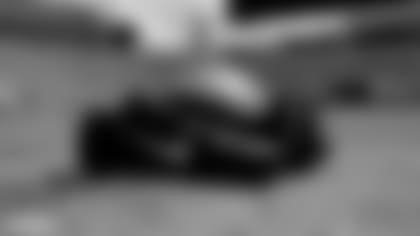 The touchdown against Arizona came a week after Agnew scored on 102-yard kickoff return against the Denver Broncos and gave Agnew – a 2017 All-Pro returner for the Detroit Lions – seven return touchdowns for his career. He emphasized that such individual success doesn't happen alone.
"I've got a lot of respect for those other 10 guys blocking," he said. "You've got to stop somebody's momentum from them being at top-end speed. I have a lot of respect for what those guys do. That's why I try to do my best to make plays for them, because they're working their butts off to block those guys for me."
Agnew also is emerging as an option in the Jaguars' offense. He caught a 27-yard pass from rookie quarterback Trevor Lawrence against Cincinnati last week and also had an 11-yard run.
"That's how I see myself," he said. "I'm an athlete out there. I can play DB (defensive back), I can play receiver, I can line up in the backfield. At the end of the day, I just want to make some plays.
"That's what I've been doing since I was a kid playing in the street."
To hear the entire O-Zone Podcast with Agnew, click HERE.