JACKSONVILLE – Senior writer John Oehser each week during the 2021 regular season will speak with a writer or media member covering the Jaguars' opponent.
Titans senior writer/editor Jim Wyatt about Sunday's 2021 Week 14 game between the Jaguars and Tennessee Titans at Nissan Stadium in Nashville, Tenn.
Question: The Titans are 8-4 with back-to-back losses. They're also in first place in the AFC South – and coming off their bye week. What's the state of the Titans entering Sunday?
Answer: The bye was well-timed. There's no question this team needed a break physically and mentally. They're still in a pretty good spot with five games to go: 8-4 record, three of the last five games at home, a two-game lead in the AFC South – plus the tiebreaker (a head-to-head sweep of the second-place Indianapolis Colts). I would think the bye would give this team a little more energy and a little more juice moving forward. It was kind of running on fumes before the bye. As Head Coach Mike Vrabel said Monday, it wasn't a broken team; it was kind of bent and banged up and now they had a chance to heal a little both physically and mentally. I expect them to play better coming off the bye.
Q: Running back Derrick Henry remains out with a foot injury. Any chance he still returns this season? What are they without him offensively?
A: Definitely a different-looking team. Certainly the swagger you get with having Derrick Henry is gone. That doesn't mean they still can't run the football. They went to New England and [running backs] D'Onte Foreman and Dontrell Hilliard each ran for 100 yards and as a team, the Titans put up 270. They're just doing it as a team. They're just doing it differently. They're spreading it around. I still think they will be able to run even without Henry, but obviously you want to get him back. Whether he's coming back this season is still the biggest question people ask in Nashville. He's barely a month removed from surgery. I've seen guys have that surgery (for a Jones Injury); some come back without any issues, some come back and have to have a second surgery or need to slow it down a little bit. We're still too early in the process to know where he's going to be. There's no question he wants to play. There's no question they want him to play. Time will tell which direction this is going to go. It wouldn't be until the playoffs if it does happen.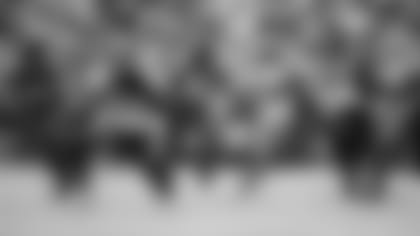 Q: Wide receivers A.J. Brown and Julio Jones also have been out. That may be as important as Henry being out, right?
A: It's huge. A lot of people have been quick to criticize [quarterback] Ryan Tannehill. He's 14 touchdowns and 13 interceptions. He's already well above his interception number from his past two seasons and he needs to play better clearly, but he not only lost Derrick Henry – his very productive sidekick – but he's also without his top receivers. Jones has hasn't played in over a month. Brown is on injured reserve. Marcus Johnson, who was the team's third best receiver coming into the season, is now done for the year. Tannehill's having to play with a bunch of receivers he doesn't have great chemistry with and they're not starters – at least they weren't starters at beginning of the year. Some of these guys are still kind of adjusting to the offense and trying to get on the same page with the quarterback. Tannehill has been criticized a lot, but some of it is just outside of his control.
Q: Where are they on defense?
A: Defensively, they're a lot better. They got 19 sacks last season in 16 games with four in the last week of the season. Now, they already have 29 sacks and [outside linebacker] Harold Landry has 10 of them. [Defensive end] Jeffery Simmons has seven and a half. They miss [outside linebacker] Bud Dupree, who's been out the last several weeks – and the pass rush has slowed down a little because of that – but they're still capable of getting to quarterbacks with a four-man rush. That's something they didn't do a lot of last year. They've been stronger across the board. [Safety] Kevin Byard is having a Pro Bowl season with five interceptions, and he has scored a couple of touchdowns – one on a pick-six and one on a scoop-and-score. They have certainly played a lot of games where the defense has been one of the reasons they have won. Now they need to settle back in and play well again down the stretch.
Q: Do they feel like they're really good still, the Titans?
A: I think so. When you lose back-to-back games like they did against Houston and New England, it causes you to reset a little bit. I don't think this team has lost its confidence. I don't think it has lost its swagger. I think everyone realized this is a beat-up team that needed some rest. But they're also a good team. You don't win six games in a row against teams that went to the playoffs last year if you're not a good team. Yes, they've laid a couple of eggs, but the complete body of work is good. They beat Buffalo and Kansas City. They swept the Colts and beat the Rams in Los Angeles on a Sunday night. This team is capable of playing some really good football. They need to get healthy. No question about that, but the pieces are in place for this team to hit its stride again as the season regular season winds down. Everybody realizes they're capable of doing that.