JACKSONVILLE – Doug Pederson's optimism about Trevor Lawrence is real.
Pederson, now in his second week as the Jaguars' head coach, discussed that optimism during his introductory press conference – and he reiterated it Tuesday while speaking with his former teammate, Hall of Fame quarterback Brett Favre.
Lawrence wasn't perfect as a rookie. But Pederson said how the young quarterback handled adversity is encouraging.
"The thing that excites you is how he continued to lead, how he didn't miss a game," Pederson said.
Pederson discussed multiple topics while appearing on Favre's weekly radio show – the Sirius/XM Blitz with Brett Favre and Bruce Murray – Tuesday, including his impressions in less than two weeks as the Jaguars' head coach.
"I'm getting settled in, getting the lay of the land and all is good," Pederson said.
He also discussed hiring a coaching staff, which he said soon should be complete.
"I wanted to really take my time and make sure I have the right guys I want to surround myself with," he said. "We're getting close. I hope to fully announce everything here in a couple of days."
Pederson, the Philadelphia Eagles' head coach from 2016-2020, also spoke extensively about Lawrence. The No. 1 selection in the 2021 NFL Draft, Lawrence started all 17 games as a rookie. He threw 12 touchdowns with 17 interceptions, playing perhaps his best game of the season when he threw for 223 yards and two touchdowns with no interceptions in a 26-11 victory over the Indianapolis Colts in the regular-season finale.
Lawrence struggled at other times, including an eight-game stretch in November and December with one touchdown and five interceptions.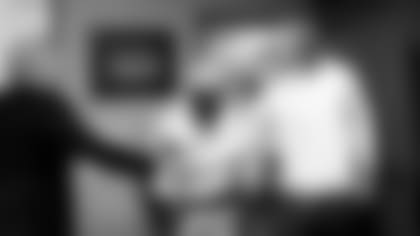 "There are a number of factors," Pederson said. "When you're a rookie and you're going through the draft process, you never stop. You never have time to really catch your breath and unwind. Your season from the time you leave college to the end of the NFL year is a whirlwind.
"It goes fast. He handled that as well as he could."
Pederson cited multiple injuries around the Jaguars' offense, a unit that lost wide receiver, DJ Chark Jr., to a broken ankle in Week 4. Running back James Robinson was limited by a heel injury much of the season before sustaining a torn Achilles in Week 15. Tight end Dan Arnold missed the final six games with a sprained medial collateral ligament.
"All of those things can affect a quarterback, especially a rookie quarterback," Pederson said. "Those are the things we've got to address as we move forward. … The things I've been told by people in the building here, the type of person – and the character person he is – are the things that have excited me about getting him here in the offseason and working with him."
Pederson added, "I like a lot of things about Trevor. He's obviously young. There is a lot of the NFL game where we can continue to teach him and he can grow. As you talk to Trevor, he just wants to get better. He wants to win. He's a proven winner. He's a tremendous leader inside the building and outside the building. There are a lot of good things he does that you can work with.
"There are things you can clean up. You still want to maintain aggressiveness. You still want to maintain athleticism. You don't want to change that stuff with him, but at the same time you want to teach him to play quarterback in the National Football League."