JACKSONVILLE – This week's Shadrick Sighting features a Q&A with Jaguars Assistant Strength and Conditioning Coach Cedric Scott, who was inducted into the University of Southern Mississippi Sports Hall of Fame last weekend.
A very important part of the Jaguars strength and conditioning staff in the weight room, Scott is now working in his fourth season with the team. Among many other duties in the weight room, if you came to an open training camp practice you would recognize Scott as the hulking guy who keeps the team on schedule and sounds the air horn to change practice periods.
Scott was a four-year letterman at defensive end for Southern Miss from 1997-2000, and was a part of Conference USA championship teams in 1997 and 1999. He was also named third-team All-America by Football News and the Associated Press in 2000, his senior season. He finished his career with 199 tackles, including 47 tackles for loss, and 26 sacks.
The Gulfport, Mississippi, native was the fourth-round draft pick of the New York Giants in 2001 and played professionally with the New York Giants (2001) and Cleveland Browns (2002), with time also spent in the World League and the Canadian Football League.
Scott traveled to Hattiesburg, Mississippi, this past Friday and Saturday for the induction, and sat down with me for a few minutes Tuesday to reflect on his career with the Golden Eagles, and how his collegiate and professional playing career helps him connect with current players.
As always, use #shadricksighting on Twitter to get involved.
J.P. Shadrick: "Did you ever think that a hall of fame was possible when you were playing for Southern Miss?"
Cedric Scott: "I felt like I gave my all when I was there, always trying to prove people wrong, always trying to go above and beyond as a player. Southern Miss is a mid-major college where we play a lot of big name schools. They don't get the respect that they deserve. I always kind of played with a chip on my shoulder just to prove, 'Hey, when you schedule Southern Miss you're going to have a fight on your hands.' Since I left, I always wondered if I did enough. Did I do enough to be named among the greats? Well, when I got the call for the hall of fame, I was like, 'I guess I did do enough.' That was my deal, I wanted to do enough to get put in the hall of fame, and obviously I did do enough. That felt good."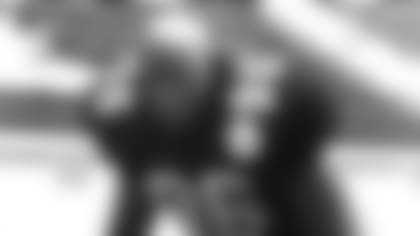 J.P.:"You're right up there with Brett Favre now…"
Cedric: "Well, not quite... (laughing) Brett's still's Brett. He separated himself from everybody, and obviously you know what he did in the NFL. Southern Miss has basically become the school that's known as, 'Hey, that's the school Brett Favre went to.' That's what everybody always says."
J.P.: "Why did you decide to go to Southern Miss, and what were your other offers?"
Cedric: "Mississippi State was on me very hard. They found out I went to (visit) Southern Miss, they wanted to fly me in the next day. (Former Mississippi State Head Coach) Jackie Sherrill had come down to watch me practice at high school. Southern Miss was just going into a conference. They sent me the media guide and as a high school senior I used to get the media guide, get Mississippi State's media guide and I would compare the two of who they had, who was leaving. Look at the D-line, like, 'His stats weren't very good, so I'm going to mark him out, I'm going to beat him out. This guy is very good, so he's probably going to play the other side. This guy had a great year, so he's going to be my competition.' And then do Mississippi State like that, 'and they're going to have a little more firepower. Southern Miss and the D-line position is lacking here, I may can get on the field a little earlier.' And also going into a conference I didn't feel like guys (at other schools) in Conference USA wouldn't be able to compete with Southern Miss, which we ended up winning it in '96, '97 and '99, winning conference championships, so it worked out."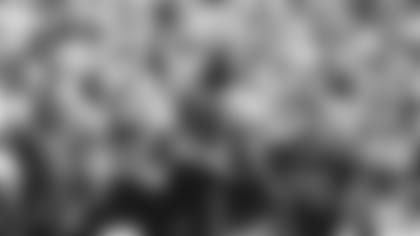 J.P.: "So your homework paid off it sounds like..."
Cedric: "I was trying to see what would fit for me, but also Coach Jeff Bower who coached at Southern Miss for 17 years, had 17 winning seasons, he made me and my mom feel that Southern Miss would be a great home away from home. It was an hour away from home, so it was far enough to get away from everybody, but close enough to get a home-cooked meal, get laundry washed or if I got homesick I could shoot down the road for an hour, and get back to Hattiesburg in time for anything that was going on.
"I met my wife there, so that was the key. Dorian Scott. I met her there, and we talk about it still to this day. She was like, 'If you would have went to Mississippi State, I would have never met you.' I was like, 'Yeah, God would have put us together some kind of a way, maybe my car would have broken down in Hattiesburg or something. We wouldn't have missed that opportunity.'"
J.P.:"I guess the Jaguars players look at you a little different now since the hall of fame announcement, or do they?"
Cedric: "You could tell they were excited for me. Gus did a great PowerPoint presentation to the team on Friday morning, and guys kind of look at you. With the age difference, I guess Clem (DE Chris Clemons) is the closest in age to me, but everyone else is more than 10 years younger, they look at it like, 'I knew you played, but I didn't know you were any good.' They kind of look at it not going into the hall of fame at Southern Miss, but getting in the hall of fame period, no matter what level you were on, means you did something and contributed to your team to help them win."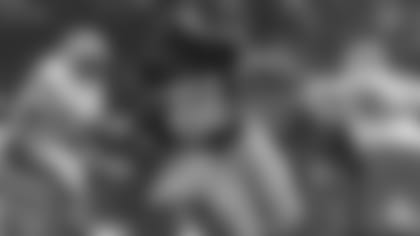 J.P.: "Does it help or change the relationship you have with players in the weight room, and is the respect an important part of those relationships?"
Cedric: "Once they see that you were actually out on the field putting in work, you give them a sense of, 'You know what I'm going through when I'm out there running sprints in the 90-degree heat. You've been there. You know.' I talk with Sen'Derrick (Marks) all the time, when you're getting two 300-pounders double-teaming you when you're tired, you're hot; he knows I know what it feels like.  So, when I'm giving him some instructions when he's tired and doesn't feel like doing something, he's more likely to take my instruction because he knows I've done it. 'OK, I've been there, I know what you're feeling, but I know you can do a little bit more right now,' or, 'I need to pull back right now, because I know he doesn't have any more left.' It's all about sensing them, feeling them, and understanding what they've been through. They listen a little bit more, have a little bit more respect for you, when you've played the position or have done what they've done or reached the same level that they're at now."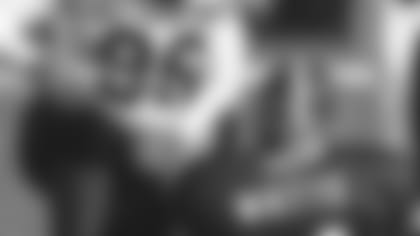 J.P.:"You and Milo (Jaguars strength and conditioning coordinator Tom Myslinski) both played in the league, and there are a few different perspectives for this strength staff as a whole. How do you guys bring those different perspectives together to work with the players?"
Cedric: "Milo did a good job of bringing variety, different talents to his strength staff. He and I, like you said, have obviously been there; he played on the offensive side of the ball and I played on the defensive side of the ball. Alex (Hampton, strength and conditioning associate) is from Australia, so he knows about Aussie Rules Football and all of that. Jess (Langvardt, strength and conditioning associate) actually did play college ball as a DB, so we all have knowledge of strength and conditioning, but we all have  a sense for the sport of football and what it brings and what is needed. Just working with different guys, we're all able to intermix and work with different guys and now specialize. The D-line, outside linebackers I'm familiar with; Milo with the big guys up front, offensive line, tight end work; and Jess and Alex working with the skill, combo positions. Milo did a great job of getting a mix of everything in the strength staff. It makes it easier to work with the guys on a daily basis."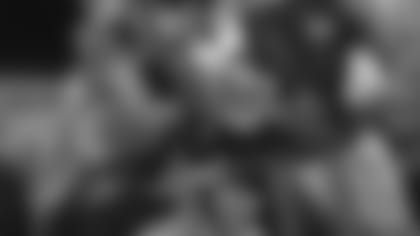 J.P.: "What are your future aspirations, stay in strength or maybe move to position coaching?"
Cedric: "Stay in strength and conditioning. Since I was 14 years old I always had a passion about the body, how it works, being physically strong. To me, as a little kid, looking at someone who is physically strong, it was just amazing to me. My dad is a big guy in stature, so I'm a big guy in stature. It's always so cool to me, the body, how it works. (It's) sort of like an artist, you have in your mind how something is supposed to look, so you've got to go to work to make it look that way. I always had a passion for it, so when I went to college my strength coach with us, Coach Charlie Dudley (now at Texas-San Antonio), it was just something about his passion for it, and his desire and how he commanded our attention and drove us and got everything he could out of us. I was like, 'This is awesome.'"