JACKSONVILLE – One. More. Game.
The Jaguars' 2021 season has been long. And tumultuous. It by any measure has been disappointing, and it will end with a game against the Indianapolis Colts Sunday at TIAA Bank Field.
The Jaguars have lost eight consecutive games, with the Colts in a vastly different position having been one of the NFL's hottest teams over the last eight weeks – and as a result needing a victory Sunday to secure a wild-card AFC playoff position.
The Jaguars with a loss can secure the No. 1 overall selection in the 2022 NFL Draft.
That would mean selecting No. 1 overall for a second consecutive offseason, something only two other NFL franchises have done – the Tampa Bay Buccaneers in 1976-1977 and 1986-1987 and the Cleveland Browns in 1999-2000 and 2017-2018.
That's not something players and coaches want, with rookie quarterback Trevor Lawrence memorably saying following a 50-10 loss to the New England Patriots last week that the Jaguars' objective this week is to finish strong. And win.
Recent results indicate that will be difficult. The Jaguars have led just twice in their last eight games – twice in the first quarter of a loss to the New York Jets two weeks ago. There's also the problem of motivation, with the Colts needing a victory for the postseason and the Jaguars playing for professionalism and pride. History and logic say the former usually trumps the latter.
But not always. And because this is the NFL, the Jaguars to have a chance to win Sunday.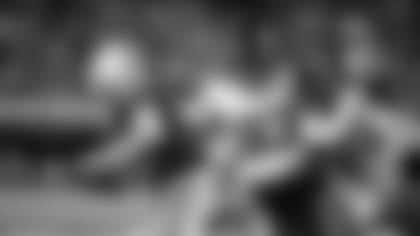 Here are 10 things they must do to make that happen:
Stop Taylor. This is Priority No. 1 for the Jaguars Sunday. It's Priority No. 1 for all teams playing the Colts this season because running back Jonathan Taylor is far and away the NFL's best healthy running back – and he has keyed the Colts' offense. A vote for Taylor for Most Valuable Player wouldn't be ridiculous.
Stop Taylor. This so important it's worth repeating. The Jaguars overall have improved against the run this season. They were really bad in the area last season, and they have been OK-to-good a lot of this season with some really rough performances along the way. Two of the roughest performances have come in losses to the New York Jets and New England Patriots the last two weeks. Sunday is no time for a rough performance.
Force Wentz into mistakes. Colts quarterback Carson Wentz has been inconsistent this season, turning in some "wow" moments and missing a lot of big throws. He often will make a throw or two a game that can lead to big plays for the defense. The Jaguars must turn those chances into points.
Get to 24. The Jaguars have scored 20 or more points just once since a Week 7 bye. Their season-high is 23 points in a Week 6 victory over Miami. If they fail to reach 24 Sunday, it will be the first time in franchise history they have failed to reach that total in any game. It's an amazing statistic in a season of amazing statistics.
Win takeaway-giveaway. This is key for any NFL team and it's so huge for the Jaguars that it helps define their season. They have forced a league-low seven takeaways and are an NFL-worst minus-22 giveaway-takeaway. It's likely the Jaguars would have double-digit losses even if they were better in this category, but their poor performance here is a huge reason they have the league's worst record.
Catch. The. Ball. Drops have haunted the Jaguars enough all season it's probably not realistic it will stop in the final regular-season game. Still, one can hope.
Get an early lead. The Jaguars not only have led just twice since November 7, they have repeatedly allowed points on their opponents' first drive. That has created a weekly sensation of the Colts playing uphill. If the Jaguars can get a lead Sunday, maybe they can put some pressure on the Colts.
Get better quarterback play. Rookie quarterback Trevor Lawrence has struggled since a Week 7 bye. These struggles aren't remotely all his fault, as injuries and struggling skill players have collapsed the offense around him. Still, the No. 1 overall selection in the 2021 NFL Draft has contributed to the cause with too many inaccurate throws and questionable decisions.
Protect the ball. Yes, this ties in with giveaway-takeaway, but the Colts are tied for the NFL lead with 33 takeaways. That statistic is key to the Colts' season and huge reason they're contending.
Stay healthy. This applies to all Jaguars players because the last thing this team wants is any key players unnecessarily rehabbing in the offseason. Fingers crossed.
Buy tickets and attend Sunday's game to get a FREE NFT. Buy tickets here.
More information and rules can be found here about NFTs.