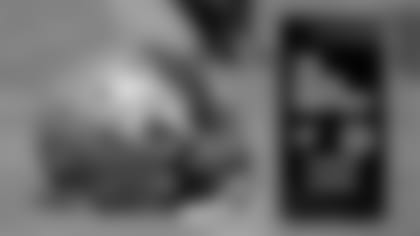 This was a big week for the Jacksonville Jaguars. The team opened 2014 Training Camp and unveiled its new video boards. So for this week, the format in The Social Snapshot will be a bit different. Instead of having a special section this week, the digital media team decided to break things up by topic. Below is what the fans, players and media were saying about the Khanstruction and Training Camp.
2014 Training Camp
Reporter Roundup
Head Coach Gus Bradley complimented his team on a great start to 2014 Training Camp.
Gus Bradley says he was really impressed with how team came out. — Hays Carlyon (@HaysCarlyon) July 25, 2014
Quarterback Blake Bortles received lots of accolades for his start to 2014 Training Camp. He finished a drive with a touchdown pass to fellow rookie Damian Copeland.
Bortles just led offense to a TD in two minute drill. Completed all 3 passes. — Michael DiRocco (@ESPNdirocco) July 26, 2014
1010XL's Lauren Brooks took a photo of Pride of the Jaguars left tackle Tony Boselli and a Fulham Football Club player at the first day of Jaguars Training Camp. Fulham was at the first day of practice.
Rookie linebacker Telvin Smith has gotten reps with the starters at various points during Training Camp.
Looks like LB Telvin Smith getting work with first team defense. #Jaguars — John Oehser (@JohnOehser) July 26, 2014
Wide receiver Cecil Shorts III sustained a hamstring injury at Saturday's practice.
The Jaguars mixed things up by holding Training Camp at Bartram Trail High School in St. Johns County. A crowd of over 3,300 showed up to cheer the Jaguars on in a unique setting.
After having a day off on Tuesday, the team returned to the field on Wednesday. Sports Illustrated's Peter King was at the team's facilities.
JACKSONVILLE-Very hard to walk away from day with Jags and not say, "That Gus Bradley is one heck of a football coach." Teacher, motivator. — Peter King (@SI_PeterKing) July 30, 2014
Player POV
Safety Johnathan Cyprien was ready for the start of his second NFL Training Camp.
Linebacker Nate Stupar is one of the most frequent tweeters on the team. He commented on the warm Jacksonville weather.
Despite rehabilitating a sports hernia injury during his first camp with the Jaguars, linebacker Dekoda Watson remains upbeat.
The fans weren't the only ones excited about the team's practice in St. Johns County.
The running did not stop for Will Blackmon once practice was over. He chased his son around the field for a game of tag on the football field at Bartram Trail High School.
Fan Focus
What better way to ring in 2014 Jaguars Training Camp than a selfie with the team's owner, Shad Khan.
Jeanne Beale snagged this photo with running back Toby Gerhart.
Comedian Lil Duval, a Jacksonville native, was in the house for Wednesday's practice.
Defensive end Andre Branch took a photo with @j_durkin after practice.
Head Coach Gus Bradley took a photo with @the_kingrahrah following practice.
@Duval_Teal not only has a great Twitter handle, he shared this great photo.
antoniorcarb combined a few of the photos he took at practice for this post. His caption: "Thanks for an amazing experience! @jaguars #ChadHenne #CecilShortsIII #JagsCamp #Jaguars"
Khanstruction
Reporter Roundup
Reporter Christian Bruey quote tweeted this image from CNBC. Jaguars Owner Shad Khan was on the network to talk about the new video boards on Friday.
Action News took aerial shots of the stadium improvements.
Matt Miller of Bleacher Report was excited for Duval after the Jaguars and EverBank announced a 10-year naming rights deal for the team's stadium.
10-year extension for the #Jaguars in Jacksonville? That's freaking awesome. Congrats to the fans who made it happen. — Matt Miller (@nfldraftscout) July 25, 2014
Jaguars Senior Correspondent Brian Sexton wasted no time in going in the Smart Pharmacy Spas.
J.P. Shadrick tweeted this picture to give fans a behind-the-scenes look at how the boards operate.
Many folks know Jaguars Senior Writer John Oehser has a Twitter account. He also has an Instagram. He posted this of the Khanstruction.
Jacksonville residents were oozing with pride following the unveiling ceremony.
Florida Times-Union photographer James Vernacotola posted this epic photo on Instagram. His caption:" The Big Unveil #Khanstruction #LargestVideoBoardsInTheWorld #OnlyInJax@Jaguars #igersjax"
Everyone was impressed by the video boards, including Carrie Underwood.
Carrie Underwood: "How 'bout these ginormous screens you guys got here." #Jaguars — Mark Long (@APMarkLong) July 27, 2014
National media was also all over the unveiling. Pro Football Talk tweeted this out.
More than 52,000 show up to see the unveiling of the new Jaguars video boards (there was also soccer and a concert) http://t.co/V3FBDjD2bP — ProFootballTalk (@ProFootballTalk) July 27, 2014
The 2014 Jaguars edition of Void Magazine hit stores Thursday. The team's owner, Shad Khan, was on the cover. This photo set off the Twittersphere once it was released.
Fan Focus
Throughout the construction process, fans were encouraged to use the hashtag #Khanstruction. Below are some posts using the hashtag at the unveiling event.
Crimjussq11 snapped this photo during the start of Jacksonville in Motion.
kaitlynnannn posted this on Instagram with the caption "Biggest video board in the WORLD people! #Jacksonville #Jaguars #Khanstruction #everbankfield"
bmarchio had a unique angle of the boards, and said: "You've never seen screens until you've laid eyes on #Khanstruction"
Preston Edwards was short and to the point with his tweet.
@jagsandredsfan's humorous tweet shows the popularity of the Jaguars' video boards and head coach..
Player POV
With Training Camp practice earlier in the day on Saturday, lots of players stuck around to cap off the day with the Summer Mega Event.
Great night at Everbank Field! Video boards are unreal, soccer game was great, meeting @carrieunderwood was awesome! Great night for Jax! — Josh Scobee (@JoshScobee10) July 27, 2014
The offensive lineman showed up in full force for the photo op with Underwood.
The special teams unit also had their photo taken with the country music superstar.