JACKSONVILLE – He is steady and reliable.
That has been true for Jaguars defensive end Dawuane Smoot this season – and the past two seasons. That's no coincidence and it's no accident.
"It's very important and something I take pride in," Smoot said.
There's more to Smoot than steadiness. A fifth-year veteran, he has had a remarkable rise – from being little used and frustrated early in his career to being one of the Jaguars' defensive line's most productive players the past three seasons.
But consistency perhaps has been his defining trait.
"He's really been Mr. Reliable," defensive coordinator Joe Cullen said Thursday as the Jaguars (2-12) prepared to play the New York Jets (3-11) at MetLife Stadium in East Rutherford, N.J., Sunday at 1 p.m. "He's not the fastest guy. He's not the quickest guy off the edge."
"[But] he knows how to rush. He has a feel how to rush. He's had his best year. He's played really well and consistent. It's really hard for 17 games to have that emotional high. He's the same guy every day and that's what I love about him."
How steady has Smoot been? How reliable? Consider:
A third-round selection by the Jaguars in the 2017 NFL Draft, Smoot went from registering no sacks in his first two seasons – and from being a healthy inactive for half of his 2018 second season – to registering a career-high six sacks in 2019.
He registered 5.5 last season and has five through 13 games this season.
Smoot also has been reliable week to week. He played all 16 games as a rookie in 2017, doing so again in 2019 and in 2020. He has played in all 14 games this season, starting eight and developing into a consistent disruptive presence opposite his linemate and best friend, linebacker/defensive end Josh Allen.
"I'm just trying to keep it consistent and show that no matter what the season holds I'm always going to be consistent and be that player you can count on," Smooth said. "I'm just trying to do that each year and trying to get better each year."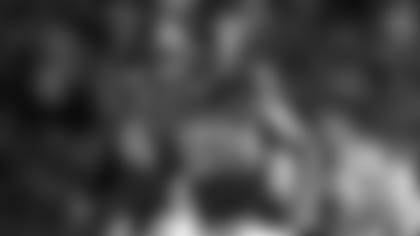 And yes, he said – in that sense numbers matter.
"Last year, I think I took a step back by a half a sack," he said, smiling. "Now, I'm trying to excel and get past my six-sack mark. That's my goal."
He added with a laugh, "Halves count."
Smoot, 26, has gained size and strength during the season. That's not something all players, particularly defensive linemen, accomplish late in what is a grueling and physically draining NFL season. Smoot said that absolutely has been an area of focus – and improvement.
"I'm definitely more stout against offensive linemen," Smoot said.
Smoot told the story of his 2017 rookie season, when he said he essentially was pushed around twice by Tennessee Titans offensive tackle Taylor Lewan.
"I used to get blown off the ball," he said. "I used to be just diving out there. I would just get thrown."
Smoot said he works daily and weekly with Head Strength and Conditioning Coach Anthony Schlegel, adding incremental weight when training and doing so each week. The payoff has been different results against the league's more physical linemen.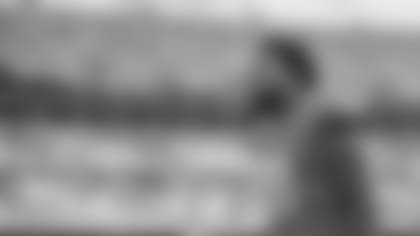 "Now, I'm competing," he said. "I'm setting physical edges. I'm putting people back in the backfield and able to shed a lot easier than what I have in years. I'm seeing that each week. I'm getting better with my run defense. That's by biggest thing: I'm getting strong enough to defend the run."
"If I defend the run, the pass rush will come."
Smoot's continued development this season has come with he and Allen emerging as a solid tandem on either side of the line, and Smoot said Allen – a third-year veteran – has been key to his development.
"It's been very important," he said. "I feel like we definitely feed off each other and definitely make each other better. I can say he's definitely my best friend. We spend every hour in the building together. I definitely feel like we wouldn't be the same without each other. We push each other."
"We point out each other's faults. We let each other know where we've got to get better. We get serious with each other, too. It's definitely a brotherly love that's helped us both ball out the last two years."