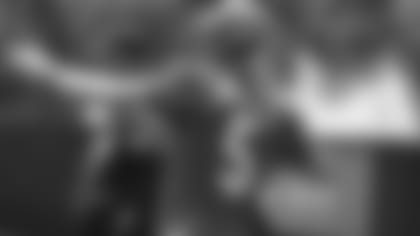 ](http://www.jaguars.com/media-gallery/photo-gallery/Jaguars-Rookie-Minicamp---Day-1/19d1e9fa-20db-49eb-a59b-a3bec3985a2c)

JACKSONVILLE – Blake Bortles is wasting no time.
If there was a takeaway from Bortles' post-practice conversation with the media following his first open practice with the Jaguars, then that may have been it:
Bortles, the No. 3 overall selection in the 2014 NFL Draft, may not be expected to start at quarterback next season for the Jaguars, but he's sure not approaching his job casually.
"I'm just trying to get acclimated with everything and learn as much as possible," Bortles said following a two-hour, mid-afternoon practice at the Florida Blue Health and Wellness Practice Fields adjacent to EverBank Field Friday afternoon.
Bortles, who played collegiately at Central Florida, took the majority of the snaps in the practice session, connecting on several crisp passes over the middle to fellow rookie Marqise Lee, a second-round wide receiver from Southern California.
"It was a lot of fun," Bortles said. "We've been here since Monday so I had the opportunity to learn some stuff with meetings and install and all of that. (Thursday) night we got what we were going to run today and met on it this morning. So it was good. It was awesome to come out here, it was high-energy and to be able to compete and have a lot of fun and try and get better."
Bortles had some passes dropped, and overthrew a few other passes – all in all, a fairly normal day for a rookie less than a week into his NFL career.
"I thought he did a nice job," Jaguars Head Coach Gus Bradley said. "We tried to get them in a rhythm and as we went through it. I'm sure he did some things that were good, some things he needs to improve on but he needs to capture and keep going with it."
Bradley said Bortles took more than 50 snaps in practice Friday compared to 14 for Stephen Morris, a collegiate free agent who played at Miami. That's indicative of the work the Jaguars want Bortles to get as he develops.
Bortles, despite being the No. 3 overall selection, isn't expected to start immediately, with veteran Chad Henne likely to start the regular season and thereafter.
But if the Jaguars aren't rushing Bortles, that doesn't mean he's taking a relaxed approach. He said he arrived at EverBank Field at 6 a.m. Tuesday, Wednesday and Thursday, leaving at 6 p.m. while working out, practicing and watching film in between.
"I can tell you this – we thought he was a really strong competitor, and he showed that (this week)," Bradley said. "Sitting in the front row, taking meticulous meeting notes, competing, asking questions, texting (offensive coordinator) Jedd (Fisch) and (quarterbacks coach) Frank (Scelfo).
"All those things that you would hope, we're seeing it. So it's real good."
Bortles this week has mentioned wanting to improve his footwork as he transitions to the NFL level.
"Footwork – yeah I think his lower body, using his lower body more when he throws," Bradley said. "There are just a few things we'll take a look at. Same thing with Stephen (Morris), that's a tendency with quarterbacks, they don't use their lower bodies as much as they should. That's one area that we'll look at."
Bradley said the main focus for the coaching staff this week is to learn about Bortles without over-coaching him.
"We want to learn how he handles the huddle, how he throws," Bradley said, "but you're not going to see five people coaching him every play and run to him and say, 'This and this.' We'll watch and evaluate and knock out a few pieces but that's what we do with everyone on our team."
Also around the Jaguars Friday:
*Rookie safety Craig Loston, a collegiate free agent from Louisiana State, missed practice to attend commencement ceremonies at LSU. He is expected to return Saturday. …
*Bortles had this to say about his first few days working with Fisch: "He's awesome. He's a great teacher. I'm trying to soak everything up. I'm trying to sponge everything in and retain it and try to transfer it back here on the field."…
*Bradley said fifth-round linebacker Telvin Smith stood out because of his speed Friday. "He moves really well in space," Bradley said. "He picks things up. He's just got to put some weight on."…
*Bradley on fifth-round defensive end Chris Smith: "He stood out today, I saw him flash. You know he has really good length – real good length. So he really works hard, but I think that length helps him as well."…