Second-year left guard Will Rackley sustained an ankle injury Tuesday.
Rackley, a third-round selection in the 2011 NFL Draft from L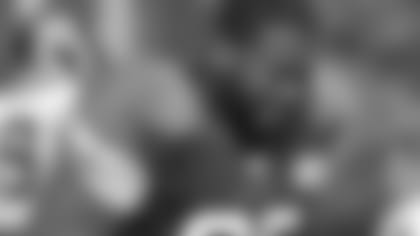 ehigh University, turned his right ankle in the morning practice, and was carted from the field. He later was on crutches with a boot protecting the ankle.
Jaguars Head Coach Mike Mularkey said Rackley was to have the ankle X-rayed Tuesday.
"I don't anticipate it being bad, but I'll know more once he's had a night to sleep on it," Mularkey said.
Rackley's injury meant the Jaguars finished practice with just one starting offensive lineman in the lineup. Guard Uche Nwaneri is coming off the Physically Unable to Perform list, and although he was in pads Tuesday he wasn't working in full-contact team drills. Center Brad Meester was in shorts for a second consecutive day.
Left tackle Eugene Monroe also missed practice with a wrap on his knee. Mularkey said Monroe had swelling in the knee, but should be back Wednesday.
Mularkey said Meester being out is part of a schedule to ensure the 13-year veteran is ready for the regular season.
"We have a plan for him," Mularkey said.
Even with the shifting lineup, Mularkey said, "We did all right. Guys plugged in there. They did a good job. They really did."
Mularkey expected Jaguars training camp practices to improve on the second day in pads. He got what he expected.
A day after Mularkey expressed disappointment with parts of practice Monday, Mularkey said Tuesday morning's practice – the team's first in full pads during this year's training camp – showed a significant improvement.
"It was better today – a lot better," he said. "They got comfortable with the pads on and a little more competitive with the pads on."
Mularkey on Monday had said the pass protection – particularly the running backs in the area of blitz pickup – needed to improve. He said that happened.
"Things we addressed yesterday we tho
ught we needed to address," he said. "You could tell they came out here today and tried to do better at it. If there was any leakage, the backs did a good job stepping up and plugging the holes.
"We had more time to throw, and we hit some bigger plays down the field. That was good to see."
Mularkey said the Jaguars' receivers also had a better day Monday. Wide receiver Laurent Robinson, after dropping at least one pass Monday, had two impressive catches on passes from quarterback Blaine Gabbert – a back-shoulder touchdown catch in red-zone drills and a 25-yard out pattern in 7-on-7 drills.
"I told him earlier, 'Look, don't put any more pressure on you – be yourself,''' Mularkey said of Robinson, who signed with the team as an unrestricted free agent from Dallas in the offseason. "I told him, 'It's early in camp, just be yourself and you'll be fine.' ''
"We (the Jaguars' defense) definitely have a confidence with each other. I'm sure you can see it on the field. The communication is good, which is usually a struggle this early in camp. It's coming along good. We trust the guy next to us and that's half the battle."
Jaguars Owner Shad Khan attended practice for the first time during 2012 Training Camp, and what he and the rest of the fans attending the morning session saw was significant improvement from the team's offense. Mularkey praised the offensive line for giving Gabbert more time to throw than had been the case on Monday, and the result was a better day for the quarterbacks and receivers. Not only did Robinson have a solid day, backup quarterback Chad Henne found Cecil Shorts for a touchdown in the left front corner of the end zone in red-zone drills. Tight end Colin Cloherty had an early drop that led to an interception by safety Jeremiah Brown and center John Estes had an errant shotgun snap, but running back Jalen Parmalee had a strong run for a touchdown early in red-zone drills. Rookie wide receiver Kevin Elliott had a long reception in receiver-quarterback drills, and Montell Owens and DuJuan Harris each had touchdown runs in team work in the morning. On Khan's presence, Mathis said, "You always know when the head man's around. There's a buzz in the air when he's on the field."
The 89 players present will keep to roughly the same schedule for Day 5 of 2012 Training Camp at the Florida Blue Health and Wellness Practice Fields as they have had the last two days. The team will practice twice Wednesday – a full practice at 8:30 a.m. and a 4:30 p.m. walkthrough. The 8:30 a.m. practice is free and open to the public.
We're only five days into camp, but already there are several players drawing the attention of coaches, particularly on defense. Not surprisingly, one is defensive end Andre Branch, a 2012 second-round selection from Clemson. There were those around the Jaguars who had him rated as one of the best pass-rushers in the draft. The team likes what it has seen in that area, but coaches are impressed with what Branch has done early against the run. "He's more stout than I thought he was," defensive line coach Joe Cullen said. "He's still young, but he can cover ground and he's athletic. He's done pretty well." Branch said for that reason, the first day or two in pads were important to him. "That part of my game has been under-looked – a lot," he said. "I just want to come in and prove myself. A lot of people say all I can do is rush the passer. I know what I'm capable of doing." Undrafted rookie linebacker Julian Stanford also has played well early, and he worked some with the front-line defense Tuesday during the full morning practice. Seventh-round defensive tackle Jeris Pendleton also has shown flashes in the first two days with pads.
*One area in which Gabbert has looked good early in camp is throwing the "back-shoulder" route, a pass on which the quarterback throws the ball to a receiver's back shoulder with the defender's back turned to the quarterback. The route has taken on added importance in many NFL offenses in recent seasons, and Gabbert has twice completed touchdown passes on the route in recent days. On Tuesday, he completed a touchdown pass to Robinson in red-zone drills using the route. "He's trying to do that," Mularkey said. "It's a cleaner throw if you have a receiver who is aware of it. They've been nice throws. The coverages are so tight, and it's a tough route to defend, because you can't see the ball coming. You don't know the receiver is going to stop on a dime, so it's an extremely difficult route to defend."
*Mathis said he feels good about his progress two days into training camp. He sustained a torn anterior cruciate ligament last November, and spent the off-season rehabilitating. He has been cleared to practice in training camp, and said he took about four reps with the first team Monday and 10 Tuesday. "I feel good – it's the workload," he said. "I think that's the main thing now – strengthening it enough to play, play after play after play. Monday was actually my first couple of reps full-speed. I wasn't thinking about it at all. I heard that was the hump to get over, so I guess I crossed that line."
*The Jaguars on Tuesday signed cornerback Leigh Torrence and waived cornerback T.J. Heath. Torrence (5-feet-11, 179  pounds) is a seventh-year veteran who has played with Green Bay, Washington, Atlanta and New Orleans.