JACKSONVILLE – First things first.
That's Jaguars Interim Head Coach Darrell Bevell's reality this week – that before game-planning for a difficult matchup, there is a more pressing issue.
"The main focus right now is being able to field a team," he said.
Bevell spoke early Wednesday afternoon via video conference as the Jaguars (2-13) prepared to play the New England Patriots (9-6) at Gillette Stadium in Foxboro, Mass. As he did, the Jaguars were dealing with major roster issues related to COVID-19.
The Jaguars at that time had 21 players on the reserve/COVID-19, including 18 on the active roster. That situation has changed daily in recent days.
"We'll have to see later in the week how the new ruling is going to be able to affect us," Bevell said, referring to the NFL and NFL Players Association this week reducing from 10 to five the days an asymptomatic player or coach – vaccinated or unvaccinated – must be out.
"It will help the team be able to get players back more quickly," Bevell said of the rule change. "We want to make sure we're doing right by the health of the player, making sure they are able to go back out on the field. But for us, that will help us to be able to get a number of players back."
Bevell said the Jaguars went "completely virtual" Wednesday, a change from their approach last week of having players meet at TIAA Bank Field in socially-distanced fashion. Players and coaches met by videoconference Wednesday morning before practicing early in the afternoon.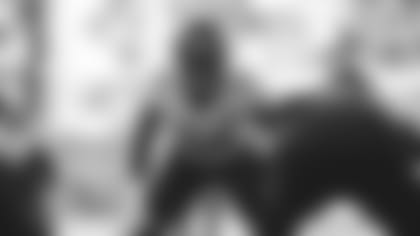 "We're trying to keep them as best we can apart," Bevell said. "Right now, I think that's the best interest of the team."
Five players – defensive end/linebackers Jordan Smith and Josh Allen, linebacker Myles Jack, guard Ben Bartch and wide receiver Laviska Shenault Jr. – missed a loss to the New York Jets Sunday on Reserve/COVID-19. Players placed on the list this week include guard Andrew Norwell, safety Rudy Ford, linebacker Damien Wilson, defensive tackle DaVon Hamilton, defensive lineman Malcom Brown and center Brandon Linder.
"It's really difficult," Bevell said. "We're taking it day-to-day. I hate having to see my phone buzz or my watch go off. I'm like, 'Oh, no. Now, what?' Another guy goes down. Right now, we just don't know. We're taking it a day at a time.
"We have to be as flexible as we can, but as far as game-planning and doing situational stuff, it makes it more difficult."
With the Jaguars this week officially able to begin their search for a permanent head coach, Bevell on Wednesday said he has not spoken to Owner Shad Khan about the matter. "Right now, we're mired in this COVID stuff," Bevell said with a laugh. "We're just trying to be able to get a team out there. As far as being interested … I would be. Yes."
Keep track of all roster moves here.