JACKSONVILLE – A day later, senior writer John Oehser examines what stood out in the Jaguars' 34-14 victory over the Dallas Cowboys in the 2021 preseason finale at AT&T Stadium in Arlington, Texas, Sunday
1. This was the Jaguars' best offensive performance of the preseason … The offense scored 17 first-half points, including 14 by the first-team offense – that despite the absence of four starting offensive linemen and two of the team's top three receivers. For a unit that had scored three first-half points in the first two preseason games, that was a marked and necessary improvement.
2. … and it was the best performance of the preseason for Lawrence. Not coincidentally, it also was the best performance of the preseason for rookie quarterback Trevor Lawrence. The No. 1 overall selection in the 2021 NFL Draft, Lawrence completed 11 of 12 passes for 139 yards and two touchdown passes. The Jaguars moved Lawrence outside the pocket and put him in shotgun formation far more often than not – very similar to how he played at Clemson. "Obviously that's what he did in college," Head Coach Urban Meyer said. "We're going to do what that player does well."
3. The Cowboys were playing very few regulars. While the Jaguars looked very good, the Cowboys played few players that they expect to contribute this season. "Dallas didn't play a lot of their guys," Meyer said. "They played very vanilla on defense as we did."
4. The offensive line stood out … Yes, the opponent played no starters, but credit the Jaguars' offensive line for playing well in difficult circumstances. Four Jaguars starters – center Brandon Linder (knee), right guard A.J. Cann (reserve/COVID-19), left guard Andrew Norwell (elbow) and left tackle Cam Robinson (ankle) – missed Sunday's game. That left right tackle Jawaan Taylor as the lone starter. It was a difficult enough situation that Meyer said the team considered not playing Lawrence Sunday. The group protected Lawrence well and allowed no sacks. "The most impressive group was the o-line," Meyer said. "That was the most impressive thing I saw, the offensive line protecting our guys."
5. … and so did the defensive line. A major Jaguars preseason theme was whether the run defense could improve. On Sunday, the Jaguars gave more indication that it has done so. After allowing 41 yards on 26 carries in a Preseason Week 1 loss to the Cleveland Browns and 63 yards on 21 carries in a Preseason Week 2 loss to the New Orleans Saints, the Jaguars allowed 76 yards on 21 carries Sunday. "I'd like to compliment the whole defensive front," Meyer said. "It's been three weeks in a row that we've won the line of scrimmage."
6. Just execute. While the Jaguars appeared more creative with Lawrence Sunday than in the first two games, Lawrence said the performance was more about execution than scheme. Meyer said the same, crediting the Jaguars' offense for being in more third-and-short situations than had been the case against New Orleans or Cleveland. "It doesn't matter what you run," Lawrence said. "If everybody is on the same page and everybody knows it, you are going to play well. We felt that today. We were all on the same page. We communicated well. We kept it simple."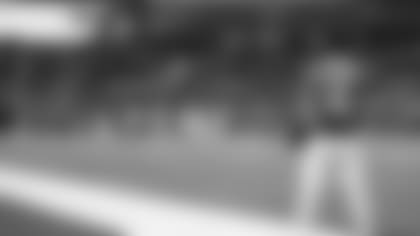 7. Lambo came through Sunday. Meyer had expressed concern over kicker Josh Lambo after he missed his only two field goals from more than 40 yards in the preseason. He converted from 45 yards and 34 yards Sunday and drew praise from Meyer after the game. "Much better day today," Meyer said. "He's been working. One thing about Josh Lambo: I've been around kickers, and that's as serious a kicker as I've been around. He wants to be great." Meyer also praised punter Logan Cooke, saying: "He didn't play as well last week. He's much better. I expect him to be one of the best in the league."
8. Meyer really admires Minshew. The Jaguars traded third-year veteran quarterback Gardner Minshew II to the Philadelphia Eagles Saturday. Meyer said his relationship with Minshew didn't start well this past offseason because the Jaguars had selected Lawrence No. 1 overall, but he made clear Sunday he had strong feelings for a player who started 20 games for the Jaguars the last two seasons. "That was tough, man," Meyer said of trading Minshew. "I was a little choked up when I saw him in that office. I didn't know him at all. It didn't start off on the best of terms because I'm not sure how much he wanted to be here. I get it. He's a competitive maniac, that guy. I told him for the rest of his life, count me as a big fan because he's what you want. He's a warrior. He's competitive."
9. Laviska's back. Not that he went away, exactly, but second-year wide receiver Laviska Shenault Jr. showed the skills Sunday that have many believing this could be his breakout season. He caught three passes for 33 yards and a four-yard touchdown, and his 20-yard tackle-breaking, catch-and-run reception in the second quarter was the highlight play of the Jaguars' second touchdown drive.
10. Jaguars players believe in Lawrence. Tight end James O'Shaughnessy Sunday: "Everything I have seen of him as a person and a player, I have no doubt that he is prepared and ready to lead our team. He is extremely humble. He is confident but not cocky. He is extremely down to earth for a person who is for a lot of people bigger than life. For our franchise, he is the face of our franchise. … And, obviously, is extremely talented. It is our job as an offense to come around, use his personality for the better, for us."