As a young kid, Jaguars FB Tommy Bohannon was one of thousands of Pop Warner football players taking the field each season with dreams of scoring a game-winning touchdown.  The four-year NFL veteran made that dream a reality this past season, and now he's paying it forward in a big way.
Bohanon was given the Pop Warner Humanitarian Award at the 58th Annual All-American Scholars Banquet this past Saturday. It recognizes players efforts on and off the field and is given to individuals who set a positive example for today's youth by accomplishing both outstanding athletic achievements and philanthropic initiatives.
"This award is meaningful to me because it shows how much I care about the community and trying to help out youth. I really do try and give back to the kids in our community," said Bohanon, a Florida native. "There was never really people around to do that for me, so I've always wanted to do that myself. To be able to get recognized for it, it's very special."
A former Pop Warner athlete himself, Bohanon has made it a point of emphasis to be involved in the community since entering the NFL in 2013. He has specifically focused on mentoring young athletes on and off the field through his nonprofit organization, The Tommy Bohanon Foundation. The foundation has awarded scholarships to deserving high school athletes and established a free youth football camp designed to grow the game of football by expanding the kids' love and knowledge of the game.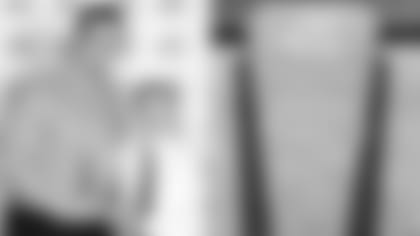 Along with his foundation, Bohanon has been active in the Jacksonville community and abroad. In February, Bohanon traveled to Morelos, Mexico with Jaguars teammate Myles Jack to promote youth health and fitness during a Tochito Flag Football Tournament and an NFL Play 60 activation.
"Youth football in particular is huge to me because I have been playing this sport since I was 5 years old," Bohanon said. "That was the starting point of what gave me the dream to want to play in the NFL."
The advice Bohanon offers to kids also applies to himself and his journey in the NFL. He stresses the importance of pushing through adversity by way of hard work and consistent belief in oneself.
After spending three seasons (2013-15) with the New York Jets, Bohanon was released by the team prior to the 2016 season. Finding himself unemployed, Bohanon went to work for his father's contracting company in North Fort Myers, Fla., where he laid concrete. Despite the strenuous labor, he continued to concentrate on his goal of returning to the NFL, training in the morning around 5:30 a.m. and then working out again once he was finished with his job.
His determined efforts were rewarded with a spot on the Jaguars offseason 90-man roster in April 2017, and Bohanon returned to the field with a vengeance. He earned a place on the 53-man roster following training camp and played in all 16 games, helping to pave the way for Jacksonville's NFL-high 2,262 rushing yards while adding three touchdowns (two rushing) of his own.  During the Jaguars' postseason run in 2017, Bohanon secured a victory with a 14-yard touchdown reception to clinch team's first AFC Championship appearance since the 1999 season.
"My journey has been different than most people," Bohanon acknowledged. "It was a story of never giving up and doing everything I could to be ready if that call ever came. That is why I'm here today, and that is one of my main points when I talk to kids. Just follow your dream and do everything you can to be ready when your time comes."
Bohanon will host the 2018 Tommy Bohanon Youth Football Camp on Saturday, June 23, at North Fort Myers High School. For more information, visit: https://tommybohanonfoundation.org/youth-football-camp/.