Jaguars Bag Policy & Prohibited Items | Jacksonville jaguars.com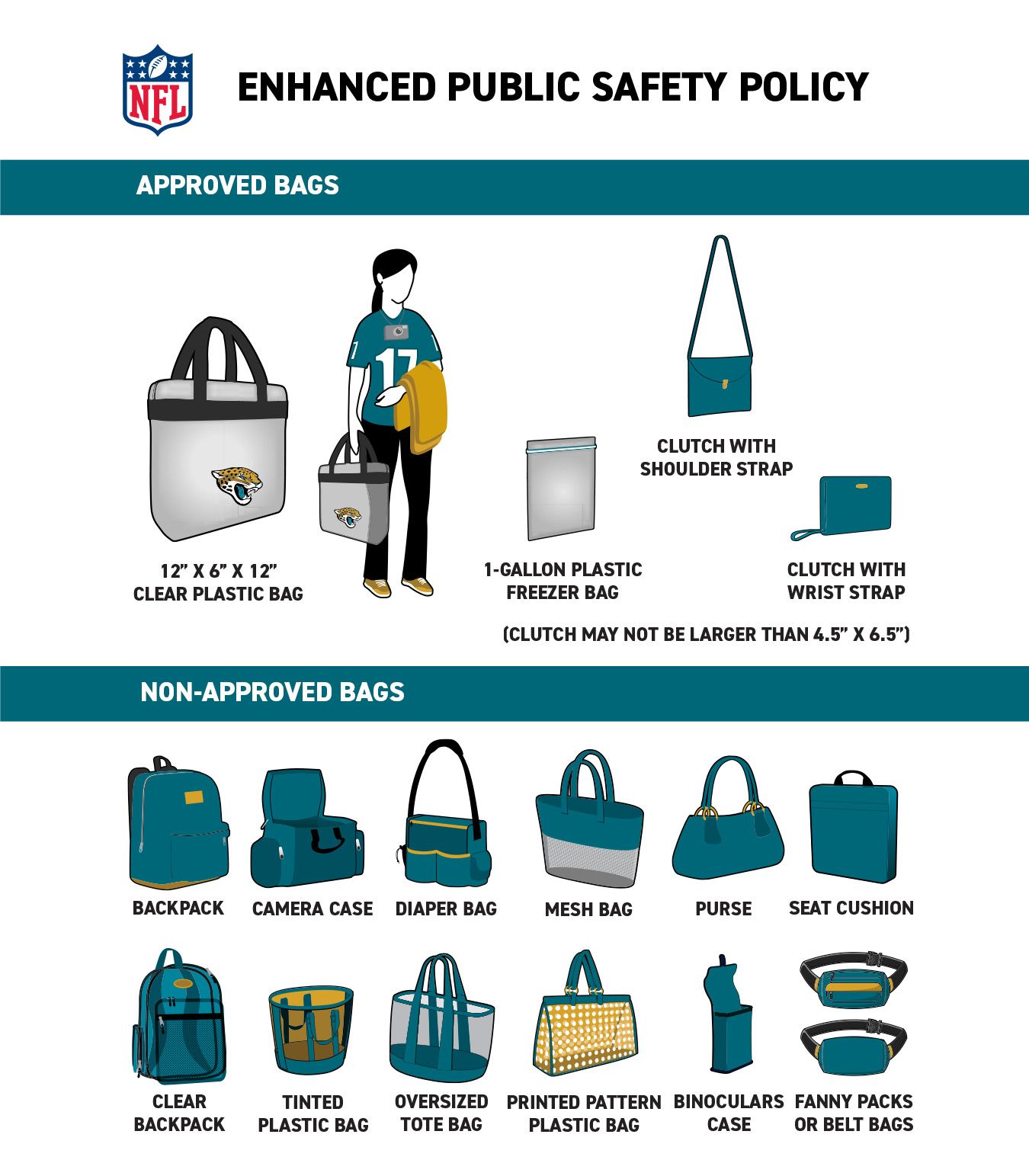 NFL Clear Bag Policy
To provide a safer environment for the public and significantly expedite fan entry into stadiums, the Jaguars have implemented an NFL policy this year that limits the size and type of bags that may be brought into stadiums. Exceptions to this policy will be made for all medically necessary items after proper inspection.
The Jaguars strongly encourage fans to not bring any type of bags, but fans will be able to carry the following style and size bag, package, or container at stadium plaza areas, stadium gates, or when approaching queue lines of fans awaiting entry into the stadium:
Bags that are clear plastic, vinyl or PVC and do not exceed 12" x 6" x 12." (Official Jaguars team logo clear plastic tote bags will be available through Jaguars Pro Shop), or
No buckles, grommets/hardware or décor can be concealing any part of the bag. The bag literally must be all clear.
One-gallon clear plastic freezer bag (Ziplock bag or similar).
Logo can only be on one side of the bag.
Small clutch bags, which cannot exceed 4.5" x 6.5" in size, with or without a handle or strap can be taken into the stadium with one of the clear plastic bags.
Prohibited Items
Prohibited items include, without limitation:
All bags with the exception of a 4.5" x 6.5" or smaller clutch, wallet or clear bag no larger than 12" x 6" x 12"
Cameras with detachable lenses or lenses longer than six inches
Clothing with profane or obscene language/content
Coolers or containers, including cans, cups (except 2021 stadium souvenir cup series)
Bottles and beverages from outside the stadium (except 1 factory sealed plastic bottle of water 16.9 oz or less per ticket holder)
Drones or unmanned aerial vehicles
Inflatables, loungers and other floatation devices
Knives, guns and any type of weapons (including actual, toy or replica) or explosives
Laser pointers
Laptop computers
Noise makers, whistles, and air horns
Non-lethal weapons and chemical agents (i.e., pepper spray, mace and tasers)
Pets (except service animals)
Seat cushions
Signs or Banners larger than 2' x 3' (see BANNER POLICY for additional information)
Sticks or poles (including selfie sticks)
Strollers or Infant carriers
Tobacco Products (cigarettes, e-cigarettes, chewing tobacco)
Umbrellas
Video equipment and tape recorders
All ticket holders and their belongings are subject to search (including by walk-through magnetometers, magnetic wanding, and/or pat-down) upon entry into the stadium. By tendering a ticket and entering the stadium, ticket holders consent to such searches and waive any related claims that they may have against the Jaguars, the NFL, its member clubs, the City of Jacksonville, ASM Global and their respective affiliates and agents. If ticket holders elect not to consent to the searches they will be denied entry into the stadium without refund.
Fans may not check items at the gates or in the stadium. Fans will be asked to either store their prohibited items in the Atlantic Self Storage Fan Lockers, take prohibited items back to their vehicles or dispose of prohibited items at the entrance of the stadium. The Jaguars and the stadium partners are NOT responsible for items left behind, lost, stolen, or damaged. Possession of prohibited items is grounds for ejection from the stadium. Game tickets will be forfeited.