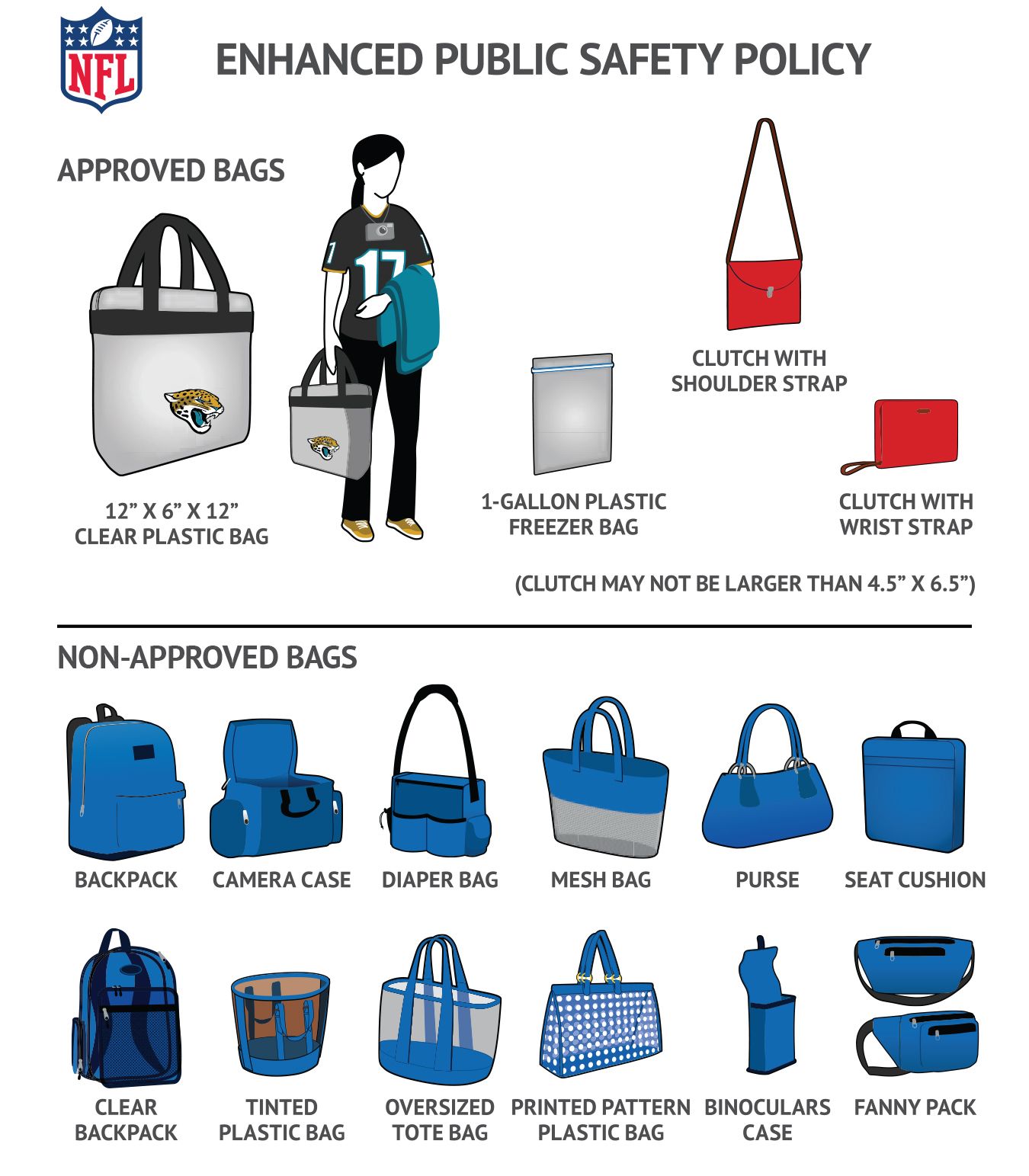 NFL Clear Bag Policy
To provide a safer environment for the public and significantly expedite fan entry into TIAA Bank Field, the Jaguars have announced an NFL policy that limits the size and type of bags that may be brought into the stadium. The Jaguars strongly encourage fans to not bring any type of bags, but outline what is permissible. Fans will be able to carry the following style and size bag, package, or container at stadium plaza areas, stadium gates, or when approaching queue lines of fans awaiting entry into the stadium:
Bags that are clear plastic, vinyl or PVC and do not exceed 12" x 6" x 12." All items will be subject to proper inspection at entry gate.
One-gallon clear plastic freezer bag (Ziploc bag or similar).
Nonclear clutch bags, approximately the size of a hand (no larger than 4.5" x 6.5")may be carried into the stadium along with one of the clear bag options.
Any medically necessary items must be pre-approved by the Jaguars. Please contact (904) 633-2000 (option 1) or myExperience@jaguars.com to be considered for approval. All items will be subject to proper inspection at entry gate.
Prohibited Items
Possession of prohibited items is grounds for ejection from the stadium. Game tickets will be forfeited.
Include, without limitation:
• All bags with the exception of a 4.5" x 6.5" or smaller clutch, wallet or clear bag no larger than 12" x 6" x 12"
• Cameras with detachable lenses or lenses longer than six inches
• Clothing with profane or obscene language/content
• Coolers or containers, including cans, cups (except 2019 stadium souvenir cup series)
• Bottles and beverages from outside the stadium (except 1 factory sealed plastic bottle of water 16.9 oz or less per ticket holder)
• Drones or unmanned aerial vehicles
• Inflatables, loungers and other floatation devices
• Knives, guns and any type of weapons or explosives
• Laser pointers
• Laptop computers
• Noise makers, whistles, and air horns
• Pets (except service animals)
• Seat cushions
• Signs or Banners larger than 2' x 3' (seeBANNER POLICY for additional information)
• Smoking, including e-cigarettes (except in designated areas on the ground level)
• Sticks or poles (including selfie sticks)
• Strollers or Infant carriers
• Umbrellas
• Video equipment and tape recorders