JACKSONVILLE – There has been a lot of talk about "Trevor's troubles" this week.
A couple of reasons: A shaky performance in a loss to the Colts in Indianapolis this past Sunday, and an offense averaging 11 points in three games since the bye week.
Trevor Lawrence, the Jaguars' highly-regarded rookie quarterback, was among those talking – though not on social media or a radio show. He turned to his teammates and started the conversation about what he needs to do better.
"We had some great conversations on Monday when we came in about how we have to play better – all of us," Lawrence said Wednesday as the Jaguars (2-7) prepared to play the San Francisco 49ers (4-5) at TIAA Bank Field in Jacksonville Sunday at 1 p.m.
"I have to play better for those guys up front, for the receivers; I have to throw the ball better. They have to make some more plays. It's all the way around. We all have to be better. That's the conversation you do have to have, and we have had, and we're in a good spot. I know it's all going to come together but we're hoping this is the week and that's what we're working towards."
If Lawrence sounds confident, you're listening closely. Outside noise can be fierce in the NFL, but the No. 1 overall selection in the 2021 NFL Draft is only worried about the Jaguars' locker room.
"We have a great group of guys and we're all in it together," Lawrence said. "There's never any pointing fingers. We all have to play better. I just appreciate those guys and I think it's cool the group we have. A lot of times fingers can get pointed and you start bickering at one another and we haven't done that at all. And I think you've seen us get better every week."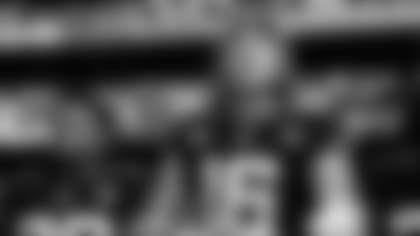 Lawrence is remarkably resilient for a rookie, telling assembled media in one breath how disappointed he was in how Sunday's loss to the Colts ended and in the next presenting his case as to why he's optimistic.
"You've got to finish those games and that would have been huge for us," he said. "But, moving forward it's like, 'How much we've grown since Week 1.' We get down 17-0 with two minutes to go in the first quarter [against the Colts] … earlier in the season I'm not sure how we would have responded. But we fought back, stayed in the game, didn't panic and had a chance to win."
"You can see how much better we've gotten. We're going to get there; we're going to finish those games. I have no doubt. I have confidence in myself that I'm not going to put us in that situation again and I know all the guys around me feel the same way."
Lawrence appears to be a coach's dream – a player at the game's most important position with the physical tools to be a franchise-caliber player plus the poise and leadership skills to handle anything and seemingly everything around him. He's quick to point out his own mistakes and isn't afraid of criticism.
"Obviously I had some bad turnovers early in the year," Lawrence said. "It took me a couple of weeks, but I got those out of my system. That's one thing I pride myself on is being coachable and getting better. Obviously, there's going to be new things every week and, in some areas, you might take a step back and think, 'Okay, I really need to hone in on that and go back to the drawing board and work on that in practice.' You just want to see that improvement whether it's pocket movement, accuracy, trusting my guys on routes."
Running back James Robinson (heel/knee) and linebacker Myles Jack (knee) were among four Jaguars players missing practice Wednesday along with linebacker Dakota Allen (shoulder) and rookie defensive end/linebacker Jordan Smith (illness). Jack played through the knee issue against the Colts last Sunday, with Robinson playing with the heel issue. Allen sustained his injury against the Colts. Punter Logan Cooke (left knee) and running back Carlos Hyde (shoulder) practiced limited Wednesday and safety Rayshawn Jenkins (illness) practiced full. Also: center Brandon Linder (knee/ankle) and tight end James O'Shaughnessy (ankle) were designated to return from injured reserve Wednesday. Head Coach Urban Meyer said before practice there is a chance both O'Shaughnessy and Linder could play Sunday.
Jaguars defensive tackle Malcom Brown: "We just continue to grow each week and grow trust with each other. We've been confident all year. We all know the talent that's in the room. It was just mistakes [early in the season] here and there, hurting ourselves. Lately, we've been hitting on keys, not making mistakes – all the things that good defenses do. We've been playing like it. We just need to continue to improve on those things and get better at the things we're not as good at."
Jaguars wide receiver/returner Jamal Agnew on the team's 18 dropped passes this season: "We work on that every day in practice. It just comes down to concentration and focus. It's something that can be easily fixed by locking in more through the catch. It's not something we're super-concerned about because it's an easy fix. Obviously, we want to make those plays and we're all capable of making those plays. Unfortunately we're not making them sometimes. We say anytime the ball touches our hands and we don't finish a play it's a drop."