JACKSONVILLE – The past is the past.
And while Head Coach Doug Pederson knows the Jaguars' recent history – including their recent history against this week's opponent – he also knows that past has little to do with the present.
Which is why he doesn't discuss it much – publicly, or with Jaguars players.
"I don't want to keep pouring all that on our guys," Pederson said.
Pederson, speaking Wednesday morning at his weekly mid-week availability, was discussing the AFC South-leading Jaguars' eight-game losing streak to the Houston Texans. The Jaguars (2-2) will play host to the Texans (0-3-1) at TIAA Bank Field Sunday at 1 p.m.
Houston has swept the Jaguars in seven of the last eight seasons, including double-digit victories in Jacksonville and Houston in 2021.
"I know that's the deal," Pederson said. "But this is a new team, new season, new opportunity for our guys. It may be something we talk about in small circles, but it's not a key message for me this week."
Sunday is key for the Jaguars for multiple reasons. It's a chance to regain momentum after a five-turnover, rain-plagued road loss to the unbeaten Philadelphia Eagles this past Sunday snapped a two-game winning streak. The Jaguars are also 1-0 at TIAA Bank Field this season.
Sunday also is a chance to move to 2-0 in the division, with a third AFC South game at the Indianapolis Colts the following week. The Jaguars, who last won the South in 2017, are tied for first in the division with the Tennessee Titans. Their last South victory over a team other than the Colts came against the Titans in Week 2 of the 2019 season.
"It's a really good, competitive division," Pederson said. "Obviously an opportunity to get to the postseason is to be able to handle your division games. It's another opportunity for our team to take another step forward, to grow as a team.
"But also understand: This is a good football team coming in here. It's going to take a really good week of preparation and practice to get that done."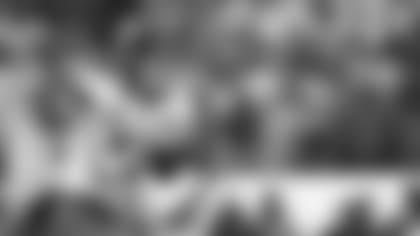 The Jaguars committed five turnovers in the loss to the Eagles, the NFL's last remaining unbeaten team. Quarterback Trevor Lawrence committed all the turnovers, losing four fumbles and throwing a key redzone interception.
"We're going to be OK, we're going to be fine," Pederson said. "I've been in a few games like that where it has been sort of lopsided from the turnover deal. We seem to correct it moving forward. Our guys understand. It's not something you have to sit there and browbeat them over.
"They understand. They know. The prized possession is the football. You have to take care of it."
The Jaguars responded to their first loss this season – Week 1 at Washington – with a 24-0 victory over the Colts at home the following week. Pederson said he has seen some similarities in the players' approach this week to the leadup to Week 2.
"But when Wednesday comes, we're focused on the next opponent," Pederson said. "Guys are fired up to get back out on the practice field, dive into the game plan and find out what their roles are going to be in it and focus on trying to not make the mistakes we've been making.
"This is Week 5. It's the Houston Texans coming in here, a good football team, and I've got to prepare these guys for this week."
Pederson said run defense will be a priority this week. The Texans rank 25th in the NFL in rushing, but rookie running back Dameon Pierce is 10th in the NFL with 313 yards and two touchdowns rushing through four games. The Jaguars rank eighth in the NFL in rushing defense, allowing 210 yards and four touchdowns to the Eagles. "There were things that we need to fix – all fixable, all correctable, all teachable," Pederson said. "That's going to be a focus this week, making sure we stay disciplined against a good running team. It's got to be all-hands on deck, but that's our division. This is a run division." With defensive end Foley Fatukasi sustaining a quad injury against the Eagles, Pederson was asked how the Jaguars would approach the defensive front Sunday. "There are ways of manipulating the roster in the week of preparation," Pederson said. "As we get closer to game time, we'll have everything ironed out."
Buy tickets to HOU vs. JAX here.