JACKSONVILLE – Darrell Bevell will continue calling plays.
Trevor Lawrence will continue as quarterback.
Those were two major storylines when Head Coach Urban Meyer spoke to the media a day after the Jaguars' first shutout loss in more than a decade.
Meyer said he has no plans to change coordinators, saying Bevell – the Jaguars' offensive coordinator – and passing-game coordinator Brian Schottenheimer remain key to the offense.
Meyer added of midseason coordinator change, "I've never really done that. I'm not saying I don't believe in it. If I thought that would help us win a game, I would do it."
He also added, "Brian Schottenheimer and Darrell Bevell work hand in hand, hand in hand … they're the dialogue guys on the headsets."
The Jaguars have produced 200 yards offense or less in three of the last four games, with Sunday's loss their first time not scoring in a game since a 41-0 loss at Seattle in October 2009. They are averaging 9.1 points a game and 278 yards per game since a Week 7 bye, and rushed for a franchise-record-low eight yards on eight carries Sunday.
Lawrence, the No. 1 overall selection in the 2021 NFL Draft, threw a career-high four interceptions Sunday – all in the second half. Meyer said coaches discussed whether to remove Lawrence from the game.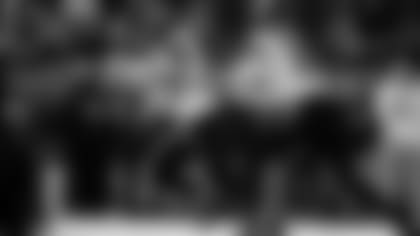 "There was some conversation about what would be best for Trevor at this point," Meyer said. "I obviously relied on Bev and Schotty, to get their opinions. We thought, all three of us, it would be best to let him finish."
Meyer said he expects Lawrence to continue as the starter.
"I think this is a learning experience for Trevor," Meyer said. "We need to go win a game. If we believe Trevor's our best chance to go win a game and he's going to be the quarterback here, [he must] just keep fighting through it. Fight through it."
Meyer on Monday also extensively discussed the run offense. Running back James Robinson rushed six times for four yards and Carlos Hyde rushed once for two yards. The Jaguars have rushed for 69 yards on 33 carries over the last two games.
"Whenever the run game doesn't work, it's at the line of scrimmage," Meyer said. "We're not moving people and right now that's an issue. That's the biggest issue."
"We struggle when we can't run the ball. That's two weeks in a row."
Meyer, asked if perhaps the Jaguars gave up on the run too early, replied: "Good question."
He added, "I would say we probably did. You get down a little bit. What happens is you get down a little bit, you get frustrated. As a play-caller, you get stuck in second-and-14 and second-and-10. But we have to establish the run."
Meyer on the offense: "When things aren't performing to the level we expect, you would expect frustration. I don't see finger pointing. I don't see yelling at each other. I don't see fistfights on the sideline like I've heard about. I don't see any of that. But I see frustration."