DETROIT, Mich. – Senior writer John Oehser examines Jaguars Head Coach Doug Pederson's post-game press conference following a 25-7 victory over the Detroit Lions in a 2023 Preseason Week 2 game at Ford Field Saturday …
1. No backup quarterback competition. C.J. Beathard is the Jaguars' backup quarterback. That how it has been the past two seasons, and Pederson left no doubt Saturday it very much remains that way. Pederson, asked after Saturday's game about a possible competition between the seven-year veteran C.J. Beathard and rookie Nathan Rourke, said: "No, no, no." He added, "C.J.'s our No. 2." Beathard completed 12 of 20 passes for 138 yards and one touchdown with one interception Saturday. Rourke, who played for the British Columbia Lions of the Canadian Football League the past two seasons, completed 10 of 12 passes for 121 yards and no touchdowns with no interceptions. "I like the way C.J. operates," Pederson said. "I like his mental capacity, the way he thinks. He sees the field extremely well. He's tough. You saw some athleticism today, the movement skills and stuff. He played well today and led us into a couple of field-goal drives there. He does a nice job."
2. Mission accomplished. Pederson's objective was clear and simple Saturday – to get young players and reserve their most extensive action of the preseason. He did so by not playing most starters and front-line players in one of the Jaguars' more one-sided preseason victories in recent memory. Beathard threw for a first-half touchdown with an interception, veteran kicker Brandon McManus made both of his first-half field goal attempts and rookie running back Tank Bigsby rushed for 70 yards on 13 first-half carries. The Jaguars led 12-0 at halftime and outgained the Lions or the game 399-131. "We played so many of our younger, backup and even some of those third-string guys," Pederson said. "I thought they played really hard. We played physical. It was good to see. It wasn't perfect, but I really felt like overall the offense and defense did a nice job."
3. Sound reasoning. Pederson said chose to sit starters in Week 2 in part because the Jaguars' first-team offense and defense worked extensively in joint practices against the Lions Wednesday and Thursday at the Lions' facility in Allen Park, Mich. Wednesday was padded and both practices feature intense 11-on-11 work. "Training camp's long and it's tough and hard and physical," Pederson said. "I just wanted our young guys to get really good opportunities to compete, to play, so we can evaluate properly."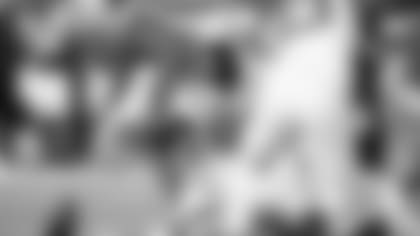 4. Injuries on the O-Line. Injuries are mounting for the Jaguars' offensive line. Rookie guard Cooper Hodges sustained what Pederson called a patellar injury Saturday and will have MRIs and X-Rays Sunday. Pederson said offensive linemen Chandler Brewer and Darryl Williams sustained shoulder injuries Saturday, with swing tackle Josh Wells expected to miss time after sustaining an injury Wednesday. Rookie right tackle Anton Harrison, who has dealt with a shoulder injury in 2023 Training Camp, was among the starters not playing Saturday. The Jaguars rushed for 145 yards on 35 carries against Detroit. "Hats off to [offensive line coach] Phil [Rauscher],'' Pederson said. "He did a nice job of keeping that mix in there. It's just all about preparation. I talk to our guys a lot about the preparation part of it, and they do a really good job coaching those guys up. This is why we like to have versatility on the offensive line."
5. Into the deep. Pederson for a second consecutive week praised the Jaguars' depth. With starters not playing Saturday, what was essentially the Jaguars' second-team offense/defense and deep reserves controlled the game throughout. The Lions' lone scoring drive of the game came in the third quarter, with reserve running back D'Ernest Johnson – who played for the Cleveland Browns the past four seasons – scoring on runs of one and 15 yards as the Jaguars pulled steadily away in the third and fourth quarters. Pederson on Saturday praised multiple reserve front seven players: outside linebacker Jordan Smith, rookie defensive lineman Tyler Lacy and veteran defensive lineman Jeremiah Ledbetter. "We're in a better position," Pederson said. "We do have more depth, and that's a good thing. It creates a competition that you want and it creates a competition even for the starter. The starters are out there watching the same game and they're seeing these players, so it motivates the starter, too. There's an underlying message sometimes with that. The young guys played well. We've still got a couple weeks of training camp left and one more preseason game, so a lot of football still ahead."
6. Pederson on Bigsby, a third-round selection in the 2023 NFL Draft whose 70 yards on 13 carries led all rushers Saturday: "He still has some to grow, obviously. There are some things that we can show him on tape, and he will just continue to get better. We wanted to see extensive reps with him today. This is the first time that some of these guys have played this much football [in the NFL]. I thought he did some really good things for us and there are some things to correct."