ARLINGTON, Texas – Senior writer John Oehser examines Jaguars Head Coach Doug Pederson's post-game press conference following a 28-23 victory over the Dallas Cowboys in a 2023 Preseason Week 1 game at AT&T Stadium in Arlington, Texas, Saturday …
1. So so. Pederson saw the preseason opener as many observers did – a solid start to the '23 season, but a start that includes areas to improve. The Jaguars struggled on the first two offensive series Saturday – then turned in a nice touchdown drive on the starters' final series. They committed 13 penalties, but registered four sacks and three takeaways. "I guess some good and some bad, obviously," Pederson said. "Overall, a lot of things to clean up but there is some positive that we'll take a look at and build on." Of the starters leaving the game with an 8-0 lead near the end of the first quarter, Pederson added: "That's always good. That was kind of the goal, was to get the offense going, and then defensively play well. There were some positives early, all things that we can build on for the rest of [2023 Training] Camp."
2. Good pressure. The Jaguars not only registered four sacks Saturday, but they got pressure on Dallas quarterbacks at times throughout the game and finished with seven tackles for loss and six official quarterback hurries. Rookie pass rusher Yasir Abdullah registered a second-quarter sack and had a pressure on a sack by defensive lineman Jeremiah Ledbetter later in the quarter. "It's always a good sign," Pederson said. "Always put pressure on their quarterback. I thought that Yasir stood out and had a couple of nice rushes. Even the first group getting some pressure. All good things that we'll look at on tape." Pederson added of nose tackle DaVon Hamilton, who also had a sack: "It's the way he's kind of attacked the season and attacked training camp. It's really good to see that he can definitely push the pocket from the tackle spot, and it just is what we need. It's what we need all season long."
3. Go for it. Pederson's game-day strategy took a significant turn early. That was when long snapper Ross Matiscik left the game after punter Logan Cooke's first punt with a shoulder injury. The Jaguars immediately thereafter went for it on fourth-and-3 from the 9-yard line, a play that resulted in quarterback Trevor Lawrence's lone touchdown pass of the game – a nine-yarder to wide receiver Christian Kirk. The Jaguars also went for two following touchdowns the rest of the game. "Unfortunately, Ross got knocked out of the game on that first punt on the turnover, and so we were out a long snapper for the rest of the game," Pederson said. "So, a lot of fourth downs we normally wouldn't do, and then a lot of two-point conversions that we normally wouldn't do. It was good to see, [tight end] Josh [Pederson] stepped in and had punt snaps and was effective, but we'll see where Ross is at this week."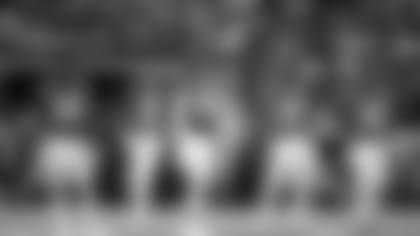 4. Rookie runner. Rookie running back Tank Bigsby led the Jaguars Saturday with 52 yards on nine carries, including a 34-yard run on first-and-10 from the Jaguars 12 that helped set up the Jaguars' second touchdown – a 4-yard run by backup quarterback C.J. Beathard. "I saw some good things from him," Pederson said of Bigsby, a third-round selection in the 2023 NFL Draft from Auburn. "I think once he settled in and really started seeing the hole a little bit better, he had a couple of nice runs on the perimeter. He's a tough running back. He's somebody that brings a little punch, runs behind his paths as you say, and this will be a good film for him to watch."
5. Pederson on 13 penalties committed by the Jaguars Saturday: "It's obviously something we've talked about. I've talked about it with the team. In these preseason games, especially when you're playing a lot of guys, things are going to happen, but it's something we have to clean up. It's really a discipline thing. It'll start with me this week in practice, and make sure that our guys understand the either pre-snap or post-snap, that just can't happen."
6. Wow. One of the game's most memorable plays came late in the fourth quarter, when third-team quarterback Nathan Rourke narrowly avoided a would-be sack before passing to an open running back Qadree Ollison on the right side of the end zone. "It was pretty incredible toughness, poise in the pocket, to be able to make a play like that, and have a couple of guys on him, to make that throw for the touchdown," Pederson said. "I haven't seen too many plays like that, even in a preseason game. Hats off to him. He did a nice job leading that group in the second half and was able to put us in the end zone, and then he had a touchdown run, too, so I thought he had a real good second half."