JACKSONVILLE – He walked with confidence, and a smile.
This was the first day of the rest of Anton Harrison's life – Day 1 of his NFL career – and the Jaguars' latest first-round selection had reason to be pleased.
This was the realization of a dream, the beginning of the next step.
"It means a lot for me," Harrison said. "All the sacrifice and work that we put in – me, myself, my family, the love and sacrifice they did for me – helped me get here. It's big for all of us."
Harrison, an offensive tackle from the University of Oklahoma selected No. 27 overall in the 2023 NFL Draft Thursday arrived at TIAA Bank Field early Friday afternoon. At a mid-afternoon press conference at TIAA Bank Field – the most public part of a whirlwind day – he sat at podium, with Jaguars Owner Shad Khan and Head Coach Doug Pederson to one side and General Manager Trent Baalke to the other.
Khan, after joking with Harrison to enjoy the day and "the pressure will come later," spoke of the dream-come-true feel of the moment.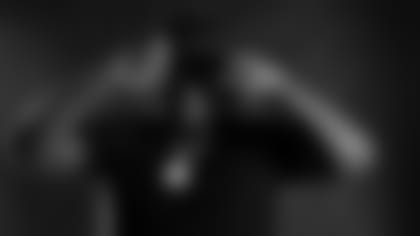 "It's awesome to be able to share that," Khan said. "Frankly, it's the power of football. All of us sitting here, we're blessed by the NFL. For someone else who gave their life to the sport and has worked hard, to see their rewards is obviously very satisfying. I feel great about it.
Harrison's dream came true with the Jaguars for multiple reasons, some so obvious that Pederson smiled when asked what his skill set brought to the defending AFC South champions.
"Have you seen him?" Pederson said.
Pederson added that in addition to Harrison's 6-feet-4, 315-pound frame, the Jaguars liked "Everything about him … his skillset, how he fits, how he moves, his ability to pass block, to come off the ball and have that mean streak in him as an offensive lineman and the run game."
"That's what you see with him," Pederson said.
Baalke on Thursday called Harrison a versatile player who can play both tackle positions and guard, with Pederson saying Harrison will start his career at tackle.
With Jaguars starting left tackle Cam Robinson expected to be suspended to start the 2023 season, and with third-year veteran Walker Little's lone career NFL starts coming at left tackle in place of Robinson, the Jaguars' tackle situation to start the season is unclear.
Harrison started at left tackle the past two seasons, with one collegiate start at right tackle.
"When I did it in college, I did it with not one practice at right tackle," Harrison said. "It's a smooth transition for me. I don't think it will be that big of a transition."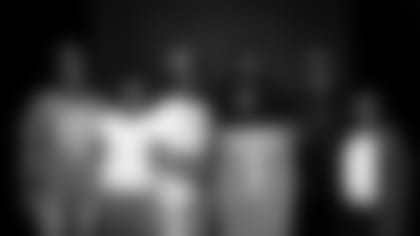 Pederson and Baalke, as they did moments after Harrison's selection Thursday, also on Friday talked about Harrison as a fit for the Jaguars' locker room. This was an area Pederson emphasized throughout his first season as head coach and one Baalke said factored in the Round 1 decision.
"That's the thing that impressed us the most," Baalke said. "It wasn't just about football, it was about his family, it was about his teammates, what he did during the week with his teammates to kind of build a bond. It's the same thing we're trying to build here, so it was a natural fit."
Harrison said his contact with the Jaguars began at the NFL Scouting Combine in late February, with offensive line coach Phil Rauscher attending his Pro Day in March.
"I feel like the energy was always there," Harrison said, with Pederson noting that a 20-minute conversation with Harrison at the combine "raised the eyebrows that this is a special young man."
"It's the reason why we took him in the first round," Pederson said, adding: "When I met him for the first time at the combine, listening to him speak and talk about his teammates, talk about his family … those are the type of men that we want on our football team. He checked all those boxes for me."
Harrison on Friday said the feeling was very much mutual. He said he watched Jacksonville a lot in 2022, expressing excitement about joining "a young team, exciting team with a lot going for them."
"I'm excited to be a part of it," Harrison said. "I learned a lot just being here, since I been here … the family environment. Everybody loves being here, loves working here. I'm just glad to be here."