NEW ORLEANS, La. – Senior writer John Oehser examines Jaguars Head Coach Doug Pederson's postgame press conference following the Jaguars' 31-24 victory over the New Orleans Saints in a 2023 Week 7 game at the Caesars Superdome in New Orleans, La., Thursday
1. Most important thing. Pederson praised multiple players following the game, including quarterback Trevor Lawrence, but mostly he praised a gutsy team effort that resulted in a fourth consecutive victory after a 1-2 start. What didn't bother him was a statistical sheet that showed the Saints out-gaining the Jaguars 407-330 and producing 25 first downs to 18 for the Jaguars. "No. 1, the biggest stat that matters to me is the scoreboard, right? The fact that we won the game," Pederson said. The Jaguars now have won 10 of their last 12 regular-season games and 11 of their last 14 games overall. They are 13-5 in their last 18 games overall.
2. Tough, tough, tough. Pederson's postgame availability unsurprisingly focused on toughness and guts. Not only did Lawrence start after sustaining a knee injury in a victory over the Indianapolis Colts this past Sunday, right guard Brandon Scherff also started four days after sustaining an ankle injury in the same game. Second-year cornerback Montaric Brown started in place of injured cornerback Tyson Campbell, with Tyler Shatley starting at left guard for injured Walker Little and Tim Jones playing in place of injured wide receiver Zay Jones. "Each man had to step in that gap," Pederson said. "Everybody had to lift each other up. I credit our offensive line. Other than the scrambles where Trevor got tackled, I think he stayed pretty clean in the pocket for the whole day. Brandon Scherff gutting it out like he did, so many guys on a short week battling injury. To sacrifice that for the football team says a lot about the character of these guys. I am so proud of them for doing that." Added Pederson, "There were a lot of individual efforts that were good to see. Just a lot of credit to those guys in the locker room."
3. In praise of the quarterback. Lawrence, a game-time decision Thursday, completed 20 of 29 passes for 204 yards and a touchdown with no interceptions – and his 44-yard touchdown pass to wide receiver Christian Kirk broke a 24-24 tie with 3:09 remaining. Lawrence rushed eight times for 59 yards with multiple clutch runs on scramble plays leading to points. "It just again shows the type of person he is and the unselfishness he has," Pederson said. "I saw it last year when he got injured. He got injured in the Detroit game [in early December], and he battled injury throughout the rest of the year and gutted that out. This is different. This is a short week. On Monday, I would have told you he was not playing in this football game, but that's not who Trevor is. Again, I'm proud of his effort – the ability to escape the pocket and run. Fortunately, they were straight-ahead runs. He didn't have to cut too much. A lot of gutsy performances out there, and his is probably the No. 1."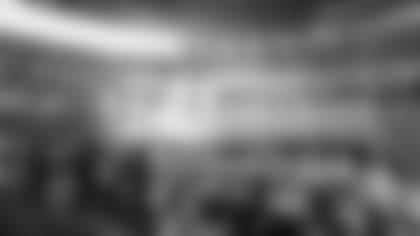 4. How close was close? Pederson, asked if he knew Thursday morning that Lawrence would play after being limited in practice Tuesday and Wednesday, said: "I wouldn't say 100 percent. It's not my decision to make. It's Trevor's, how he feels. He was feeling good [Wednesday], and he was feeling good [Thursday] during his workout. I trust my players. I'm going to do what's right, but at the same time, if a player – in this case, Trevor – feels like he can go, I'm going to trust that."
5. Resilent bunch. The Jaguars won a Thursday game as a road team, meaning they won a fourth game in 19 days. The first two games in that stretch were victories over the Atlanta Falcons and Buffalo Bills in London. They beat the Colts this past Sunday, then beat a Saints team Thursday that Pederson called "a good football team" and a "well-coached, disciplined group." He added, "It's a 60-minute football game, and that's what you've got to do. Guys own their jobs and do their role, and that's all I ask them to do. They did that. Don't do any more or any less. I challenged them to be great. They don't have to be perfect. Just be great. Have great passion, have great energy. They did that tonight."
6. Early offense. Jaguars running back Travis Etienne Jr. capped the Jaguars' first drive – a 10-play, 75-yarder – with a two-yard touchdown for a 7-0 Jaguars lead. The Jaguars never trailed Thursday and have not trailed in the second half of any of their last four games. They scored three touchdowns offensively Thursday and have scored seven offensive touchdowns in the last two games. "I just think the guys are gelling together," Pederson said. "They're coming together as an offense. You know, we were able to run the ball successfully in a couple of those drives there. Trevor was pretty accurate with his throws. Guys were making plays on some third downs. It just comes down to execution, you know? The last couple of weeks we were able to do that. Obviously, the end result was points."