JACKSONVILLE – Senior correspondent Brian Sexton examines the AFC South entering Week 11 of the 2023 NFL season …
Rookie quarterback C.J. Stroud has led the Texans to a 5-4 record, a game out of the AFC South lead. He's also headed into his 10th NFL game – against the Arizona Cardinals Sunday – with 15 touchdown passes, two interceptions and a passer rating of 101.1.
"He has done some incredible things," Texans backup Case Keenum said. "He is obviously doing it at a high level. He has continued to hone in on those little details that wind up winning football games. When it comes down to it in the fourth quarter, he has shown incredible fundamentals, incredible reads, incredible poise under what you would call the biggest pressure points of the game. It has been pretty awesome to watch."
Keenum's career has spanned 11 seasons and seven different teams.
"We talk every day about all sorts of stuff," Keenum said of Stroud. "Coverages, operation, routes, protections, concepts, movies, 'Game of Thrones,' food and life in general. It has been good to get to know him, and I would call him a really good friend, close friend. He has turned into a brother, and we've got a brotherhood in here. We've got family."
The Texans believe they have their franchise quarterback.
"With C.J., the thing that impresses me the most is how he has won the locker room, and the guys play for him," said Texans Head Coach DeMeco Ryans, whose team is squarely in the AFC playoff picture. "Guys truly believe in C.J., he exudes confidence, and our entire team is confident because of what C.J. has done."
The Colts went into their bye week feeling good about back-to-back wins. Even without their starting quarterback, Anthony Richardson, they find themselves in the middle of the AFC playoff race with eight weeks remaining in the 2023 season.
"You look at the standings, but you've got to take it one week at a time and focus on what you can focus on," Colts Head Coach Shane Steichen said. "That's winning one week at a time and being focused on being 1-0 every single week. Once you get towards the end — Week 15, Week 16, Week 17 — you see where it goes, and then it really turns into that playoff atmosphere."
The Jaguars have a 1.5 game lead over the Colts, but it's really 2.5 since they beat the Colts twice this season.
"Everything is in front of us," Colts defensive tackle DeForest Buckner said. "We have seven more games, and it's just a confidence factor knowing that we have a realistic push to make a playoff run."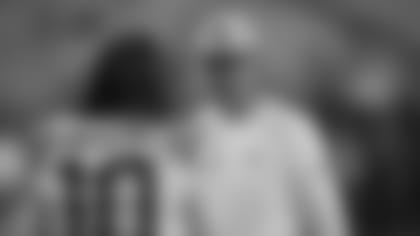 The Titans are in fourth place in the AFC South at 3-6, but they see this week's opponent as an example of what's possible.
A season ago the Jaguars arrived in Nashville 4-8 a week after a disheartening 40-14 blowout loss in Detroit. They fell behind early but rallied for a 36-22 to start a five-game winning streak that ended with an AFC South title.
"What we're trying to focus on is improving and winning," Titans Head Coach Mike Vrabel said. "We know how it goes in this league. You get going on a roll. You just have to play better, longer and more consistent."
The Titans have played only one AFC South game, a loss in Indianapolis in October, which leaves five games to make a run to the stop of the standings, including both games against the division-leading Jaguars.
"We've still got all these division games left and as far as we see it, it's still wide open," Levis said. "We've got to take it one day, one game at a time. It's a big one for sure."