JACKSONVILLE – Darrell Bevell liked what he saw.
After days and weeks of off-field drama, and after the dismissal early Thursday morning of former Head Coach Urban Meyer, what Bevell saw Thursday afternoon in his first practice as Jaguars interim head coach was anything but dramatic.
"I think they (Jaguars players) were focused," Bevell said as the Jaguars (2-11) prepared to play the Houston Texans (2-11) at TIAA Bank Field Sunday at 1 p.m. "I was really excited about that. Anytime you have any type of distractions, it can affect practice and the things you're doing.
"I was fired up the way they came out there. They handled their business. They practiced really well today."
Bevell, the Jaguars' offensive coordinator the first 13 games of the season, added of Meyer, "I had a great experience. Coach Meyer brought me in here and I have a lot of respect for him and what he did for me and my family."
Bevell during his first media availability as interim head coach covered multiple topics Thursday – and confirmed that he will call plays against the Texans as he did as offensive coordinator.
"I want to get through this week; I'm going to call the plays this week,'' Bevell said. "It's later in the week than it normally would be. We're going to status quo. We're going to keep everything the same this week and over the weekend. Then we'll mull over some things, and we'll probably have some conversations."
Bevell's primary focus as he spoke Thursday wasn't about the past, or what happened throughout the season or in recent weeks to lead to Meyer's dismissal. His focus instead was on the task at hand.
"As I said to the team, 'We're not looking back; today's a new day,''' Bevell said. "We're moving forward. I just want to move ahead. All eyes and everything we're doing I want to be on Houston."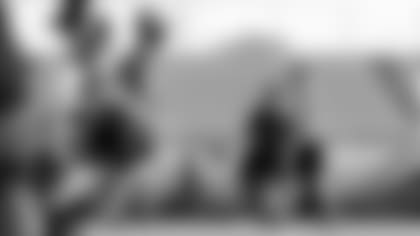 "It really is a time where there's four games left in the season. We want all the narrative and all the communication going on to taking on the Texans."
Bevell said he learned of the change late Wednesday night from General Manager Trent Baalke. According to Bevell, Owner Shad Khan contacted Baalke Wednesday night, informing Baalke that he wanted Bevell to be the interim head coach.
"It was pretty late," Bevell said. "We came back in this morning and kind of let 'er rip."
Bevell said the coaching staff met and game-planned Wednesday without Meyer in the building, with Meyer leaving TIAA Bank Field Wednesday afternoon.
"When these things happen, they're very tough and difficult situations to be put into," Bevell said. "But it's one that I'm super-excited about. It's a great opportunity for us to be able to just get focused on these next four weeks. As I told the team earlier today, it's one week. It's a one-game season."
"Everything we're talking about is getting a win."
Bevell said he will work from the sidelines Sunday after calling plays from the press box through the first 13 games. Bevell said he previously had been on the sidelines as an offensive coordinator with the Seattle Seahawks, Detroit Lions and Minnesota Vikings for 14 NFL seasons. "I love being on the field," Bevell said. "I've kind of been on the field the whole time. It's kind of been foreign to not be up there these last 13 weeks. I'm excited to get back down there. There's just great energy when you're on the field. It's like playing a video game when you're up there. It's so stale. It's so quiet. It's good to be around the guys. The interaction is better. The communication can be better with the players. Being able to see their eyes and talk to them … it's a different experience when you're on the field."
Bevell on running back James Robinson: "James Robinson is our starting running back and will be played as such."