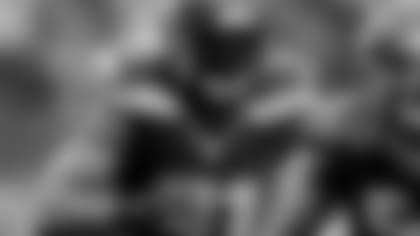 ](http://bit.ly/CCpics031314)

JACKSONVILLE – The frenzy got a little more frenzied.
And on Thursday, it continued with one of the Jaguars' biggest names yet in a busy week to start the 2014 NFL free-agency period.
Chris Clemons, a defensive end released this week by the Seattle Seahawks, signed as an unrestricted free agent with the Jaguars on Thursday, continuing a week of major roster moves for the franchise.
The Jaguars earlier in the day signed former Pittsburgh Steelers defensive tackle/end Ziggy Hood.
Clemons, who played with the Seahawks the last four seasons, had by far the greatest success of his career there, recording 11 sacks in 2010, 11 more in 2011 and a career-high 11.5 in 2012. Those were the three seasons Jaguars Head Coach Gus Bradley – working under Head Coach Pete Carroll – coordinated the style of defense now being used in Jacksonville.
Clemons sustained a torn anterior cruciate ligament in a playoff victory over Washington following the 2013 season, then returned to register 4.5 sacks this past season.
Clemons, 32, is an 11-year NFL veteran who originally signed as an undrafted rookie free agent with the Washington Redskins in 2003. He played 20 games over three seasons with Washington, then spent 2006 out of the NFL before playing 16 games for Oakland in 2007.
He played 32 games for the Philadelphia Eagles in 2008 and 2009 before joining Seattle. He has 58 sacks in 10 NFL seasons.
The Jaguars on Wednesday signed former Minnesota Vikings running back Toby Gerhart, former Denver Broncos offensive guard Zane Beadles and former Tampa Bay Buccaneers linebacker Dekoda Watson to free-agent contracts.
The team also traded quarterback Blaine Gabbert to the San Francisco 49ers and re-signed veteran cornerback Will Blackmon to a two-year contract.