The Jaguars' offensive coordinator spoke to the media Thursday – with topics ranging from rookie quarterback Trevor Lawrence to dropped passes and the struggles of an offense averaging 11 points in the last three games. Improving that average is Priority No. 1 for Bevell.
And basics are paramount.
"It starts with execution," Bevell said as the Jaguars (2-7) prepared to play the San Francisco 49ers (4-5) at TIAA Bank Field in Jacksonville Sunday at 1 p.m. "That's really our focus this week, being on our details and being able to execute."
The Jaguars rank 23rd in the NFL in total offense with 332.7 yards per game and are 31st with 16.6 points per game. They have scored 20 or more points three times with a season-high of 23 in a victory over Miami – and have scored seven, six and 17 points in the last three games with just two meaningful touchdowns in that span.
Lawrence, the No. 1 overall selection in the 2021 NFL Draft, struggled statistically in the three games. After three consecutive games with a passer rating of 90 or more, he has been under 70 three consecutive weeks. His 59.2 rating against Indianapolis Sunday was his lowest since Week 2.
"I think he's fine," Bevell said. "The guy's confident in his ability and confident in the guys around him. Really, the struggles we're having on offense are not one person. It's all of us and all of us will get it fixed together – starting with me. That's the first thing I told the guys when they came in on Monday, that it starts with me. I have to help them, and they have to help themselves as well. We have to work together."
The Jaguars, according to some statistics, have 18 dropped passes this season, and Bevell said there absolutely has been a focus on improving there. He cited multiple drills in practice, including numbers and colors on the ball to force receivers to focus watch the ball all the way into their hands.
He also said there must be a balance to that approach.
"Sometimes I think it can be almost a self-fulfilling prophecy," Bevell said. "If you harp on something too much, you draw too much attention to it. All these guys are professional catchers. They're receivers for a reason and their job is to catch the ball.
"We expect them to catch it. We'll do everything we can to help them. It can't be something that gets in their head, either."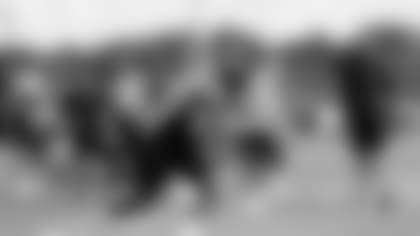 The Jaguars' pass rush has improved in the last three weeks with the rest of the defense. After registering eight sacks with 29 quarterback hurries in six games, the Jaguars have eight sacks with 19 pressures in the last three games – at Seattle, home against Buffalo and at Indianapolis. "Our rush and coverage are really working well together," defensive coordinator Joe Cullen said. "The defensive backs and underneath coverage are getting their depth and maybe making the quarterback hold the ball and then our rush is getting there. We're getting great pocket collapse from [defensive linemen] Roy [Robertson-Harris], Taven [Bryan], Jihad [Ward], Malcom [Brown] and DaVon [Hamilton]. All those guys are doing a great job and that really has helped. Our edge guys were getting pressure, but now we're getting that push up the middle. Then, you mix in a pressure or two and the blitzes are getting home." Added Cullen, "The guys are getting a feel for one another, and how to rush together. You can have four great rushers and if everyone's doing their own thing, nothing works. You have to have four to get to the quarterback. Not just one."
Running back James Robinson (heel/knee) and linebacker Dakota Allen (shoulder) practiced limited Thursday after missing practice Wednesday, with linebacker Myles Jack (knee) and rookie defensive end/linebacker Jordan Smith (illness) missing practice for a second consecutive day. Jack played through the knee issue against the Colts Sunday, with Robinson playing with the heel issue. Allen sustained his injury against the Colts. Punter Logan Cooke (left knee) and running back Carlos Hyde (shoulder) practiced limited for a second consecutive day, and safety Rayshawn Jenkins (illness) practiced full for a second consecutive day. Defensive tackle Malcom Brown missed practice with a rest day.
Cullen on 49ers tight end George Kittle: "They move him around. They put him out at No. 1. They put him at three. They put him in the backfield. We have to play tight coverage on him. He does a really good job at the catch point where he turns around and you're basically a little out of position. He positions well, like a basketball player. The big thing he does is when he catches the ball he gets a lot of yards after contact. You have to tackle him and limit the yards after contact because he does as good a job as anybody after he catches the ball."