Each week in the Magnificent Seven, jaguars.com senior writer John Oehser offers seven thoughts on all things Jaguars . . .
7.Lights out. We'll start Magnificent Seven this week talking to Maurice Jones-Drew, and while the two-time Pro Bowl running back has been pointed when talking about the need for the Jaguars – and specifically the offense – to play better, he hasn't shown undue frustration. At least not publicly. Jones-Drew said one reason is he's more mature with better perspective than when he was younger, and he said a bigger reason is the Jaguars are closer to being good than many observers believe. Jones-Drew said perhaps the most frustrating thing about the Jaguars' struggles is the reason they're supposed to be struggling isn't the reason they actually are struggling. "It's not the rookie quarterback that's holding us back, because he's playing lights-out right now," Jones-Drew said of Blaine Gabbert. "It's little things: like we recognize something – make sure we take advantage of that. If it's in the run game or the pass game – it's playing complementary football as a team, little things like that that we're used to doing that are holding us back right now." Jones-Drew pointed to the play that ended the team's chances Sunday – the errant snap by center Brad Meester with just over a minute remaining – as an example. "They were going to bring an all-out blitz," Jones-Drew said. "He (Gabbert) checked into a protection where if things had played out we would have the opportunity to try to go win the game on that play. Those are the things you don't expect rookie quarterbacks to do, so when he does things like that, it gives you hope. We want to execute that play, but he's giving us a chance. That's all you can ask."
6.He's back. Really.It's understandable by now if fans are tired of reading about defensive end Aaron Kampman's potential return. He missed the last eight games last season with a torn ACL and has missed the first five games this season with the aftereffects of the injury. But while fans weary of players being out, it indeed does appear that Kampman will play this week – and the Jaguars are legitimately excited about what he can bring. The Jaguars don't expect Kampman initially to be the every-down player he was before being injured last season, but they don't need him to be. The Jaguars are getting consistent pass rush from the other ends, and they're getting disruption and penetration from the interior linemen. What the Jaguars haven't gotten yet this season is the consistent, every-down sack presence that a superstar defensive end can bring. It's not fair to expect that from Kampman in his first game back, but the Jaguars think he can give them reliable pass rush from the outside, and that's one more piece in a defensive puzzle that has been pretty good so far this season.  
5.Memories of Steeltown.We don't take time often in the Magnificent Seven to reminisce, but it's tough to prepare for a Jaguars-Steelers game in Pittsburgh without looking back. I know the predecessor has the market cornered on Pittsburgh memories, but in the early days of the franchise, little mattered more than a trip to Three Rivers Stadium. While most of the Jaguars' success against the Steelers came in Jacksonville in those days, there was the notable exception of Fred Taylor's record-setting night in 2000 when he rushed for more yards than any opponent ever against the Steelers at Three Rivers. It's still the most impressive running performance I've ever covered. There was also the '97 game the Steelers won in overtime, a forgotten classic of those early years. The rivalry has waned understandably since the Jaguars moved from the Steelers' division, but make no mistake: it was a rivalry in those early years and the games at Three Rivers were a classic part of Jaguars lore. There's also the fact that it's one of the best cities in the NFL to attend and cover a road game, but that's a story for another day (and night).
4.Topics I'm worn out on.Small-school drafting. Job security. Los Angeles. Offensive line. Wide receivers. Small-school drafting. Free agent wide receivers. Terrell Owens. Small-school drafting. Eugene Monroe. Trading for wide receivers. Sidney Rice. Secondary. Rashean Mathis. Tim Tebow. David Garrard. The 2012 NFL Draft. Did I mention small-school drafting? I think that about covers it.
3.No Mincing words. One topic I'm not worn out on: Jeremy Mincey. One of the interesting things about the first season covering a team is the process of sifting through the roster, and gradually getting an accurate, true idea about individual players and what they're all about. I admit when I first arrived I didn't pay much attention to Mincey, reason being there was so much talk about Kampman's return and the building-block defensive tackle tandem of Tyson Alualu and Terrance Knighton. But over the course of five weeks I've come to appreciate Mincey more. He recorded his first sack of the season last week, but if it seems from watching games this season as if Mincey has played better than that, it's because he has. He has 18 quarterback pressures, and has played significantly better than any defensive end on the roster through five weeks. He may not ever be a Pro Bowl-level, superstar pass rusher, but while good defenses needs elite pass rushers, they also need players such as Mincey – i.e., guys who provide consistent rush and pressure and guys who play well against the run as well as the pass. Good defenses more often than not have deep lines that can rotate players at every position and still disrupt the quarterback. The Jaguars are a lot closer to having a line of that caliber and Mincey's development this season is a major reason.
2.Time to let it go. I've gotten more emails than I expected on the botched snap by Meester at the end of the Cincinnati game, with several of those emails calling for Meester to be cut. There was a lot of anger after that game, and understandably so, but come on. Cut Meester? You can't expect fans to be rational, but I can assure you there was no thought given to releasing Meester this week. I liken that a bit to a situation in the early 1990s, when Cowboys defensive tackle Leon Lett made a couple of well-documented mistakes that hurt the team in high-profile games. People pontificated that Lett should be released and then-Cowboys Jimmy Johnson laughed and said there was a reason the Cowboys wouldn't release Lett – because every other team in the league would want him. Meester's near enough to the end of his career that not every team would want him, but the crux of the point is still the same. You don't release Meester because beyond him being a high-quality human being, he's a quality veteran center who's playing very, very well. You don't release guys like that. (And incidentally, you don't release rookie wide receiver Cecil Shorts, either. You don't give up on draft picks with potential because they've had a bad start.)
1.And finally, on the kid.In keeping with the close-the-Magnificent-Seven-with-a-Gabbert-thought tradition, let's use this space to say Gabbert continues to get positive reviews for all of the important reasons. One reason continues to be the natural ability. Remember when we talked about him doing things that you just didn't see very often? On 3rd-and-7 on the opening drive against the Bengals, Gabbert made just such a play when he found Mike Thomas for the first down. Average quarterbacks don't make that throw. The ability to make that sort of play was never a question with Gabbert. What has been a question is footwork and pocket presence, and while those likely will be an issue until he has an off-season to focus on technique, you continue to hear nothing but praise behind the scenes about Gabbert. There are no whispers about him not having the work ethic, or about concern. All reports are that Gabbert not only has the ability, but the drive and the work ethic to be the quarterback the Jaguars hope he will be. I was asked this week on a chat what I expected to see from Gabbert, and the answer remains the same: progress. If by the end of the season you know he can be the quarterback of the future, that's all that matters.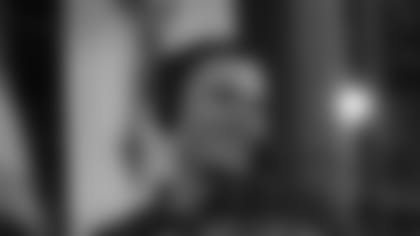 news
View from the O-Zone: New Hall approach for Bo
Oehser: Tony Boselli is taking a different approach this year as he awaits news from the Pro Football Hall of Fame; here's hoping the approach works