JACKSONVILLE – Little ended well for the Jaguars Sunday.
But while reflecting on a fourth consecutive loss, Jaguars Head Coach Urban Meyer on Monday afternoon found at least one positive.
That came early, when a defense that has helped keep the team competitive at times in the last month and a half had a strong stretch against one of the NFL's most potent offenses.
"I thought they were great; I felt it," Meyer said a day after a 37-7 loss to the Rams at SoFi Stadium in Inglewood, Calif.
The Jaguars held the Rams without a first down on their first six third-down opportunities, and Los Angeles' lone first-half touchdown came on a 27-yard drive that followed a lost fumble by running back James Robinson on the Jaguars' second offensive play.
The Rams drove 39 yards for their first 10 points.
"We gave them 10 points and the next [five Rams] possessions started inside their 17-yard line," Meyer said. "We were playing complementary football against a very good team on the road. Then we just weren't able to get first downs and the defense wore down."
The Jaguars scored their lone touchdown on a 13-play, 73-yard drive in the first and second quarter. They failed to produce a first down on their other first seven possessions. After leading 10-7 early in the second quarter, the Rams scored on five of six possessions and led by the final margin with 10:52 remaining.
"Certainly, it's an issue," Meyer said. "Defenses weren't made to be three-and-outs on the other side. The best defense is getting a nice 14-play drive. That's an issue right now."
Meyer addressed multiple other topics Monday, including Robinson – who has been playing through a heel/knee issue since sustaining a heel injury against the Seattle Seahawks October 31.
Robinson, the starter when healthy, didn't play on the Jaguars' ensuing 20 snaps after his early fumble – this after not playing for 16 snaps after losing a fumble in a loss to the Atlanta Falcons the previous week. Meyer on Sunday said Robinson's snap frequency against the Rams was injury related.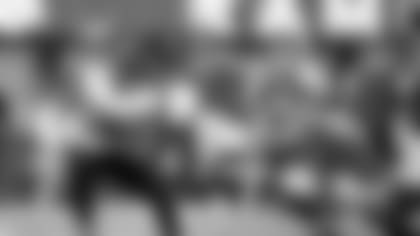 Meyer on Monday was asked about Robinson carrying three times on the Jaguars' final series considering the injury concern.
"That's a good question," Meyer said. "I know that there's a running-back rotation. They worry about his load and how many carries and they track that. Obviously at that time of the game, they must have wanted to get him a few more carries – [running backs coach] Bernie [Parmalee] did."
Meyer also discussed how much he manages playing time at specific positions.
"I'm aware of it," he said. "I'm not in charge of it, but I watch it. I'll say, 'What's our thoughts here? What's our thoughts there?' Obviously, I didn't do it there with James."
Meyer said he planned to be more involved in the running-back rotation moving forward.
"I have just got to be sure we do it the way I want it done," Meyer said.
Meyer also discussed Robinson's lost fumble, which occurred when Rams All-Pro defensive tackle Aaron Donald threw him to the ground and simultaneously stripped the ball.
"You've got to clamp the ball," Meyer said. "That's part of it. It wasn't clamped at the end, and he (Donald) pulled it out."
Meyer was asked about a perception that coaches have judged Robinson more harshly for errors than other Jaguars players.
"On my end, it's not true at all," he said.
Meyer on Monday was asked about playing young players in the final five games such as safety Andre Cisco and tackle Walker Little, each of whom has worked behind veterans much of the season. "I'd like to win some games," Meyer said. "That's No. 1. We're not [giving up], though. If they can help us win a game, they're going to be in there." … Meyer also addressed defensive tackle DaVon Hamilton being inactive Sunday, saying the second-year veteran was dealing with a "knee bruise" last week. Hamilton missed practice Wednesday and Thursday last week and was removed from the injury report after practicing limited Friday. "He was day-to-day all last week," Meyer said. "We kind of thought he could go, but just didn't practice." … Meyer also said while guard Ben Bartch tweaked his back and left the game late Sunday, the second-year veteran should be fine. … Meyer said punter Logan Cooke is unlikely to resume kicking off. "It's not good for him," Meyer said. "He has had some issues when you do that." … Meyer said cornerback Tyson Campbell "should be OK" after returning to the game after an abdominal injury Sunday.