JACKSONVILLE – It's almost here. At last.
After months (it only seems like years) of lead up, talk, anticipation, buildup, analyzing, projecting and debating, we arrive now at the week of the 2015 NFL Draft.
It has been a lead up dominated, as expected, by talk of quarterbacks.
Who will take Oregon quarterback Marcus Mariota? Will there be a trade? Or a slide? Will Florida State quarterback Jameis Winston go No. 1 overall to Tampa Bay as expected, or will news emerge this week – or Thursday night – of a dramatic turn of events that will reshape Round 1?
Those have been the primary pre-draft national storylines, and they likely will continue to dominate the pre-draft headlines this week.
As for the Jaguars' storylines …
Well, those have been laid out pretty clearly since mid-January, too. They have been tweaked and fine-tuned, but they largely have focused on names such as Florida edge rusher Dante Fowler Jr., Southern California defensive end/tackle Leonard Williams, Clemson edge rusher Vic Beasley, Alabama wide receiver Amari Cooper and West Virginia wide receiver Kevin White. Those still seem the most likely options if the team remains at No. 3 overall and uses that selection.
That "if" is at the center of the other primary storyline, of course, with there being seemingly endless pre-draft speculation about the possibility of the Jaguars trading the No. 3 selection.
In all likelihood, the answer to that won't be known until sometime around 8:30 or 8:45 Thursday. That's when the Jaguars likely will be on the clock at the Auditorium Theatre of Roosevelt University in Chicago, Illinois. By that moment, the Jaguars and the rest of the NFL world will know if the Tennessee Titans indeed have traded the No. 2 overall selection or if they have used it to select Mariota or Williams.
If they trade it, it likely will mean a team trading for Mariota.
If tea leaves indeed can be read, some of the '15 NFL Draft's leaves say Mariota indeed will go to someone at No. 2. But some say differently, and the guess here remains he could slide. Still, for the sake of this mock, we're saying he goes to someone at No. 2.
Because we shy away from trades in these mocks, we're saying for the sake of argument that someone is the Titans. What does that mean for the Jaguars?
It means a trade isn't quite as likely as would be the case if Mariota were available at No. 3. So, in this mock – with Winston and Mariota presumably gone – they'll have their choice of every non-quarterback available. In this mock, we'll go with Williams for a couple of reasons.
One is he appears to have the best chance of the top four or five prospects of being a franchise-level, game-changing player. Another is Jaguars General Manager David Caldwell has made it clear he believes Williams would have a place in the Jaguars' scheme if drafted. He also made it clear recently he wouldn't take a pass rusher just for the sake of taking a pass rusher if an elite player was on the board.
Does that mean we know what Caldwell will do? Of course not. Fowler remains a compelling prospect, and strong arguments remain for White and Cooper. A strong argument is there for Georgia running back Todd Gurley, though third overall for a running back is early. Real early.
So, for now, it's Williams. Because three days out, that's as good a guess as any.
With that, here's v5.0 of the jaguars.com 2015 mock draft:
Selection. Team| Player, Position, School
1.Tampa Bay | Jameis Winston, QB, Florida State
2.Tennessee | Marcus Mariota, QB, Oregon
3.Jacksonville | Leonard Williams, DE/DT, Southern California
4.Oakland | Amari Cooper, WR, Alabama
5.Washington | Dante Fowler, Jr., DE/OLB, Florida
6.New York Jets | Bud Dupree, OLB, Kentucky
7.Chicago | Kevin White, WR, West Virginia
8.Atlanta | Vic Beasley, LB, Clemson
9.New York Giants | Danny Shelton, DT, Washington
10.St. Louis | Brandon Scherff, OT, Iowa
11.Minnesota | Trae Waynes, CB, Michigan State
12.Cleveland| Devante Parker, WR, Louisville
13.New Orleans | Randy Gregory, DE/LB, Nebraska
14.Miami | La'el Collins, OT, Louisiana State
15.San Francisco | Arik Armstead, DT, Oregon
16.Houston | Breshad Perriman, WR, Central Florida
17.San Diego | Todd Gurley, RB, Georgia
18.Kansas City| Dorial Green-Beckham, WR, Oklahoma
19.Cleveland | Malcom Brown, DT, Texas
20.Philadelphia | Landon Collins, S, Alabama
21.Cincinnati | Shane Ray, DE/LB, Missouri
22.Pittsburgh | Marcus Peters, CB, Washington
23.Detroit | Andrus Peat, OT, Stanford
24.Arizona | Melvin Gordon, RB, Wisconsin
25.Carolina | D.J. Humphries, OT, Florida
26.Baltimore | Jaelen Strong, WR, Arizona State
27.Dallas | Jalen Collins, CB, Louisiana State
28.Denver | T.J. Clemmings, OT, Pittsburgh
29.Indianapolis | Ereck Flowers, OT, Miami
30.Green Bay | Kevin Johnson, CB, Wake Forest
31.New Orleans | Maxx Williams, TE, Minnesota
32.New England | Cameron Erving, C, Florida State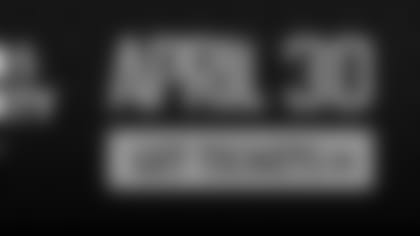 ](http://bit.ly/1fPJ9eJ?src=DPcontftban "Draft Party")