JACKSONVILLE – Senior writer John Oehser, senior correspondent Brian Sexton and team reporter Ashlyn Sullivan with quick thoughts after the Jaguars' 9-6 victory over the Buffalo Bills in a 2021 Week 9 game at TIAA Bank Field in Jacksonville Sunday …
This was impressive. Credit the defense. Credit the coaching staff. Credit resolve. Heck, credit everything about the Jaguars. It was that sort of day Sunday in one of the biggest upset victories in the Jaguars' 27-year history – and a defensive performance on par with historical defensive performances such as a 9-0 victory over the Pittsburgh Steelers in 2006, a 12-7 victory over the Baltimore Ravens in 2011 and a 6-0 victory over the Indianapolis Colts in 2019. Defensive end/pass rusher Josh Allen registered a sack, fumble recovery and an interception and defensive lineman Taven Bryan had the best game of his career with two sacks. Defensive end Dawuane Smoot had an insanely important late sack that essentially clinched the victory – and an equally insanely important forced fumble one series before.  A lot around this team had been under criticism in recent weeks, particularly following a disheartening loss to Seattle last week. They showed plenty of heart Sunday. "Now, I feel like we should believe in each other," Jaguars cornerback Shaquill Griffin said. "I speak about it a lot, but I feel like that's half the battle – coaching trusting players, players trusting coaches. That's the reason it's turning around."
Put Josh Allen in the Pro Bowl. That's an exaggeration, but of everyone deserving of the aforementioned credit, the third-year pass rusher stood out. Allen, the No. 7 overall selection in the 2019 NFL Draft, was primed for a big-time, breakout performance. He had been playing better in recent weeks, making a game-changing fourth-down stop in a victory over Miami two games ago and turning in a four-tackles-for-loss effort against Seattle. What he did Sunday – coincidentally against his namesake, Bills quarterback Josh Allen – showed he is continuing to emerge as an elite player, which is critical for this franchise. "His has been really that all year, but he hasn't had the help inside," Head Coach Urban Meyer said, referring to a solid interior pass rush Sunday. "That forced the quarterback [out of the pocket]. A lot of the sacks you saw when he was scrambling away from interior pressure. Really, it's a combination of both. The interior pressure really set up a lot of things."
The Jaguars' Josh Allen was the star of the show on Sunday. The Jaguars' Allen sacked the Bills' Josh Allen, he intercepted Josh Allen and recovered a Josh Allen fumble. He was terrific and led a defense that put it all together for the first time this season with a blend of pressure and coverage. The Bills' Josh Allen is a big man in the pocket but Allen, Bryan, linebacker/defensive end K'Lavon Chaisson and Smoot made him move his feet and make decisions quicker than usual. The Bills' Allen is awesome and made big plays Sunday but not enough to look like the All-Pro quarterback of the current Super Bowl favorite in the AFC. The Jaguars kept him from taking them apart. A week after they hit the passer late and were called for mindless penalties on that side of the ball, Jaguars defensive coordinator Joe Cullen had the defense ready against a big-play offense. They had just two takeaways when the game began but intercepted Allen twice and forced a critical fourth-quarter fumble. It was impressive to watch the way they rallied to the ball and made plays. One thing that must improve: tackling. There were far too many extra yards by running backs and receivers because of sloppy or one-armed tackling; that last drive by the Bills is enough to make tackling a priority for this team this week.
Place a waiver claim for wide receiver Odell Beckham Jr. when he's released by the Cleveland Browns on Monday, please? There is no deep threat on the Jaguars roster. The deep passes Sunday were to the tight end; I love tight end Dan Arnold's game, but he isn't going to get it done. The Bills had no trouble keeping everything in front of them and sending the house after the quarterback Sunday because they didn't fear any Jaguars receiver getting by them for the big play. A player of Beckham's caliber at a position of need at this time of the season is a gift and makes this claim a no-brainer. I don't care that he wants to go to a contender or that he's going to require a sizeable roster bonus on the day you claim him. He's better than any Jaguars receiver; you won't get another chance to add a player like that in 2021. If he slides by the Detroit Lions and Miami Dolphins, who don't have any cap room, and the Houston Texans – who are in the beginning stages of a rebuild – then he's there for the taking. The Jaguars must do something to help rookie quarterback Trevor Lawrence stretch the field or every other team is going to squeeze it.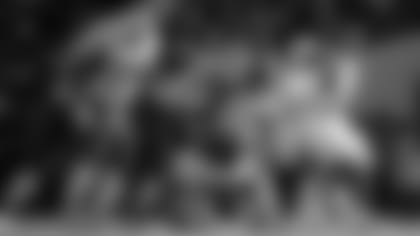 Wow. This is the Jaguars' biggest upset since I have been with this team. No one (including myself) thought the Jaguars could play like they did defensively to beat the NFL's No. 1 scoring offense. The Jaguars wanted this game more, it was clear. Even when the Bills would make big plays or momentum would swing Buffalo's way, the Jaguars were still able to regain control and not let one mistake kill the game like we have seen in the past. Griffin said he continued to remind his teammates about the feeling the team noticed on the sidelines. "They (the Bills) did not have the same energy as us," Griffin said. "They don't deserve this… let's show them why." What a win. Credit this team. Everyone counted them out and they were able to get this done.
That's the way to do it. This game against the Bills is the way the Jaguars defense wants to play. They showed resilient effort the entire game. They never stopped playing 100 miles per hour. Something was just different about this defense today. It looked like a unit that knew it was good enough to win. "We came in with the mindset that we were going to dominate every play," Allen said. "We can win the rest of these games if we play like that." The Jaguars played winning football Sunday, and they can win many more of these games the rest of the season if they put up a defensive performance like they did Sunday. Many players mentioned postgame this win was not enough. They will celebrate this upset Sunday, but Monday it is on to the Indianapolis Colts. That was good to hear.