JACKSONVILLE – There are plenty of good wide receivers available.
That's no surprise. In the modern pass-oriented era of football, high schools and colleges produce the position consistently. But the 2023 NFL Draft isn't quite like previous versions at receiver.
There is good available, but perhaps not great.
"There's talent, but it's not like the talent we've seen in recent years," NFL Media and Jaguars Media draft analyst Bucky Brooks said.
Whereas the last two drafts have featured at least two wide receivers in the Top 10, with the Cincinnati Bengals selecting wide Ja'Marr Chase No. 5 overall in the 2021 NFL Draft, multiple analysts project wide receiver perhaps not being selected in the Top 10 in the '23 draft.
"I don't think the wide receiver group is quite what we've seen in the years recently here," NFL Network draft analyst Daniel Jeremiah said. "I don't think it's a great receiver draft."
Opinions also vary on the most likely first wide receiver selected. Jordan Addison of Southern California has been projected as a possible Top 10-to-15 selection, with Quentin Johnston of Texas Christian and Zay Flowers of Boston College also projected in Round 1.
Wide receiver Jaxon Smith-Njigba of Ohio State also has been increasingly projected low in the Top 10 or just outside that range in recent weeks.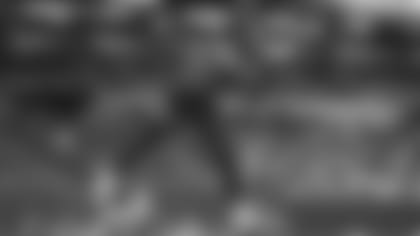 "You don't have someone you absolutely know is a No. 1 receiver," Brooks said. "These guys are good receivers, but they're more role players than dominant, take-over-the-game receivers."
Brooks rated Smith-Njigba as perhaps the best of the group, calling him an "outstanding route-runner with hands.
"He will do most of his damage from the slot," Brooks said, adding that Flowers is similar in terms of being a slot receiver with Johnston being more of a speed – and yards after the catch – player.
Brooks said the wide receiver group is deep, particularly from the bottom of the first to the top of the third round.
"It's a heavy second-round class as opposed to these guys all being first-round talents," Brooks said. "It's good, not great."
The Jaguars addressed this position in a big way in recent months, acquiring veteran Calvin Ridley in a November trade with the Atlanta Falcons. Ridley's addition gives the Jaguars three experienced veterans in their top three receivers, with Christian Kirk having caught 84 passes for 1,108 yards and eight touchdowns in his first Jaguars season in 2022 and with Ridley having the potential to be a No. 1 wide receiver. Zay Jones caught 82 passes for 823 yards and five touchdowns last season, with wide receiver Jamal Agnew's speed providing a big-play "X" factor element in the receiving corps. This doesn't appear a likely Round 1 area of interest for the Jaguars. With all four of the Jaguars' front-line receivers having at least five seasons NFL experience, the Jaguars could look to begin developing receivers for the future on Day 2 or 3 of this year's draft.
- John Oehser, Jaguars Senior Writer
CHANCE JAGUARS TAKE A WIDE RECEIVER IN ROUND 1
WRs ON THE JAGUARS ROSTER
Calvin Ridley
Christian Kirk
Zay Jones
Jamal Agnew
Tim Jones
Kendric Pryor
Kevin Austin Jr.
Jaylon Moore
Seth Williams
BROOKS' TOP 5 2023 WIDE RECEIVERS
Jaxon Smith-Njigba, junior, Ohio State
Zay Flowers, senior, Boston College
Quentin Johnston, junior, Texas-Christian
Jordan Addison, junior, Southern California
Jalin Hyatt, junior, Tennessee
POSSIBLE FIRST-ROUND WIDE RECEIVERS
Smith-Njigba
Flowers
Johnston
Addison