JACKSONVILLE – Some quick Schedule Night thoughts …
1)It would behoove the Jaguars to win early.
2)This Titans-Jaguars' rivalry must be awesome.
3)There could be some cool moments at the 'Bank this fall.
Those were some first impressions regarding the Jaguars' 2016 regular-season schedule, which officially was released along with the entire 2016 NFL schedule Thursday at 8 p.m.
Another early thought: Overall, this schedule ain't that bad.
We'll get into the entire game-by-game blow of how this thing could play out later in this story. But while at first glance it doesn't at all look like an easy schedule, neither does it look all that unmanageable.
No brutal cold-weather games. No three-game road trips.
There also isn't any stretch where the Jaguars face power team after power team, though a three-week, early-December stretch of three playoff teams – home against Denver and Minnesota and at Houston – has a tricky feel.
One highlight: the Jaguars open the regular season at home against Green Bay. It will be Packers quarterback Aaron Rodgers' first game at EverBank Field since 2008, and the weather could be a factor for a cold-weather team traveling South in early September.
That Packers game is followed by a road game at San Diego followed by a home game against the Ravens and a home game at Wembley Stadium against Indianapolis. That's three out of the first four at home, so if the Jaguars indeed are improved they need to show it early.
As for the Titans-Jaguars rivalry …
This will be the third consecutive season the Titans have been the opponent in the lone Jaguars prime-time game, and the third consecutive season NFL Network has televised the game. Someone in the NFL office must love this matchup, but while some fans undoubtedly will be disappointed with just one prime-time game, remember: the Jaguars were 5-11 last season; you have to win your way into premium national games.
As for aforementioned Point No. 3, a look at the schedule indeed does reveal a chance for some cool days at EverBank Field. This may be Rodgers' last game in Jacksonville. There could be a similar storyline December 11, when the Minnesota Vikings and running back Adrian Peterson play here.
There's also a home game against the Denver Broncos, which will be the first time the defending Super Bowl champions have played at EverBank Field since the Indianapolis Colts in 2007.
The Jaguars' other game against Tennessee will be played at EverBank Field on December 24. That's the first Christmas Eve home game in Jacksonville since the Jaguars played host to New England on that day in 2006.
Santa hats and mistletoe as we get ready to put out the cookies and milk?
Yeah, that could be cool.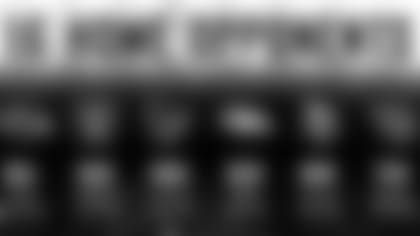 ](http://www.ticketmaster.com/artist/805954?&brand=jaguars)
A week-by-week look at the Jaguars' schedule:
*September 11: Green Bay Packers, 1 p.m. (FOX). The last time the Packers played at EverBank –2008 – the Jaguars held on for a victory that knocked Green Bay and Rodgers out of the postseason. That won't matter in September. What will matter is if the Jaguars' pass rush indeed has improved enough to bother perhaps the NFL's best quarterback.
*September 18: at San Diego Chargers, 4:25 p.m. (CBS). Yes, the Jaguars again will play San Diego – and this feels sorta like a repeat of 2014 when Jaguars went west for an early-season game. That actually was Week 4 in 2014 – Blake Bortles' first career start. Bortles will have two more years of experience this time around, but the Jaguars' defense's task will be one with which it history has struggled. That task? How to contain the Chargers' savvy, maddening quarterback: Philip Rivers.
*September 25: Baltimore Ravens, 1 p.m. (CBS) The Jaguars scored one of the most improbable victories of 2015 in Baltimore last season, when Jason Myers converted from 53 yards after Elvis Dumervil's face-mask penalty after time expired. The Ravens have been down in recent seasons. Don't expect them to stay that way.
*October 2: Indianapolis Colts (London), 9:30 a.m. (CBS). This is the first time in the Jaguars' four consecutive seasons playing at Wembley Stadium the game has been a division matchup. The Jaguars beat the Colts 51-16 at EverBank in December, but if you have thoughts of the Colts somehow being n decline, forget them. A team with Andrew Luck at quarterback won't likely ever be down for long.
*October 16: at Chicago Bears, 1 p.m. (CBS). The Bears weren't great in 2015 in Head Coach John Fox's first season, but they showed signs of significant improvement – and did so in what was a rebuilding, reloading season. This won't be easy, but this is one in which the Jaguars should have a chance if they're really improved.
*October 23: Oakland Raiders, 1 p.m. (CBS) This is the first of two anticipated quarterback-oriented showdowns at EverBank next season. The Jaguars in 2014 selected Bortles No. 3 overall. The Raiders selected linebacker Khalil Mack No. 5 and chose quarterback Derek Carr early in the second round. Both Carr and Bortles look like potential long-term franchise quarterbacks. This game won't define their careers, but comparisons? Yeah, they'll be made.
*October 27: at Tennessee Titans (Thursday), 8:25 p.m. (NFLN) As mentioned earlier, this is the third consecutive season the Titans-Jaguars will be on the NFL Network. The reality is neither team has been good enough to merit big prime-time matchups against other teams. The gut here is that will change soon.
*November 6: at Kansas City Chiefs, 1 p.m. (CBS) The Chiefs were very good last season – and many analysts predict they will win the AFC West in 2016. A road game at Arrowhead Stadium? In November? Against a division favorite? This has the look of perhaps the toughest game of the season.
*November 13: Houston Texans              , 1 p.m. (CBS) This will be the Jaguars' third AFC South game of the season, the first against the defending division champions. How good will Brock Osweiler be at quarterback for the Texans? That remains to be seen, but the Jaguars have lost four consecutive games in this series. You don't build toward division contention without breaking those sorts of streaks.
*November 20: at Detroit Lions, 1 p.m. (CBS) Head Coach Jim Caldwell kept the Lions together last season after a difficult start and they improved at season's end. But wide receiver Calvin Johnson's retirement is the sort of offseason moves that changes a franchise's direction.
*November 27: at Buffalo Bills, 1 p.m. (CBS) This is a rematch of last season's memorable Jaguars victory over the Bills at Wembley. The Jaguars took a 27-3 lead in that game, then had to rally for a 34-31 victory with a late touchdown pass from Bortles to wide receiver Allen Hurns. The Bills didn't like a few calls late in that game, and you got a feeling the loss left an overall bad taste in Buffalo. The pregame chatter for this one will be worth monitoring.
*December 4: Denver Broncos, 1 p.m. (CBS) The defending Super Bowl champions will be at EverBank in the first week in December – but they'll have a different look. No more Peyton Manning at quarterback; he retired after last season. But the major pre-game storyline almost certainly will be Malik Jackson. The defensive tackle signed with the Jaguars as an unrestricted free agent from the Broncos this past offseason. And don't think the offseason losses make this remotely easy for the Jaguars. The Broncos' defense will be good. Again.
*December 11: Minnesota Vikings, 1 p.m. (FOX) Adrian Peterson coming to EverBank Field is one storyline. Another is quarterback Teddy Bridgewater, selected 29 spots after Bortles in the 2014 NFL Draft. The matchups with Bortles and Carr/Raiders and Bridgewater/Vikings are without question touchstone moments of the season. But the Vikings are one of the NFL's better teams for reasons beyond Bridgewater and Peterson – and their defense is one of the league's best. Back-to-back home games against Denver and Minnesota? That means back-to-back big-time tests for the Jaguars' improving young offense.
*December 18: at Houston Texans, 1 p.m. (CBS) If the Jaguars are ready to contend for the AFC South, they're going to get a chance to show it. This is the first time in franchise history they have played division games in each of the last three games of the regular season.
*December 24: Tennessee Titans (Saturday), 1 p.m. (CBS) Christmas Eve at the 'Bank. Ho, ho, ho.
*January 1: at Indianapolis Colts, 1 p.m.  (CBS) The Jaguars had a chance to win at Lucas Oil Stadium in 2014. They had an even better chance to win in 2015, with Myers missing field goals late in regulation and overtime in a Colts victory. The Jaguars' goal this season: make this game matter. It's been too long since the regular-season finale had meaning. Way too long.