Jaguars Training Camp FAQs | Jacksonville Jaguars - jaguars.com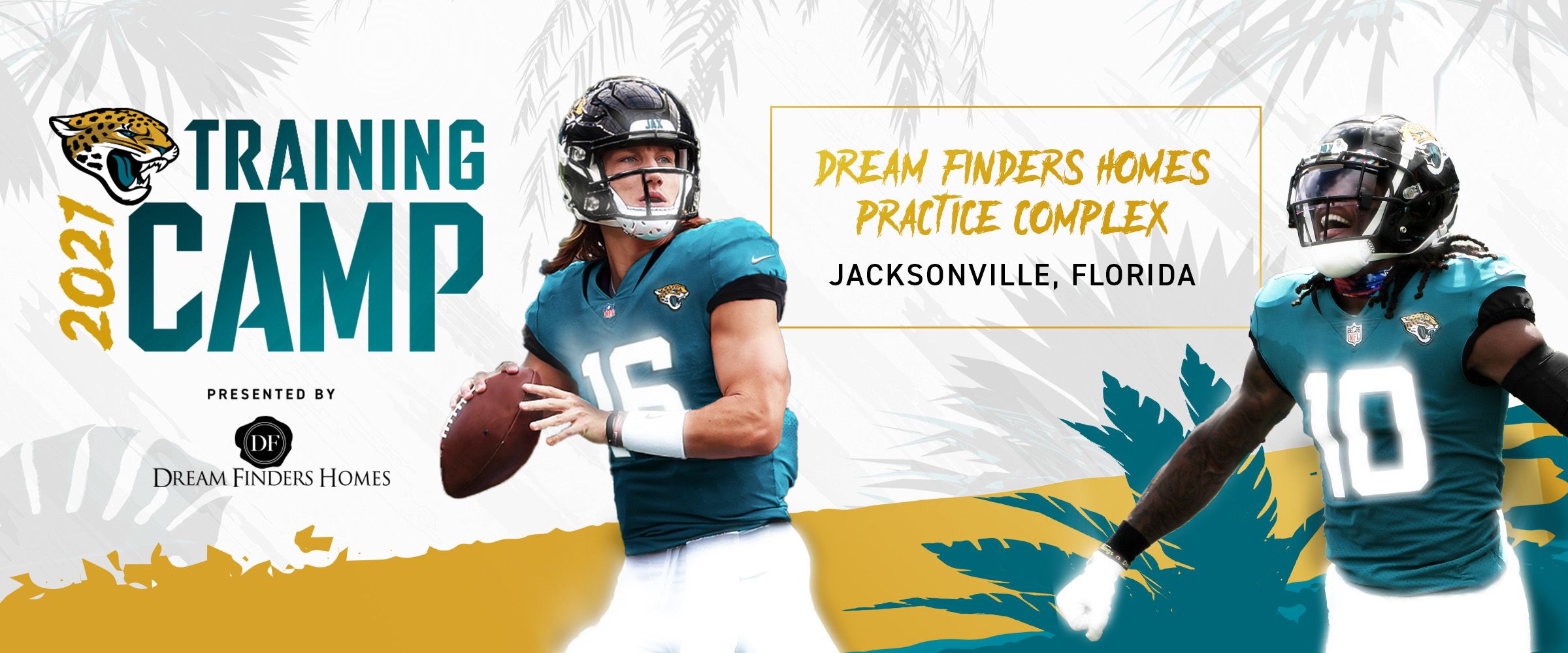 2021 Training Camp FAQs
Are all practices open to the public?
The Jaguars will open practice to the public at the Dream Finders Homes Practice Complex on July 29, 30*, 31 and August 6-7. View the 2021 Jaguars Training Camp schedule here. On Sunday, August 8, fans are also invited to a scrimmage inside TIAA Bank Field.
*Season Ticket Members ONLY
How do I get to Training Camp?
Practices will take place at the Dream Finders Homes Practice Complex directly adjacent to TIAA Bank Field at 1 TIAA Bank Field Drive, Jacksonville, FL 32202.
All ticketed guests must enter on the north side of the practice field through Lot R. Please follow directional signage to entrance from designated parking areas.
Do I have to pay for parking?
Free parking will be available in Lot P and Lot J.
Training Camp Parking Map
Scrimmage Parking Map
Do I need a ticket to attend Training Camp?
All fans must have a valid mobile ticket to attend Training Camp. We encourage you to attend as many days of Training Camp as you like, however you will need to register individually for each day you would like to attend. You may claim up to four (4) tickets per registration.
Register and claim your tickets here: https://am.ticketmaster.com/jaguars/training21
Do children require a ticket?
All individuals regardless of age must register in advance to acknowledge the terms and conditions of attending Training Camp and have ticket confirmation. Youth under the age of 24 months may attend with a registered adult over the age of 18.
Are tickets transferable?
Yes, tickets may be transferred. If the recipient doesn't already have a Jaguars account, they can create one when they accept the ticket with the email address used for transfer.
Where do I access my ticket(s)?
Once you have completed your ticket registration, you can access your tickets via your Jaguars account. Please visit www.jaguars.com/mobiletickets for a step-by-step guide.
You may contact our Member Experience Team at (904) 633-2000 option 1 or ticketing@jaguars.com for additional assistance.
Your confirmation email will contain all tickets registered to that email address as a PDF attachment, as well as in the body of the email itself.
If viewing on a mobile device, you may select the option to add ticket(s) to your mobile wallet.
Does claiming a ticket online guarantee admission into Training Camp?
No. Due to limited space, admittance into Training Camp will be on a first-come first-serve basis. Fans are encouraged to arrive early prior to gate times to ensure ample time to park, go through security screening and have tickets ready for entry.
Will I be required to wear a mask?
All fans in attendance must agree and complete the Fan Health Promise prior to entry. This will be a part of the ticket registration process.
It is highly recommended for non-vaccinated individuals to wear a face covering while attending practice.
Will I be required to show proof of vaccination or provide proof of negative COVID-19 test to be able to attend camp?
No, fans will not be required to show proof of vaccination or provide proof of a negative COVID-19 test to attend Training Camp. For the health and safety of others, please stay home if you are feeling sick or have been in contact with any potential COVID-19 cases.
Is physical distancing enforced?
Social distancing will not be required.
Will sanitizing stations be available?
Sanitization stations will be available throughout areas of Training Camp and restrooms will be stocked and regularly sanitized. We encourage fans to wash their hands frequently and utilize sanitizing stations.
Is Re-entry Permitted?
Re-entry will not be permitted.
Where do fans sit to watch Training Camp?
Bleachers, including ADA seating, are available on a first-come, first-served basis. Standing room will also be available.
How does the autograph process work during Training Camp?
Due to the NFL's health and safety protocols, interactions between current players and fans will not be permitted during this year's Training Camp (ex: autographs or photo opportunities).
Can I tailgate?
Yes. Grilling must be contained to a barbecuing structure and open fires are not permitted. Fans must extinguish all fires prior to leaving the parking lot and be considerate of others who are enjoying tailgating. For full tailgating policy please visit www.jaguars.com/stadium/parking.
Can I bring my own chair to Training Camp?
No. Outside chairs including lawn chairs and seat cushions are not permitted.
Is Jaguars Training Camp ADA accessible?
Admission to the Jaguars Training Camp will be ADA accessible. Guests needing access to drop off an ADA guest closer to gate entry should notify the parking attendant. ADA seating will be accessible and available on a first-come, first-served basis.
What items can I bring to Training Camp?
We encourage fans to bring sunscreen, sunglasses and wear comfortable attire for hot summer days in northeast Florida. Shirts and shoes are required. Please refrain from wearing any type of distracting or inappropriate apparel.
What items are not permitted? (including but not limited to)
Prohibited items include, without limitation:
All bags with the exception of a 4.5" x 6.5" or smaller clutch, wallet or clear bag no larger than 12" x 6" x 12"
Cameras with detachable lenses or lenses longer than six inches
Clothing with profane or obscene language/content
Coolers or containers, including cans, cups
Bottles and beverages from outside the stadium (except 1 factory sealed plastic bottle of water 16.9 oz or less per ticket holder)
Drones or unmanned aerial vehicles
Inflatables, loungers and other floatation devices
Knives, guns and any type of weapons (including actual, toy or replica) or explosives
Laser pointers
Laptop computers
Noise makers, whistles, and air horns
Non-lethal weapons and chemical agents (i.e., pepper spray, mace and tasers)
Outside food items
Pets (except service animals)
Seat cushions
Signs or Banners larger than 2' x 3' (see BANNER POLICY for additional information)
Sticks or poles (including selfie sticks)
Strollers or Infant carriers
Tobacco Products (cigarettes, e cigarettes, chewing tobacco)
Umbrellas
Video equipment and tape recorders
Are backpacks and bags allowed at Training Camp?
The NFL Stadium Game Day Clear Bag Policy will be enforced for Training Camp. For more information about the sizes and types of bags that will be permitted, please visit www.jaguars.com/stadium/nflbagpolicy.
Clear bags no larger than 12" x 6" x 12" and nonclear clutches/wallets must be no larger than 4.5" x 6.5".
An exception will be made for medically necessary items after proper inspection
All ticket holders and their belongings are subject to search (including by walk-through magnetometers, magnetic wanding, and/or patdown) upon entry into camp.
May I bring a stroller to Training Camp?
No, due to space limitations strollers will be not be permitted into Training Camp.
Will there be a place to purchase Jaguars Gear?
Yes! There will be a pro shop located in the activation zone at Training Camp. It will be open right at gate times and will be open until the conclusion of practice.
Is there an ATM on-site?
No. The Jaguars and TIAA Bank Field are now cashless. Fans should plan accordingly.
Will concessions be available?
Yes, there will be concessions open in the activation area. Credit Card will only be accepted.
Can I bring my own food and beverage?
No outside food and drink will be allowed in. Food and beverage will be available for purchase at concession stands throughout camp.
The only exception is one factory-sealed bottle of water 16.9 oz or less per person.
What is the smoking policy?
The Dream Finders Home Practice Complex and TIAA Bank Field are smoke and tobacco-free facilities. Smoking includes the usage of e-cigs and will not be permitted anywhere within the entry gates.
What is the Inclement Weather Policy
In the event of inclement weather, it may be necessary for the team to move or cancel practice. Public practices moved due to weather will not be rescheduled. Please be sure to follow the official Jaguars Twitter account, @Jaguars, to get the latest Training Camp updates, including practice time changes or cancellations due to weather.
Where are first-aid services located?
Please inform the nearest uniformed staff of any situation and they will contact attendants on-site to assist you.
Where do I go if I have questions?
For any information or assistance while inside Jaguars Training Camp, please visit the Jaguars Guest Services kiosk located by the entry to the practice fields.
Where is the lost and found area?
If an item is lost, please visit the Guest Services kiosk located by the entry to the practice fields.