JACKSONVILLE – Al … most … there.
Yes, we've reached a critical time in the jaguars.com 2015 reader mock draft. The time is familiar to longtime participators and followers of the process.
We're pushing to the end of the first round, and rounding the turn to home.
If there is a time in the reader mock when the energy dwindles, this is it. If a reader or two perhaps is caught looking ahead to the Jaguars' selection hanging tantalizingly there at the end of the week …
Well, that's understandable. This is a Jaguars-oriented website after all.
But the Jaguars' second-round selection – the fourth selection of the second round, No. 36 overall – is still a few days away.
To get there, we must push through the last few days of first-round selections, and on Monday, that's just what the reader mockers did. They pushed through selections No. 22-26, mocking five selections to the Steelers, Lions, Cardinals, Panthers and Ravens and setting up a six-selection final day of the first round to take place Tuesday.
And the first thing we must do is recount selections 22-26. The senior writer offered Washington cornerback Marcus Peters to the Steelers at No. 22, Texas defensive tackle Malcom Brown to the Lions at No. 23, Georgia running back Todd Gurley to the Cardinals at No. 24, Miami offensive tackle Ereck Flowers to the Panthers at No. 25 and Miami wide receiver Phillip Dorsett to the Ravens at No. 26.
And you know what? The senior writer didn't do a horrible job, at least not in his humble (??) opinion. That's something we'll get to in a paragraph or two, but not before relaying the not-so-enthusiastic, too-cool-for-the-process thoughts of would-be reader/mocker Jonathan Russell.
"I abstained from this after the first round because we will trade down or pretty much the whole thing is a wash," Russell wrote.
As we were saying, the senior writer actually had himself a decent day. He started by nailing what reader/mocker Raven called the "obvious" selection of Peters and then followed it with another relatively obvious selection of Brown to the Lions.
"Duh," Raven said of that selection.
Well, Raven … "duh" or not, a streak is a streak. This one continued as the reader/mockers also projected Gurley to Arizona and Flowers to Miami. With visions of a five-for-five day – accompanied by being paraded off the field on shoulders amid hallelujah choruses – dancing in his head, the senior writer confidently moved on to the Ravens at No. 26.
The streak ended with no one – simply no one – liking the Dorsett pick, and instead nose tackle Jordan Phillips getting the nod to the Ravens.
But hey, four for five isn't bad, and it also meant after 26 selections, the jaguars.com 2015 reader mock draft looks like:
1.Tampa Bay | Jameis Winston, QB, Florida State
2.Tennessee | Leonard Williams, DE, Southern California
3.Jacksonville | Dante Fowler Jr., DE/LB, Florida
4.Oakland | Amari Cooper, WR, Alabama
5.Washington | Vic Beasley, OLB, Clemson
6.New York Jets | Marcus Mariota, QB, Oregon
7.Chicago | Kevin White, WR, West Virginia
8.Atlanta | Randy Gregory, OLB, Nebraska
9.New York Giants | Brandon Scherff, OT, Iowa
10.St. Louis | Andrus Peat, OT, Stanford
11.Minnesota | Trae Waynes, CB, Michigan State
12.Cleveland | Danny Shelton, DT, Washington
13.New Orleans | Shane Ray, DE, Missouri
14.Miami | DeVante Parker, WR, Louisville
15.San Francisco | Arik Armstead, DT, Oregon
16.Houston |Breshad Perriman, WR, Central Florida
17.San Diego | Melvin Gordon, RB, Wisconsin
Kansas City | Jalen Collins, CB, Louisiana State
19.Cleveland | La'el Collins, OT, Louisiana State
Philadelphia | Landon Collins, SS, Alabama
21.Cincinnati | D.J. Humphries, OT, Florida
22.Pittsburgh | Marcus Peters, CB, Washington
23.Detroit | Malcom Brown, DT, Texas
24.Arizona | Todd Gurley, RB, Georgia
25.Carolina | Ereck Flowers, OT, Miami
26.Baltimore | Jordan Phillips, NT, Oklahoma
And so we move on – at long last – to the end of Round 1. Six more selections and we're back in range of the Jaguars' next selection. We'll offer up Alvin Dupree of Kentucky to the Dallas Cowboys at No. 27 because it seems weird he's not gone yet, and then follow that by offering up Florida State center Cameron Erving to the Denver Broncos at No. 28, Florida State defensive tackle Eddie Goldman to the Indianapolis Colts at No. 29, Connecticut cornerback Byron Jones at No. 30, UCLA defensive end Owamagbe Odighizuwa to the New Orleans Saints at No. 31 and Utah cornerback Eric Rowe to the New England Patriots at No. 32.
We're not sure how our boy, Johnathan Russell will feel about all these selections, but he begged out, anyway. Have at it.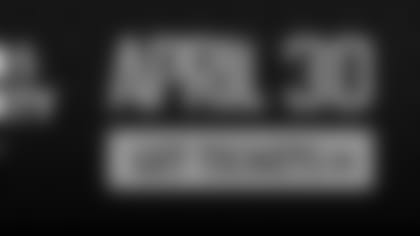 ](http://bit.ly/1fPJ9eJ?src=DPcontftban "Draft Party")