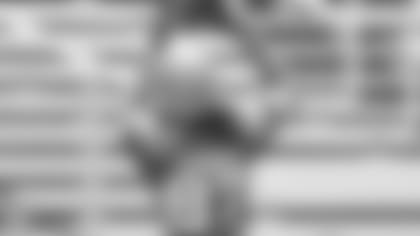 ](http://bit.ly/Day7pics060914)

JACKSONVILLE – Maybe it wasn't the best day of Marcel Jensen's life, but it wasn't bad, either.
As days early in an NFL career go, Monday was memorable for Jensen, a rookie tight end who played well enough during the seventh 2014 Jaguars OTA practice to draw praise afterward from Head Coach Gus Bradley.
"Some of the skills we saw on tape are what we are starting to see now," Bradley said following the Jaguars' OTA practice Monday at the Florida Blue Health and Wellness Practice Fields.
Jensen (6-feet-6, 270 pounds), who played collegiately at Fresno State, signed with the Jaguars as a collegiate free agent shortly after the 2014 NFL Draft. He worked with the Jaguars' coaching staff at the Senior Bowl, though his practice time there was limited by a sports hernia injury sustained that week.
He worked through the injury throughout the offseason, participating in the NFL Scouting Combine and his Pro Day before undergoing surgery in April.
"I wanted to make sure I could compete in those events," Jensen said. "I knew it was something I could push through. Once I was done with those, I went ahead and had the surgery."
Jensen, who caught 26 passes for 353 yards and three touchdowns as a senior, said he had offers to sign with several Super Bowl-contending teams after the draft, but chose the Jaguars immediately.
"I got a good feel for Coach Gus and his staff (at the Senior Bowl), and what kind of environment they had in this locker room," Jensen said. "I had a list in case I wasn't drafted. Once Jacksonville called me, it was a no-brainer."
The Jaguars currently have five tight ends on the roster: starter Marcedes Lewis and move/receiving tight end Clay Harbor, as well as Jensen, first-year veteran Brandon Barden and rookie Reggie Jordan.
"This is the NFL," Jensen said. "These guys are the best in the world. They wouldn't be here if they weren't. There's competition wherever you go, but I just love what they're doing here.
"This is the best situation for me. I made my decision based on that."
Bradley said Jensen stood out at the Senior Bowl despite his injury – and not just because of his size.
"We knew he had athleticism to be able to catch the ball," Bradley said, adding that the Jaguars also want to see how he will perform as an in-line blocker in padded practices during training camp.
*Second-year veteran defensive tackle Abry Jones left practice and with a sprained knee, Bradley said. The extent of the injury initially was unknown….
*Bradley after practice spoke highly of the team's effort and intensity during the two-hour session, a contrast to the previous Monday when he spoke to the team during practice about needing better tempo. "Overall, very pleased with today – very pleased," Bradley said. …
*Bradley said with three OTA practices and next week's three minicamps remaining, the team could have had a feeling of being "over the hump" in the offseason, "but I don't see it in our guys the way they're preparing and coming out. … This was a not a practice where they're counting the days. They're making them count and that's what we like about it." …
*More Bradley on practice: "We had a very good day.  Last time we came back on a couple of days off it was an OK practice that we had some things we needed to work on. So the challenge today after a couple days off was to come back. It was an excellent practice and exactly what we needed and talked about as far as coming out, so I was very pleased with that.''…
*Bradley said the team perhaps has a better comfort level after two weeks installing the offensive and defensive schemes. "I just felt like they attacked the periods more than maybe in the previous weeks," he said. …
*Bradley said the addition of rookie wide receivers Kevin Smith and Brandon Wimberly helped significantly. The Jaguars claimed Smith off waivers and signed Wimberly Monday morning to add depth to a position that again worked without seven players much of practice. "We went through everything except three plays at the very end. We haven't been able to do that so much."
*Missing practice were wide receivers Marqise Lee (ankle), Allen Robinson (hamstring), Lamaar Thomas (knee), Tandon Doss (calf), Mike Brown (groin), Ace Sanders (thigh), Cecil Shorts III (calf), cornerback Aaron Colvin (knee) and safety Josh Evans (foot). Evans, Sanders and Brown had helmets and worked on the side early in practice. ...
*Bradley said three players have stood out thus far in OTAs: quarterback Chad Henne, Shorts and defensive end Andre Branch. All three had players drafted or signed as free agents at their positions. "Those three really stand out as far as what we're talking about as far as limiting distractions and controlling what you can control," Bradley said. …
*Bradley also said Lewis and wide receivers Damian Copeland and Chad Bumphis stood out Monday, and lauded veteran wide receiver Kerry Taylor and veteran defensive ends Red Bryant and Tyson Alualu and linebacker LaRoy Reynolds. "There was good execution on both sides of the ball," he said. …
*Of second-year veteran Denard Robinson, Bradley said, "I think he's playing with a greater deal of confidence. I don't think he's dropped a pass (in OTAs). Then we throw a double pass to him and it's floating in the air and he goes to make the grab and made the play on that. I just think he's playing with a great deal of confidence right now with what he's asked to do."