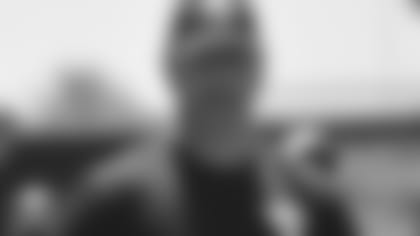 ](http://www.jaguars.com/media-gallery/photo-gallery/Jaguars-Rookie-Minicamp---Day-2/42134de7-baae-477d-825a-a50f1e20ab62)

JACKSONVILLE – Two will get a chance to continue.
And although that's not a huge percentage of the 26 players brought into Jaguars 2014 rookie camp on a workout basis, Jaguars Head Coach Gus Bradley said he was impressed with – and thankful for – every player.
That was why shortly following the second of two rookie camp practices Saturday – before he signed autographs for the fans and before he spoke to the media – Bradley gathered all 52 players who attended '14 rookie camp near midfield.
The group posed for a picture, and while half the group won't be here come Monday, Bradley said the contribution of all mattered.
"I can't tell you how much I appreciate them," Bradley said shortly after the second of two 2014 rookie camp practices at the Florida Blue Health and Wellness Practice Fields adjacent to EverBank Field.
The Jaguars shortly after Saturday's practice announced they had signed two of the 26 workout players: rookie running back Beau Blankenship and rookie safety Jerome Junior. The team released rookie kicker Jeff Budzien and rookie punter Chad Zinchini to keep the roster at 90.
The Jaguars had nine drafted players, 17 collegiate free agents and 26 workout players working in the rookie minicamp Friday and Saturday.
Blankenship (5-feet-9, 206 pounds), a  four-year letterman at Ohio University, rushed for 2,976 yards and 24 touchdowns in four seasons, including a school-record 1,604 yards and 15 touchdowns as a junior. Junior (6-1, 207) finished his collegiate career at Winston-Salem State after playing three seasons at Connecticut.
"We had 26 guys that came on a moment's notice to come here and compete," Bradley said. "They did a great job to come this quick and form a team as quickly as we did so we could get a lot of execution done. … It was awesome. We took a photo at the end with everybody involved. It was just a great couple of days."
Bradley said the team used the same practice script Saturday as Friday in an effort to increase familiarity.
"I think the message for our players was, 'When you feel more comfortable, when you know exactly what you're supposed to do, look how much freer you play,'" Bradley said. "That is the lesson we want to give to our players: 'Look, all of a sudden you have confidence, now you play a little bit better, you run your routes better, you block better.'
"You do all that and I wanted to mimic what it should feel like during the season. When you're totally prepared, that is how it should feel."
*Safety Craig Loston, a collegiate free agent from Louisiana State, practiced Saturday after missing Friday to attend graduation ceremonies at LSU. He flew to Baton Rouge from Jacksonville Friday and returned Saturday morning. "It was a big deal," Loston said. "It was a blessing, and coach (Bradley) let me go back and walk and that was great of him. He's a great guy. He's a genuine, loving person and I think it was OK with him for me to do that." Loston said his scheduled flight Thursday was delayed by weather, causing him to fly Friday morning. He said he left Baton Rouge at 5 a.m. Saturday. "I'm all right," he said, smiling, "but I'll end up being tired tomorrow."…
*Bradley on Loston's practice Saturday, "There were a couple of times where we thought he got on course and would've had some nice plays in the field, but obviously we're not in pads."…
*Former New York Giants, Dallas Cowboys, New England Patriots and New York Jets Head Coach Bill Parcells attended practice Saturday as a guest of the team, as did former Atlanta Falcons and San Diego Chargers Head Coach Dan Henning. "It was good, a little added distractions for these guys to watch and see how they handled them," Bradley said. "I think Coach (Bill) Parcells was the biggest one, too. For some of these guys, they look and they go, 'What? Coach Bradley, who is that?' Those things are great. What a privilege to have him and Coach Henning here today."
*Of Junior, Bradley said, "He's got size and I know we like his footwork. We're just looking for traits, traits that they have and what they can offer."…
*Bradley also said rookie quarterback Blake Bortles improved Saturday from Friday. "He came out and had some incompletions, but he bounced back, and he bounced back so competitive, so competitive and just wanting to know information. We tell him, 'Keep getting better and they'll stack up,' good throw after good throw. …We knew he had some things that we needed to develop, but his leadership and the flashes that we are seeing are great about him."