JACKSONVILLE – The Jaguars' offense is a little more energetic these days.
It's a little chattier, too – and if that's a reflection of left tackle Cam Robinson's recent return, the veteran says that's not that unusual. It's not particularly new, either.
"It's just kind of the way I've always been," he said as the Jaguars (3-2) prepared to play the Indianapolis Colts (3-2) in an AFC South game at EverBank Stadium Sunday.
Robinson, the Jaguars' second-longest-tenured player behind 10-year veteran offensive lineman Tyler Shatley, returned to the starting lineup this past week in a victory over the Buffalo Bills. Perhaps not coincidentally, the offense had its best running day of the season, with running back Travis Etienne Jr. rushing for 136 of the team's season-high 196 rushing yards.
"He means a lot," Etienne said of Robinson's return from a four-game season-opening suspension. "We were able to run on the left side. We got some left side runs called, so it means a whole lot.
"It just diversifies our run game for us."
Added Etienne, "He's a high-motor guy. He's very energetic, big and you can't miss him. You always understand his presence is there. When I can just run and hide behind Cam, it opens up things. He just always does his job. You can trust him and that's what you want from an offensive lineman."
That's the Xs-and-Os impact of Robinson, a second-round selection by the Jaguars in the 2017 NFL Draft who has started at left tackle since his rookie season. Teammates say his importance goes beyond that. Robinson long has been a locker-room leader and one of the offense's more vocal players.
Teammates said there's a different feel – and sound – when Robinson plays.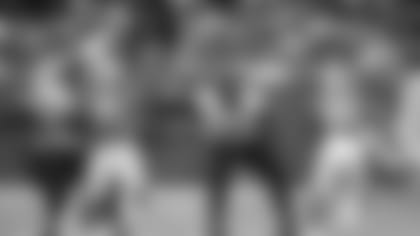 "He's great," wide receiver Christian Kirk said. "He's talking to us, too. He's talking to the other team and whatnot. He brings that energy, he brings that swagger, that edge. After plays, he's like, 'Kirk, you good? You alright? Keep going.' Just having a vet and a leader like that back up front was big for us."
Robinson said while always has been "amped up" while playing, he said he has calmed recently and credits former Jaguars center Brandon Linder helping him "honing it in and putting my energy in the right direction." Wide receiver Calvin Ridley, who played with Robinson at the University of Alabama in 2015-2016, laughingly agreed that the 28-year-old Robinson is perhaps a bit lower key than the 20-year-old version.
"He was younger, you know what I'm saying?" Ridley said with a smile, adding that even the less-low key version is a positive for teammates.
"He's just a very tough person and a lot of people feed off of him," Ridley said. "When I'm out there, we can hear him. We know he's just a dog. It's awesome to have him back. You need that. Some guys are very quiet. You need to hear that dog over there who's woofing and getting himself going and trying to bring a lot of the guys along. That helps the offense be more aggressive and more physical and just have that mentality to go get it."
Head Coach Doug Pederson said Robinson played well against the Bills, and he overall did a "nice job" returning from an extended absence.
"He'll be better this week, just understanding game speed again, but he did well," Pederson said.
Added Robinson, "I'm just kind of getting back in swing of things. Sunday was my first game since December. Getting another full week of practice will be beneficial to keep building on the things I was able to do well and just kind of keep working on the things I need to work on as well."
The Jaguars not only won two games in London the last two weeks, they did not trail in either a 23-7 Week 4 victory over the Atlanta Falcons at Wembley Stadium or Sunday's 25-20 victory over the Buffalo Bills at Tottenham Hotspur Stadium. "It's a lot better than trying to play from behind all the time," Jaguars quarterback Trevor Lawrence said. "In this league, even if you have a lead, it's going to be a four-quarter game, but to get out to a lead early and start fast, that takes pressure off the defense, takes pressure off us, so we can play more on our terms. That is obviously a positive. Definitely, that's how we want play – is to jump out early and get a lead."