JACKSONVILLE – Senior writer John Oehser examines Head Coach Doug Pederson's press conference following the Jaguars' 28-27 victory over the Baltimore Ravens in a 2022 Week 12 game at TIAA Bank Field Sunday:
1. They believed – and that's what mattered Sunday. Pederson spoke continually throughout a 3-7 start about believing in the team and believing that the players believed in themselves. Pederson late Sunday afternoon referenced that belief when discussing the post-game euphoria of the Jaguars' biggest victory to date in his first season as head coach – and their biggest victory in several seasons. "It was exciting, electric," Pederson said when asked about the post-game locker room. "Guys were kind of beside themselves. Besides the excitement, the guys believe, right? I think that's the thing that I see is they believe in themselves. They believe in this team. And amongst all the excitement, that's what it means more to me with these guys. Very excited, electric. These guys really deserve this one."
2. The belief remained strong late. Belief wasn't only a pre-game theme for the Jaguars entering a game against a team that led the AFC North with a four-game winning streak. Pederson said it remained strong Sunday throughout a fourth quarter in which the Jaguars first overcame a nine-point lead and later overcame a seven-point lead in the final two minutes. "What you're seeing with our team is just now the growth and maturity," he said. "There's no panic with these guys. They believe in themselves. They understand that, yeah, we've put ourselves in a bit of a pickle there in those situations, but we also knew we had four downs, and the guys just, they made plays. Was it a perfect game? No, by no means. That's a good football team that we played, playoff-caliber team. Our guys just kept fighting and believing."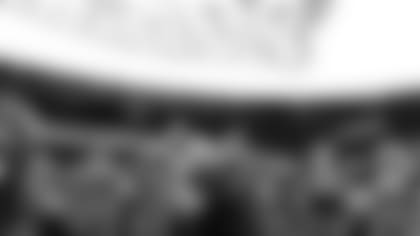 3. All in. The Jaguars won Sunday with a 10-yard touchdown pass from quarterback Trevor Lawrence to wide receiver Marvin Jones Jr. with :14 remaining followed by a two-point conversion pass from Lawrence to wide receiver Zay Jones. "What have we got to lose?" Pederson said. "This is something I told the staff during the that last five or six minutes: 'We've got to think players, not plays, and trust our guys.''' Pederson said he had in in mind to go for two as the Jaguars drive for the touchdown but that ultimately "it wasn't my decision. Once we scored that touchdown at the end, they wanted to go for two. The players were like, let's go. I got a lot of faith and trust in them, and just a well-executed play." Pederson added of the two-point decision, "We talked about it as a staff even before the drive, and I had my mind made up I wanted to go for two. But during that drive, even after the score, the offensive guys were like, 'Coach, let's just finish this thing right here.' I had my mind made up, but obviously, when the players have that much confidence in themselves and in us to go for it like that, you got to believe them, and you've got to trust them. They did a great job."
4. A big, big game for the quarterback. Pederson has spoken positively about Lawrence throughout this season, supporting him through some of the second-year veteran's most difficult professional moments. Lawrence had perhaps his best NFL moment to date Sunday – three touchdown passes and his most-dramatic fourth-quarter game-winning NFL drive to date – and Pederson was appropriately effusive afterward on the No. 1 overall selection in the 2021 NFL Draft: "Trevor today was lights out. He played extremely well. That throw, that catch for the two-point was a thing of beauty. It's a step in the right direction. I would say these last three games or so, he's really done a really nice job with our system and our offense. Even a game like today, again, it wasn't a perfect game, but statistically speaking, I think he had a pretty good game and took care of the football. He's heading in the right direction."
5. A praise-worthy effort. The Jaguars' defense allowed 415 yards and six scoring drives Sunday, but Pederson saw plenty of positive for a unit that had been maligned in recent weeks. The Jaguars held the Ravens to two touchdowns on five red-zone possessions and forced two takeaways on fumbles, including a fourth-quarter fumble recovery by cornerback Tyson Campbell that to a 29-yard field goal by kicker Riley Patterson that gave the Jaguars a 20-19 lead with 4:19 remaining. "It speaks volumes," Pederson said. "I thought our defense really stepped up in the red zone today, did a nice job there holding them to kicks. I just think our defense really did a nice job when they got down in there really just holding them to those field goals. If they score on one or two of those possessions, it could be different. But defense did a nice job down there."