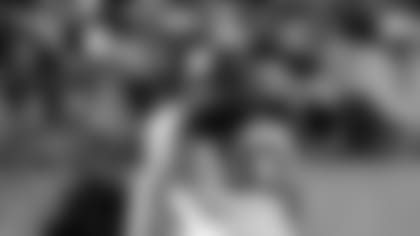 Defense rises to challenge after early points
The Steelers were shut out after scoring 17 points on their first three possessions. The Jaguars defense buckled down and held the Steelers to only five first downs in their final eight drives.
In the second half, the Jaguars outscored the Steelers 10-0 and held the Steelers to only 55 total yards and three first downs.
Scobee sets franchise record
Josh Scobee established a franchise record by hitting a field goal in his 14th consecutive game. The streak began on November 14, 2010 against Houston. Scobee put the Jaguars on the board with a 46-yard field goal in the second quarter. He held the previous mark with 13 straight games from Oct. 29, 2006 through Dec. 16, 2007.
Scobee remains perfect
Josh Scobee connected on his two field goal attempts, a 46-yarder in the second quarter and from 45 yards in the fourth quarter. Scobee is 10 of 10 on field goals through six games with six of the 10 from 40-plus yards.
In six career games against Pittsburgh, Scobee is 10 of 12 on field goals. Three of his four kickoffs resulted in a touchback.
Sacks keep coming for Roth
With the Jaguars needing a stop on third down with just over a minute remaining, defensive end Matt Roth sacked Ben Roethlisberger for a four-yard loss. The Steelers were forced to punt and gave the Jaguars a final opportunity to win the game. Roth has a team-high three sacks in six games and 23 for his career.
Jones-Drew finishes four yards shy of 100
Two-time Pro Bowl running back Maurice Jones-Drew totaled 96 rushing yards on 22 carries including rushes of 19 and 11. Jones-Drew, who has 572 yards in six games, has at least 84 rushing yards in each of the first six games.
Sunday was his 25th career game with 20-plus carries and the Jaguars are 16-9 in those games. He has 20 or more carries in three of six games in 2011.
Gabbert throws TD pass in fourth straight game
Blaine Gabbert finished 12 of 16 passing for 109 yards with one touchdown for a 70.8 passer rating. Gabbert has thrown a touchdown pass in each of his first four starts. He hooked up with Jason Hill on an 18-yard touchdown pass late in the third quarter.
Pounding the rock
The Jaguars rushed for 133 yards on 30 attempts, led by 96 yards Maurice Jones-Drew. The Jaguars have eclipsed 100 yards in five of the first six games.
Hill scores second touchdown of the season
Wide receiver Jason Hill was on the receiving end of an 18-yard touchdown pass from Blaine Gabbert in the third quarter. It was Hill's second straight game with a touchdown and it was the seventh of his career. He had a career-high 118 receiving yards with a 74-yard touchdown reception last Sunday vs. Cincinnati.
First-year pro continues to shine
Defensive end John Chick registered a sack for the second consecutive game. Chick sacked Ben Roethlisberger and forced a fumble midway through the fourth quarter.
Offensive line shuffle
Injuries to Eugene Monroe (shoulder) and Eben Britton (back) forced the Jaguars to make moves along the offensive line prior to kickoff. 2011 rookie free agent Cameron Bradfield made his first career start as he opened at left tackle. 2011 third-round draft pick Will Rackley started at left guard, his fourth career start.
Kampman returns to field
Defensive end Aaron Kampman was back in the lineup on Sunday after missing 13 straight games. Kampman suffered a torn ACL in his right knee during practice on Nov. 11, 2010 and underwent surgery on Nov. 29. He missed the final eight games and was inactive for the first five games of the 2011 season as recovered from the injury.
Tidbits
Linebacker Paul Posluszny was credited with a game-high 16 tackles.
The Jaguars recorded three sacks for the second time in the last three games and have eight during the three-game stretch. The Jaguars have totaled two or more sacks in four of six games in 2011.
Second-year defensive tackle Tyson Alualu recorded his first sack of the season and increased his career total to 4.5.
Rashard Mendenall finished with 146 rushing yards on 23 carries, the first opposing 100-yard rusher against the Jaguars through six games.
The Jaguars are 15-5 in the last 20 games with 30-plus rushing attempts.
The Jaguars have lost five straight games for the first time since 2001.
RB/KR Deji Karim averaged 29.0 yards on three kickoff returns with a long of 33.
In his Jaguar debut, Nick Harris punted seven times for a 42.3 average (40.4 net) with a one punt downed inside the 20.
TE Marcedes Lewis moved into fifth place in franchise history for career receiving yards with 2,340, surpassing Reggie Williams (2,322).