JACKSONVILLE – They fought, scrapped and rallied. Again and again and again.
And then the Jaguars won their biggest regular-season home game in recent memory in oh-so-dramatic – and unbelievable – fashion.
Josh Allen returned a fumble 37 yards for a touchdown with 2:51 remaining, giving the Jaguars the winning points and the AFC South title with a 20-16 victory over the Tennessee Titans in front of 70,050 in the 2022 regular-season finale at TIAA Bank Field Saturday night.
"But in the end, we had the victory."
The Jaguars' fifth consecutive victory gave them their second AFC South title – their first since 2017. They have rallied to win six times in their last nine games, and they have won seven of their last nine games.
"It wasn't always pretty; we just found a way to win," Jaguars quarterback Trevor Lawrence said. "We get another opportunity to play next week. That's all that means is we get to play next week and there's not many teams that get to say that.
"We earned it. It was a tough year as far as having to climb out of that hole we dug ourselves. It was awesome."
Added Pederson, "I'm so proud of the way the guys all season long just hung together. Through the face of adversity, and even through some of the high moments, we just stayed the same. We lept trusting each other, kept building on what we do and guys just improved every single week."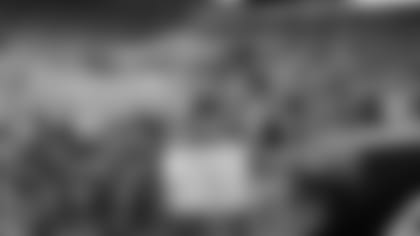 The Jaguars swept the Titans and finished 4-2 in the South this season. The Titans (7-10), who lost their seventh consecutive game, would have won a third consecutive AFC South title with a victory.
"Unbelievable," said wide receiver Christian Kirk, who caught six passes for 99 yards and a second-quarter touchdown that kept the Jaguars close.
Allen's touchdown came in dramatic, memorable fashion: Strong safety Rayshawn Jenkins sacked Titans quarterback Josh Dobbs on a blitz on third-and-six from the Titans 35. The ball bounced downfield, with Allen picking it up on the run and returning it for a touchdown.
It was the Jaguars' first lead of the game.
The Titans took a 10-0 second-quarter lead when Dobbs passed 21 yards to tight end Chig Okonkwo and led until Allen's fumble return as the Jaguars cut the lead to three points three times.
The Titans held a 36:12-23:48 time-of-possession advantage, controlling momentum and the clock much of the game. Titans kicker Randy Bullock converted field goals of 59, 39 and 41 yards. Jaguars kicker Riley Patterson converted from 26 and 36 yards.
"These games are never easy," Pederson said. "I don't care what the score is. I just want more points than the opponent."
Lawrence completed 20 of 32 passes for 212 yards and one touchdown with no interceptions, with his mishandled second-quarter pitch to wide receiver Jamal Agnew ending a Jaguars possession at the Titans 31 and leading to Okonkwo's touchdown.
"Our defense got the turnover to win the game, and that's all you can hope for," Jaguars veteran wide receiver Marvin Jones Jr. said.
Lawrence's 25-yard second-quarter touchdown pass to wide receiver Christian Kirk was the Jaguars' lone touchdown until Allen scored late in the game.
Dobbs, a reserve for the Jaguars in 2019 making his second career start after joining the Titans last month, completed 20 of 29 passes for 179 yards and one touchdown with one interception.
The Jaguars forced two turnovers and registered four sacks. Jaguars linebacker Foye Oluokun sacked Dobbs late in the second quarter, forcing a field goal that gave Tennessee a 13-7 halftime lead. Defensive lineman Roy Robertson-Harris registered a fourth-quarter sack, and Corey Peters/Adam Gotsis shared had a sack on the Titans' final drive.
The Jaguars had three fourth-quarter sacks. Jaguars cornerback Tyson Campbell's third-quarter interception led to a field goal that cut the Titans' lead to 16-13 early in the fourth quarter.
Agnew returned two punts for a 16.5 yards average and four kickoffs for a 31.5-yard average. His 54-yard return to midfield in the second quarter set up Kirk's touchdown.
"Defense and special teams won this football game for us – and that's OK," Pederson said. "We found a way. Hats off to the defense and special teams."
Bullock's 51-yard field goal capped a 17-play, 51-yard drive on the second Tennessee possession and gave the Titans a 3-0 lead with 1:23 remaining in the first quarter; Dobbs' seven-yard pass to tight end Austin Hooper converted fourth-and-three from the Jaguars 48 on the drive, and his nine-yard pass to wide receiver Robert Woods converted fourth-and-three from the Jaguars 34.
The Titans controlled momentum in the first quarter and into the second, taking a 10-0 lead when Dobbs passed 21 yards to Okonkwo with 5:32 remaining in the second quarter; that drive was set up when Titans outside linebacker Rashad Weaver recovered a mishandled pitch from Lawrence to Agnew at the Titans 31. Lawrence's touchdown pass to Kirk capped the ensuing series, with Bullock's 39-yard field goal on the final play of the half gave the Titans a 13-7 lead.
Patterson's 26-yard field goal capped the opening drive of the second half and cut the Titans' lead to 13-10 with 10:09 remaining in the third quarter; Lawrence overthrew open wide receiver Zay Jones crossing in the back of the end zone on third-and-seven from the Titans eight. Bullock's third field goal of the game, a 41-yarder, pushed the Titans' lead to 16-10 with 6:02 remaining in the third quarter.
Patterson's 36-yarder cut the lead to 16-13 with 14:49 remaining in the fourth quarter, with Allen's fumble return the game's only points after that.
All seven Jaguars players – Lawrence (toe), safety Andrew Wingard (shoulder), safety Rayshawn Jenkins (shoulder), outside linebacker Travon Walker (ankle), right guard Brandon Scherff (abdomen/ankle), defensive tackle Foley Fatukasi (ankle) and long snapper Ross Matiscik (back) – played Saturday. … The Jaguars announced five players as inactive 90 minutes before kickoff: Wide receiver Kendric Pryor, cornerback Montaric Brown, cornerback Gregory Junior, outside linebacker De'Shaan Dixon and defensive lineman Jeremiah Ledbetter.