JACKSONVILLE – This was gutsy, even a little glorious.
The result was a dramatic, come-from-behind – and late-game – victory for a young, improving Jaguars team that needed such a moment.
Quarterback Trevor Lawrence had perhaps his most impressive NFL performance and running back Travis Etienne Jr. scored two touchdowns as the Jaguars rallied from a seventeen-point first-half deficit for 24-20 victory over the Las Vegas Raiders in front of 62,758 at TIAA Bank Field Sunday afternoon.
It marked the second-largest comeback in franchise history. The Jaguars rallied from a 21-point deficit in a 25-24 victory over the New York Giants in 2014.
"It was just everybody playing together," said Lawrence, who completed 25 of 31 passes for 235 yards and one touchdown with no interceptions. "We kind of knew we had to go get this one this week. Obviously, you don't try to put more pressure on yourselves than you need to, but everybody knows where we're at right now in our season.
"Nobody panicked when we got in that hole early, and obviously it feels good to win one. We found ways to overcome today. It's not like we played perfect, but we found a way to win."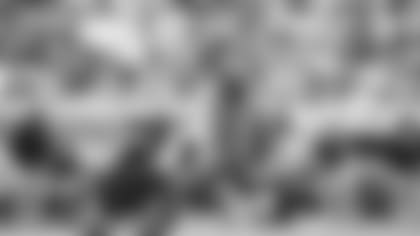 Etienne's touchdown on the first play of the fourth quarter gave the Jaguars their first lead, and a 48-yard field goal by kicker Riley Patterson with 1:03 remaining gave them their final margin of victory.
"It shows the maturity and the type of character we have in this locker room," wide receiver Christian Kirk said. "We had our backs against the wall, but we had the maturity and the leadership to have a short-term mindset. We knew it was going to finally break open for us. It finally did."
The Jaguars shut out the Raiders in the second half, with rookie inside linebacker Devin Lloyd intercepting a lateral on the Raiders' final multi-lateral play to secure the victory.
The Jaguars (3-6) snapped a five-game losing streak, a streak in which all five losses had come by a score of less with the Jaguars leading in every game. The Raiders slipped to 2-6.
"It feels much better," said Etienne, who rushed for 109 yards on 28 carries – his third consecutive game rushing for more than 100 yards. "We got the 'W.' We just wanted it more. We just said the hell with it. We were tired of losing. I feel like everybody had that mindset: 'Just give it your all and let's see what happens.' It sucks coming here every week, every day just knowing that L happened.
"We just had that mindset. We were just tired of losing."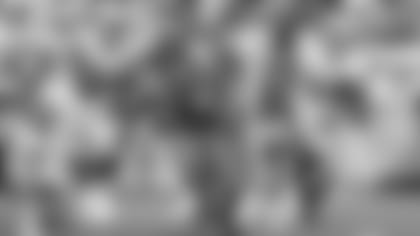 The Jaguars had allowed a go-ahead touchdown in four consecutive games and their four fourth-quarter lost leads this season entering Sunday were most in the NFL.
"This is a step in the right direction," Pederson said. "We've been really close over the course of the season. It's great to see our team finish."
Their story Sunday was different, with Lawrence and Etienne – and a suddenly stingy defense – rallying the Jaguars after quarterback Derek Carr and wide receiver Davante Adams gave the Raiders a 17-0 first-half lead. Las Vegas extended the lead to 20-7 before the Jaguars rallied.
Lawrence late in the second quarter through early in the fourth led three consecutive scoring drives, completing 13 of 15 passes for 120 yards during the stretch. His seven-yard touchdown pass to Kirk in the third quarter cut the lead to 20-17 and Etienne's five-yard touchdown with 14:56 remaining gave the Jaguars their first lead of the game, 24-20.
"He was confident, he was seeing things and he was playing fast," Kirk said. "It was really good to see."
Adams caught 10 passes for 146 yards and two touchdowns, with six receptions for 88 yards and a 25-yard touchdown coming on the Raiders' second drive to give Las Vegas a 7-0 first-quarter lead. Adams had nine receptions for 146 yards and two touchdowns at halftime.
Carr completed 22 of 37 passes for 266 yards and two touchdowns.
"It feels good," Jaguars cornerback Tyson Campbell said. "We fought to the end. We did what we needed to do and got the win. We needed this real bad."
Lloyd's final-play fumble recovery marked the Jaguars' second takeaway in as many games. They registered two sacks – one in the first quarter by defensive lineman Dawuane Smoot and one by Smoot on the game's final drive – and have 16 for the season.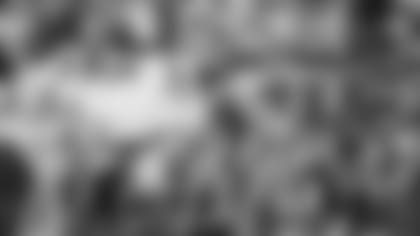 Adams' 25-yard reception capped the Raiders' second offensive possession and gave them the early lead. The Jaguars continued a recent trend of costly offensive mistakes in opponents' territory when running back JaMycal Hasty and Lawrence didn't execute a toss, with Raiders defensive end Maxx Crosby recovering at the Jaguars 26 to end the Jaguars' first drive.
Kicker Daniel Carlson's 38-yard field goal with 14:08 remaining in the second quarter pushed the Raiders' lead to 10-0. Adams' second touchdown reception of the game – a 38-yarder that he caught wide open at the goal line – made it 17-0 Raiders with 10:51 remaining in the first half. A one-yard run by Etienne with 4:50 remaining in the half cut the Raiders' lead to 17-7 with 4:50 remaining in the second quarter. Carlson's 38-yard field goal with :45 remaining in the half made it 20-7, Raiders. Patterson's 44-yard field goal on the final play of the half cut the lead to 20-10.
The Jaguars controlled the third quarter with Lawrence capping a nine-play, 45-yard drive to start the period with a seven-yard touchdown pass to Kirk to cut the Raiders' lead to 20-17.
Etienne's five-yard run on the first play of the fourth quarter capped a 12-play, 82-yard possession and gave the Jaguars their first lead of the game.
Wide receiver Jamal Agnew, the Jaguars' top kick/punt returner and a reserve wide receiver, was active Sunday after missing the last two games with a knee injury. The Jaguars' five inactive players Sunday: Wide receiver Kendric Pryor, safety Tyree Gillespie, cornerback Tevaughn Campbell, outside linebacker De'Shaan Dixon and offensive lineman John Miller.
Tight end Evan Engram sustained a back injury in the third quarter and safety Rayshawn Jenkins was evaluated for a concussion in the fourth quarter.