HOUSTON, Texas – The streak goes on.
And now, the Jaguars can fully focus on the task at hand.
Travis Etienne Jr. rushed for a 62-yard touchdown, and the defense scored a touchdown to highlight a second consecutive strong performance, as the Jaguars pulled steadily away for a 31-3 victory over the Houston Texans in front of 64,581 at NRG Stadium Sunday afternoon.
"It was a big win for us, obviously, with a lot of distractions around this week," Jaguars quarterback Trevor Lawrence said. "I thought we handled our business today."
The AFC South-leading Jaguars (8-8) won their fourth consecutive game – and won for the sixth time in eight games. They also snapped a nine-game losing streak to the Texans (2-13-1).
"When we take care of stuff, streaks are going to get broken," Jaguars linebacker Foye Oluokun said.
The Jaguars will play host to the two-time defending South champion Tennessee Titans (7-9) next weekend in the Week 18 regular-season finale. The winner will win the South and the Jaguars will win the division if the game ends in a tie, with a time and date yet to be announced.
Sunday's Jaguars-Texans game had no impact on the division race.
"Obviously, it was a unique situation," Pederson said. "It may not have meant a whole lot [in terms of the division race]. I don't know that I've been in a situation where you had a game like this heading into a game for everything. It's a credit to the guys in the locker room, just to stay focused. That was sort of our mantra for the week, was to stay locked in and focused and ready to go.
"I told them in the locker room, the way they handled this week … I'm very proud of them for that."
Lawrence completed 17 of 21 passes for 152 yards and no touchdowns with one interception Sunday. He left the game with 5:44 remaining, with Etienne and right guard Brandon Scherff also leaving the game early in the second half.
"We didn't play our cleanest ball today, but the defense played great and the special teams was awesome – that kind of made up for it," Lawrence said.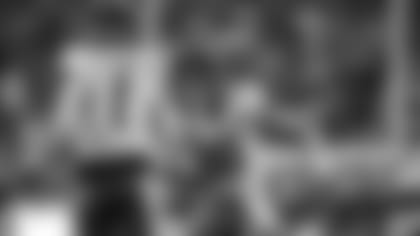 The Jaguars outgained the Texans, 337-277. They have allowed six points in their last two games, including a 19-3 road victory over the New York Jets last week.
Etienne, the Jaguars' second-year running back, gave the Jaguars a two-score lead early in the second quarter Sunday with the 62-yard touchdown run – the team's longest run of the season. He rushed for 108 yards on nine carries and a touchdown Sunday, his fifth 100-yard rushing game of the season.
He now has 1,108 yards and five touchdowns rushing on 213 carries this season.
Reserve running backs JaMycal Hasty and Snoop Conner also rushed for short touchdowns for the Jaguars, who rushed for 169 yards as a team.
"We did enough to win," Lawrence said. "Obviously, it's not our cleanest game we've had, but at this point of the year, it's just about winning. Obviously, we're happy with that. To be able to win in that way, it shows the growth of this team: When you don't necessarily play your best, especially offense, and you still dominate a game like this.
"It's cool to see our team continue to come together."
The Jaguars' defense registered two sacks Sunday and had one takeaway, turning a sack/fumble by linebacker Josh Allen into points on a second-quarter fumble return for a touchdown by cornerback Tyson Campbell. Third-year outside linebacker K'Lavon Chaisson registered a fourth-quarter sack.
"Everybody said, 'We're a good team, we're a good team,'" Oluokun said of the late-season run that has forced next week's winner-take-the-South game against Tennessee. "We had to execute. We had to play well. As soon as we learned how to win, learned how to prepared and take that right energy to the game, we're doing a lot of good things out there."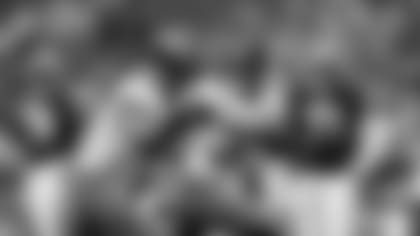 Hasty's five-run up the middle capped an efficient 45-yard first Jaguars possession and gave them a 7-0 lead with 8:24 remaining in the first quarter; safety Rayshawn Jenkins and cornerback Darious Williams stopped Texans quarterback Jeff Driskel's sneak on fourth-and-one from the Texans 45 to set up the eight-play drive.
The Jaguars pulled away early in the second quarter, with Etienne breaking through a hole over left tackle for a 62-yard touchdown run and a 14-0 Jaguars lead with 12:21 remaining in the second quarter. Allen registered a sack/fumble on the second play of the ensuing possession, Campbell returning quarterback Davis Mills' fumble 12 yards for a touchdown and a 21-0 lead with 11:35 remaining in the half.
Conner's three-yard run capped an 11-play, 75-yard drive to open the second half and gave the Jaguars a 28-0 lead with 9:28 remaining in the third quarter. Texans kicker Ka'imi Fairbairn's 56-yard field goal pulled the Texans to within 28-3 with 5:49 remaining in the third quarter.
Kicker Riley Patterson's career-long 53-yard field goal gave the Jaguars a 31-3 lead with 6:06 remaining in the fourth quarter.
Jaguars wide receiver Christian Kirk surpassed 1,000 yards receiving for the season with a 13-yard reception on the Jaguars' first series; it marked the first time in six NFL seasons he has had 1,000 yards receiving. He now has 78 receptions for 1,009 yards and seven touchdowns this season.
Tight end Evan Engram on Sunday surpassed the franchise's record for receiving yards by a tight end, a record previously held by Kyle Brady (729). Engram now has 69 receptions for 739 yards this season.
The Jaguars' four-game winning streak is their longest since 2017.
All six Jaguars players listed as questionable on the team's final injury report of the week Friday played Sunday; they were: Lawrence (toe), outside linebacker Travon Walker, defensive tackle Foley Fatukasi (ankle), safety Andrew Wingard (shoulder), Scherff (abdomen/ankle) and long snapper Ross Matiscik (back). The Jaguars named five inactive players Sunday: Wide receiver Kendric Pryor, cornerback Tevaughn Campbell, cornerback Montaric Brown, outside linebacker De'Shaan Dixon and defensive lineman Jeremiah Ledbetter.
View all Week 17 game highlights, HERE.
Buy tickets to Week 18's division rivalry matchup against the Titans, HERE.