JACKSONVILLE – The Jaguars' last meeting with their first-round playoff opponent was memorable.
After an uneven start to the 2017 season, with the Jaguars' first three victories all followed by losses, they were 5-3 entering a Week 10 game against the Los Angeles Chargers at TIAA Bank Field. And they were on the verge of a three-game winning streak.
The game turned out to be a dramatic one.
For seemingly the first time, they traded blows with Chargers quarterback Philip Rivers – and in the final minutes, it looked as if they could beat Los Angeles for the first time in a decade.
Knowing his team needed to take chances, Head Coach Doug Marrone made a bold decision facing fourth-and-7 at his own 44-yard line late in the first quarter. The long snapper put it in the hands of running back Corey Grant instead of punter Brad Nortman, and Grant raced through the heart of the Chargers' punt return unit for a 56-yard touchdown.
But Rivers and running back Austin Eckler were a formidable tandem, connecting on a pair of touchdown passes in the second and third quarters – and they were effective enough to keep the Jags at arm's length into the fourth quarter.
The game appeared to careen off the rails with the Jaguars down 17-14 with two minutes left when quarterback Blake Bortles' pass to wide receiver Allen Hurns was intercepted by safety Tre Boston.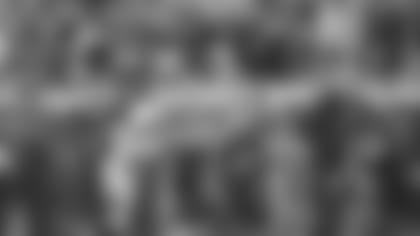 It seemed as if the game was over.
But on the very next play, with just 1:51 remaining, Jaguars defensive tackle Malik Jackson stripped the ball from Eckler. Jaguars safety Tashaun Gipson recovered to give the ball back to Bortles with only 12 seconds gone from the game clock.
Bortles' third interception of the game – his second in 27 seconds – came when Boston jumped a deep ball intended for Jaguars wide receiver Marqise Lee. That should have ended it, but Boston ran out of bounds instead of trying to kill some of the 1:33 remaining.
That gave the Jaguars' defense a charge. The unit bowed up, held running back Melvin Gordon to six yards on three carries and used timeouts to get the ball back for the offense with :58 remaining. Bortles navigated 34 yards to set up a 34-yard field goal by Josh Lambo to tie it 17-17 and force overtime.
It was then the Jaguars played the spoiler.
Cornerback A.J. Bouye took the ball from wide receiver Travis Benjamin at the Jaguars 47, then returned it 51 yards to the Chargers two-yard line. Lambo seconds later converted a short field goal to give the Jaguars a third consecutive win and set them on a course towards the playoffs.