We've got you covered on how to follow along as the Jacksonville Jaguars play the Las Vegas Raiders in Week 9 at TIAA Bank Field in Jacksonville, Florida.
In Jacksonville's three appearances against the Raiders at home, the Jaguars are 2-1 and have outscored the Raiders, 103-75.
In Jacksonville's last contest against the Raiders in 2019, the Jaguars won, 20-16. The Raiders last game in Oakland.
Since becoming the team's full-time starter in Week 6, Etienne ranks first in the NFL in rushing yards (356), first in rushing average (7.42) and is tied for first in rushing first downs (17) during that span.
Sunday, November 6, 2022
Kickoff is set for 1:00 PM ET
TIAA Bank Field aka The Bank 🏦 (Jacksonville, Florida)
STREAMING OPTIONS
NFL+ gives you the freedom to watch LIVE out-of-market preseason games, LIVE local and prime-time regular-season and postseason games on your phone or tablet, the best NFL programming on-demand and more! Wherever you are, this is how you football! Learn more about NFL+.
NFL Game Pass offers replays of every game, available as soon as the live broadcast ends. Start your free trial and cancel at any time.
Please check your local TV listings to confirm availability. Geographic and device restrictions apply. Local & primetime games only. Data charges may apply
PUBLIX TAILGATE SHOW: 10:00 PM ET - JAGUARS.COM, YOUTUBE, TWITTER, FACEBOOK
LV vs. JAX: 1:00 PM ET - FOX 30 WFOX-TV (JACKSONVILLE)
JAGUARS FLORIDA HOME AC POSTGAME: END OF GAME - JAGUARS.COM, YOUTUBE, TWITTER, FACEBOOK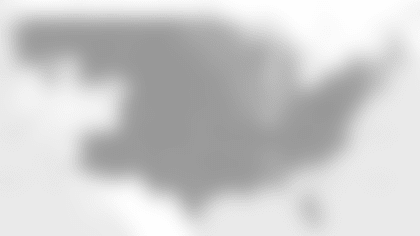 Table inside Article

| TV Broadcast Information | |
| --- | --- |
| Network | CBS |
| Play-by-Play | Andrew Catalon |
| Analyst | James Lofton |
| Sideline Reporter | Aditi Kinkhabwala |
Jaguars radio can be heard on WJXL (1010AM, 92.5 FM) and 99.9 FM Gator Country.
PUBLIX TAILGATE SHOW: 10:00 AM ET - 1010XL, 92.5 FM
COUNTDOWN TO KICKOFF: 12:00 PM ET - 1010XL, 92.5 FM, 99.9 FM
JAGUARS GAME DAY: 1:00PM ET - 1010XL, 92.5 FM, 99.9 FM
JAGUARS FLORIDA HOME AC POST GAME: End of Game - 1010XL, 92.5 FM, 99.9 FM
JAGUARS SCOREBOARD SHOW: 1 hour after the game - 1010XL, 92.5 FM
Table inside Article

| Radio Broadcast Information | |
| --- | --- |
| Play-by-Play | Frank Frangie |
| Analyst | Jeff Lageman |
| Analyst | Tony Boselli |
| Field Analyst | Bucky Brooks |
Table inside Article

| Spanish Radio Broadcast Information | |
| --- | --- |
| Radio Station | Acción 930 AM | 97.3 FM |
| Play-by-Play | Javier Carrero |
| Analyst | Victor Cora |
STAY CONNECTED
Get all your gameday coverage at Jaguars.com. Follow on the go with the Jaguars app for exclusive content, enhanced game day alerts and more. Stay connected with the Jacksonville Jaguars by following the team on all the following social media channels: