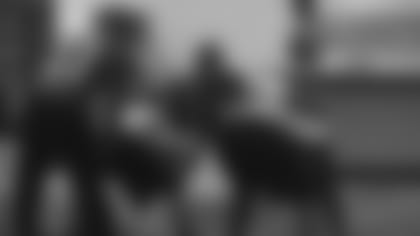 It's not ideal, but Jaguars Head Coach Mike Mularkey said moving practice indoors on days such as Tuesday isn't crippling, either.
Rain for the second time this off-season forced the Jaguars inside on Tuesday, with Mularkey moving the seventh practice of 2012 organized team activities to the lower club level of EverBank Field in the aftermath of Tropical Storm Beryl.
Mularkey said while the situation isn't perfect, there is still value to the work.
"The biggest thing you lose is film to teach off of," Mularkey said. "We saw mistakes. We corrected them, but they can never be brought back. Tomorrow there's nothing to study off if. Tomorrow will be a big install and no film. So you lose a lot of that."
OTA practices under league rules are non-contact in shorts and helmets, but the Jaguars' outdoor practices are higher-tempo and the West Club is a significantly smaller area than the normal practice fields.
"It's more about the details and understanding your assignments," guard Uche Nwaneri said. "Physicality isn't so much a part of the practice. We just focused on what we needed to get done assignment-wise and technique-wise."
Mularkey said the acoustics in the West Club make it more difficult for players to hear, making it necessary for players to maintain focus.
"Were getting a lot more done than people think we can inside," Mularkey said.
The Jaguars previously moved practice indoors during a three-day veteran orientation in mid-April. Mularkey said limitations on practice and meeting time in the new collective bargaining agreement prevent rescheduling OTA practices.
"It's not like you can sit and wait for it to pass through," Mularkey said.
A larger contract and a higher profile aren't the reasons Jeremy Mincey will play a bigger role next season.
The veteran defensive end said it's just time.
Mincey, the team's sacks leader with eight a year ago, signed a long-term contract extension earlier this off season. But he said whatever his contract, he would have more of a leadership role in 2012.
"I'd take on that role if I was the lowest-paid guy," said Mincey, who missed last week's OTA practices because of what he called a serious stomach illness. "That's just who I am as a person. I'm going to work as hard as I can, and let the disease spread throughout the team – and I ain't talking about the stomach flu."
Mincey, who said he hated missing OTAs – "I wouldn't miss practice unless it was really serious," he said – said while the new contract has raised expectations, he doesn't expect that to be a problem.
"I have big expectations from myself," he said. "I'm sure the Jag Nation has the same expectations. I'm definitely working hard to live up that. I definitely have to be the leader this year. It's my time to be shine. I have to rise to the occasion."
"We (the offensive linemen) are adapting well (to the Jaguars' new offensive system and staff). There aren't a lot of drastic changes in what we do as far as pure blocking schemes are concerned. A lot has been added in to what has been established. It will give us a lot more options in terms of how to handle defensive looks."
"It (not being on HBO's Hard Knocks) doesn't bother us. It actually keeps the spotlight off of us a little more so we can focus on what we need to focus on, and that's winning. We're on a mission."
On Tuesday? What we saw were some popcorn poppers, soda machines and carpeting. That's because the Jaguars for a second time this offseason moved practice to the lower club level at EverBank Field because of rain. Mularkey and the players said the team got good work in, but for those observing practice, it limits what there is to report.
OTAs are about teaching much more than evaluating. That much always has been true, and that's why during the offseason the Jaguars aren't really hurt much when it is necessary to move a practice indoors. The Jaguars' primary objective for 2012's offseason is to get the offense installed and to ensure players are familiar with the schemes entering training camp, and even working indoors, mental work and teaching can get done. Now, during the regular season that's a different story, which is why the idea of a practice bubble will remain an ongoing issue.
Most of the 90 Jaguars players on the off-season roster will participate in organized team activities practices through Friday, June 1. The team's mandatory mini-camp is scheduled to run June 12-14. Training camp is scheduled to begin in late July.
*Linebacker Clint Session, fullback Montell Owens and cornerback Aaron Ross were among those absent from practice Tuesday. Defensive end John Chick, defensive tackle Tyson Alualu and defensive tackle Terrance Knighton, cornerback Rashean Mathis and cornerback Ashton Youboty – all of whom have been out with injuries – also did not attend the session in the lower club level. Mularkey said while he was concerned about players making it back from Memorial Day weekend because of Tropical Storm Beryl there were no unexpected absences.
*Nwaneri said one benefit to the new offense being installed by Mularkey and offensive coordinator Bob Bratkowski is the new scheme has more options for the line when facing blitzes or defensive changes at the line of scrimmage.
*Nwaneri also said the offensive line has a goal this season of breaking the Jaguars record for fewest sacks allowed in a season: 28, set in 2003. "That takes a very strong effort for everyone on the line to accomplish that," he said. "That's where we have our goals set."
*Mularkey on Tuesday said although tight ends Marcedes Lewis and Zach Miller are optimistic about their roles in the offense, the scheme doesn't necessarily favor his former position. "That happens to be my favorite position, but I don't favor it any more than any other," he said. "The way it works is if that's the guy to go to, that's the spot the ball will go to. It's all based on the progression." Mularkey, who played tight end in the NFL for nine seasons, said the position does take on particular importance in the scheme in the red zone.